Pharmacy Hosts Seventeenth Research Days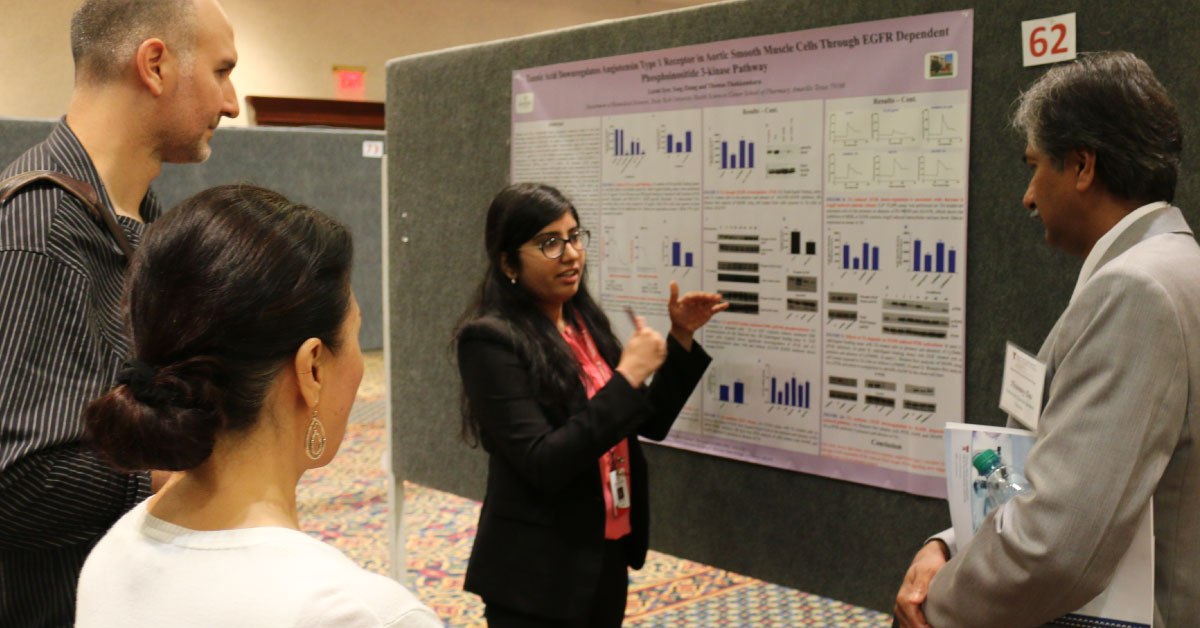 Faculty and student scientists met June 13-14 in Amarillo for the School of Pharmacy's Seventeenth Annual Research Days, an interdisciplinary forum that spotlights the school's research activities during the past year. In addition, the symposium provides the school's faculty, postdoctoral fellows, residents and students an opportunity to exchange research ideas and interests and to discuss potential interdisciplinary collaborations between the school's departments and campuses.
Diana M. Sobieraj, Pharm.D., was the June 13 keynote speaker. Sobieraj, an assistant professor for the University of Connecticut (UConn) School of Pharmacy, serves as a senior investigator and program manager for UConn's Evidence-based Practice Center, which is funded by the Agency for Healthcare Research & Quality.
Mark W. Feinberg, M.D., a cardiologist at Brigham and Women's Hospital in Boston and an associate professor of medicine at Harvard Medical School, was the June 14 keynote speaker. Feinberg also is an affiliated faculty member at the Harvard Stem Cell Institute and directs a basic science laboratory funded by the National Institutes of Health to investigate mechanisms that lead to the development of cardio metabolic diseases, including coronary artery disease, insulin resistance and myocardial infarction (heart attack).
Distinguished speakers included Guillermo Altenberg, M.D., Ph.D., professor and chair for the Department of Cell Physiology and Molecular Biophysics at the Texas Tech University Health Sciences Center (TTUHSC) School of Medicine in Lubbock; Susan Bergeson, Ph.D., associate dean for the TTUHSC Graduate School of Biomedical Sciences and an associate professor for the TTUHSC Department of Pharmacology & Neuroscience in Lubbock; Rebecca Hite, Ph.D., from the Texas Tech University College of Education in Lubbock; and Suphat Subongkot, Ph.D., from the Clinical Pharmacy Division-Faculty of Pharmaceutical Sciences at Khon Kaen University in Thailand.
The annual Research Days poster competition featured 68 entries prepared by School of Pharmacy students, graduate students and residents in three pharmacy practice categories: Postgraduate Year-One (PGY-1) Residents, Postgraduate Year-Two (PGY-2) Residents and Pharm.D. Student. Basic Sciences categories included Junior Graduate Students, senior Graduate Students and Post-Doctoral Research Associate.
The top PGY-1 posters were submitted by Julie John, Pharm.D., (Abilene), Kayla Hodges, Pharm.D., (Amarillo) and Haley Runeberg, Pharm.D., (Dallas). PGY-2 winners included Justin Pedigo, Pharm.D., (Lubbock), Ben Dagraedt, Pharm.D., (Lubbock) and Stanley Luc, Pharm.D., (Amarillo). Alex Le from Abilene took top honors in the Pharm.D. Student category.
Basic Sciences winners, all from Amarillo, included junior graduate students Behnam Noorani, Daniela Rolph and Iti Kaushik; senior graduate students Ekram Ahmed Chowdhury, Sharavan Ramachandran, Snehal Raut and Sanaullah Sajib; and post-doctoral research associate Surendra Punganuru.
IMAGE GALLERY
Related Stories
By Mark Hendricks
March 25, 2022
The Texas Tech University Health Sciences Center (TTUHSC) Graduate School of Biomedical Sciences hosted its 34th Annual Student Research Week March 8-11.
By Mark Hendricks
March 25, 2022
The National Cancer Institute awarded a five-year, $1.9 million grant to C. Patrick Reynolds, M.D., Ph.D., director for the School of Medicine Cancer Center at TTUHSC.
By School of Health Professions
March 24, 2022
Richard Greenhill, DHA, FISQua, FACHE, discusses the hype and reality surrounding AI in healthcare.
Recent Stories
Education
By School of Health Professions
June 30, 2022
Ericka Hendrix, PhD, MB(ASCP)cm, spoke about the training and education involved for diagnostic molecular scientists and how the pandemic has affected the role.
Education
By Suzanna Cisneros
June 29, 2022
TTUHSC and members of the Abilene community today (June 29) celebrated the official unveiling the new Julia Jones Matthews School of Population and Public Health.
Education
By Kate Gollahon
June 28, 2022
On June 29, the opening celebration event for the Julia Jones Matthews School of Population and Public Health will recognize many years of hard work and look ahead to the start of a new and exciting journey.