New Fleet Vehicle Available on Amarillo Campus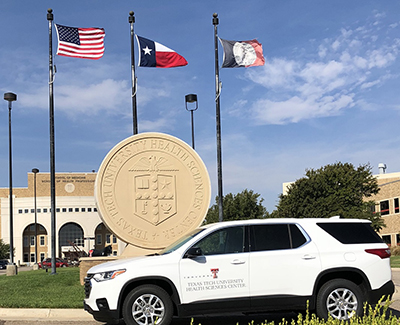 Need to rent a fleet vehicle? Ready to save the wear and tear on your own vehicle, or the hassle of dealing with rental cars?
TTUHSC operating policy says to travel the most economical way. Is this it? It's quick and easy!
The Amarillo campus's new fleet vehicle is a 2019 Chevy Traverse. The charge is $40 per day plus the cost of the fuel used. Contact General Services early to make sure you are on TTUHSC's approved drivers list. If you're not, it is a simple form to submit. It takes 7-10 working days to get the approval back from Risk Management.
To reserve this vehicle for your next trip, call Laura Field in General Services at 414-9940 or contact by email at laura.field@ttuhsc.edu. If you haven't heard back within a few hours of your inquiry, contact Linda Tarpley at 414-9937 or Dena Ware at 414-9938.
Related Stories
By Mark Hendricks
March 25, 2022
The Texas Tech University Health Sciences Center (TTUHSC) Graduate School of Biomedical Sciences hosted its 34th Annual Student Research Week March 8-11.
By Mark Hendricks
March 25, 2022
The National Cancer Institute awarded a five-year, $1.9 million grant to C. Patrick Reynolds, M.D., Ph.D., director for the School of Medicine Cancer Center at TTUHSC.
By School of Health Professions
March 24, 2022
Richard Greenhill, DHA, FISQua, FACHE, discusses the hype and reality surrounding AI in healthcare.
Recent Stories
Education
By School of Health Professions
June 30, 2022
Ericka Hendrix, PhD, MB(ASCP)cm, spoke about the training and education involved for diagnostic molecular scientists and how the pandemic has affected the role.
Education
By Suzanna Cisneros
June 29, 2022
TTUHSC and members of the Abilene community today (June 29) celebrated the official unveiling the new Julia Jones Matthews School of Population and Public Health.
Education
By Kate Gollahon
June 28, 2022
On June 29, the opening celebration event for the Julia Jones Matthews School of Population and Public Health will recognize many years of hard work and look ahead to the start of a new and exciting journey.