New Fleet Vehicle Available on Amarillo Campus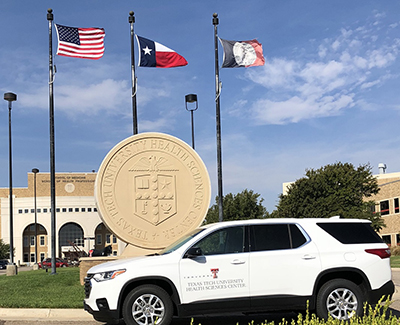 Need to rent a fleet vehicle? Ready to save the wear and tear on your own vehicle, or the hassle of dealing with rental cars?
TTUHSC operating policy says to travel the most economical way. Is this it? It's quick and easy!
The Amarillo campus's new fleet vehicle is a 2019 Chevy Traverse. The charge is $40 per day plus the cost of the fuel used. Contact General Services early to make sure you are on TTUHSC's approved drivers list. If you're not, it is a simple form to submit. It takes 7-10 working days to get the approval back from Risk Management.
To reserve this vehicle for your next trip, call Laura Field in General Services at 414-9940 or contact by email at laura.field@ttuhsc.edu. If you haven't heard back within a few hours of your inquiry, contact Linda Tarpley at 414-9937 or Dena Ware at 414-9938.
Related Stories
By QEP Committee
March 21, 2023
As spring approaches, some people's thoughts turn to gardening. Whether it's a flower garden they desire or a vegetable garden want to have, they begin planning what they'll plant and what they need to do to ensure a successful garden.
By QEP Committee
March 21, 2023
A "growth mindset" accepts that our intelligence and talents can develop over time, and a person with that mindset understands that intelligence and talents can improve through effort and learning.
By Melissa Whitfield
February 13, 2023
Abstaining from drug abuse and an early diagnosis of familial hypercholesterolemia (high cholesterol) can help prevent heart disease.
Recent Stories
Research
By Mark Hendricks
November 16, 2023
Ninh (Irene) La-Beck, Pharm.D., with the TTUHSC Jerry H. Hodge School of Pharmacy, received a five-year, $2.49 million grant to investigate how nanoparticles interact with the immune system and cancer.
Research
By Mark Hendricks
November 10, 2023
To help investigate the influence basal sex hormone alterations may have on chronic post-op pain, the NIH recently awarded a grant to Jenny Wilkerson, Ph.D., from the Jerry H. Hodge School of Pharmacy.
Health
By Tyler White
November 09, 2023
Scott Shurmur, M.D., a cardiologist at the Texas Tech Physicians Center for Cardiovascular Health, shared his expertise and his experience as a former collegiate athlete.