New Fleet Vehicle Available on Amarillo Campus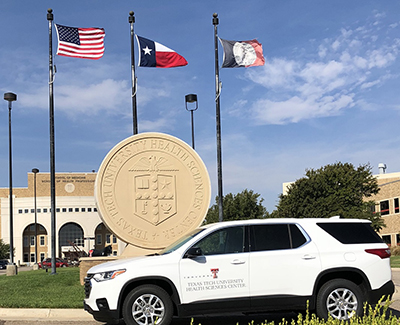 Need to rent a fleet vehicle? Ready to save the wear and tear on your own vehicle, or the hassle of dealing with rental cars?
TTUHSC operating policy says to travel the most economical way. Is this it? It's quick and easy!
The Amarillo campus's new fleet vehicle is a 2019 Chevy Traverse. The charge is $40 per day plus the cost of the fuel used. Contact General Services early to make sure you are on TTUHSC's approved drivers list. If you're not, it is a simple form to submit. It takes 7-10 working days to get the approval back from Risk Management.
To reserve this vehicle for your next trip, call Laura Field in General Services at 414-9940 or contact by email at laura.field@ttuhsc.edu. If you haven't heard back within a few hours of your inquiry, contact Linda Tarpley at 414-9937 or Dena Ware at 414-9938.
Related Stories
By Lori Rice-Spearman, Ph.D., Steven L. Berk, M.D.
March 22, 2022
TTUHSC Celebration of Life Service was held March 25th in remembrance of Tom McGovern, Ed.D.
By Suzanna Cisneros
March 18, 2022
TTUHSC has been named as a Military Friendly® School for 2022-2023. Among graduate schools, TTUHSC ranked fourth in the nation, achieving Gold award status.
By Meaghan Collier
March 17, 2022
On March 16, fourth-year TTUHSC Jerry H. Hodge School of Pharmacy students interested in completing a residency after they graduate in May, learned where they would spend the next stage of their training during the Pharmacy Residency Match Day.
Recent Stories
Research
By Mark Hendricks
January 31, 2023
Gail Cornwall, Ph.D., professor in the Department of Cell Biology and Biochemistry at the TTUHSC, has been named a member of the American Association for the Advancement of Science Fellowship Class of 2022.
Research
By Mark Hendricks
January 27, 2023
To help address communication hurdles, the Patient-Centered Outcomes Research Institute (PCORI) has awarded a $438,756 subcontract to Tetyana L. Vasylyeva, M.D., Ph.D., from the TTUHSC School of Medicine.
Education
By Suzanna Cisneros
January 19, 2023
Texas Tech University Health Sciences Center Department of Surgery Chair Sharmila Dissanaike, M.D., was elected as the American Burn Association president for 2025.