TTUHSC Employee Helps Arizona Family Recover from Accident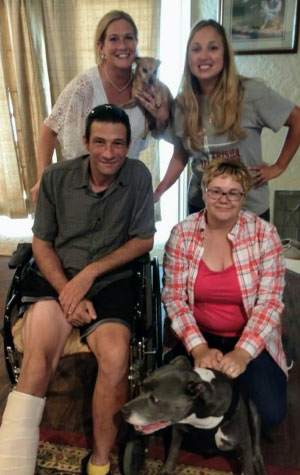 Julie Castle with her daughter and the Greens.
Most people at TTUHSC know Julie Castle as the person primarily responsible for coordinating Department of Internal Medicine rotations for third- and fourth-year medical students in Amarillo. The task requires her to create those student rotation assignments based upon the schedules of 20 physicians who practice on the TTUHSC campus and 20 more who do so elsewhere in the Amarillo community.
It can be a hectic job that also requires Castle to administer student OSCEs (objective structured clinical examinations), grade final exams, keep files up-to-date and answer the phones.
"Really, I am here to help anyone," Castle said. "I have even trained several people at other campuses to do some of the things I do."
During the summer past, Castle's willingness to "help anyone' extended beyond the buildings, clinics and people at TTUHSC and proved to be just what the doctor ordered for an Arizona family.
The Castles live away from the glare of Amarillo's city lights in Bushland's Falcon Club neighborhood, located north of Interstate 40 and west of the famed Cadillac Ranch. The area has seen several vehicle mishaps over the years, including at 4:30 a.m. on July 9 when a semi-truck loaded with cases of vitamin water crashed into a bar ditch.
The truck driver, Steven Green, was injured and would require major surgery to place pins in a leg that was broken in eight places. His family's dog was along for the ride and was ejected from the truck through a broken window, landing in a fire started by the crash.
The following day, Castle learned that one of her neighbors and Green's wife, Amanda, had set up a crowdfunding page to help the family pay the vet bills.
"When I went to the page to donate, someone had already paid it off," Castle said. "So my thought was I would go to the hospital and just give them the cash in person. Steven was really bad off, and because he and Amanda weren't from this area, all they had was each other. I told them if they needed anything to call me because TTUHSC has really good doctors and some of our students were working on their hospital floor."
During her initial hospital visit with the Greens, Castle learned the couple didn't have with them any of the basic toiletries, so she bought those items and brought them back to the hospital. Not long after, Castle received a phone call from Amanda Green who was crying because the hospital was discharging her husband. The release was going to create a major problem for the couple because Green had to remain in the area for surgery follow-up appointments, but they had no place to stay locally and their home in Arizona was too far away.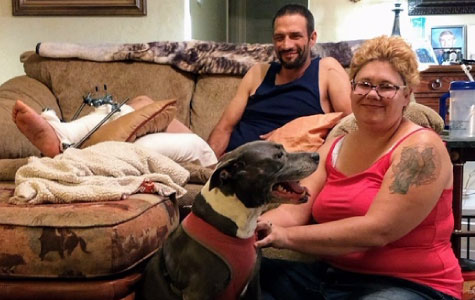 Steven & Amanda Green and their dog.
"She said that they were going to go to a shelter," Castle recalled, "but this is when God put it in my heart that I should open my home to these people, so I told them they were coming home with me. My husband was away, my son had just moved out on his own and my stepson was with his grandparents for the summer. We have a five-bedroom house, so that's how it started. Our current third-year students that started in July got to know the Greens and would even check on them. I have always helped animals like they were people, but this was the first time I had helped an actual two-legged person like this in a long time."
Six weeks after the accident, Green got permission to travel home with Amanda, but he was going to have to return for another post-surgery follow-up. When the couple returned to Amarillo for the appointment, their son, who had remained home in Arizona during Green's initial stay, came with them.
By this time, the Green's dog had recovered from her fire wounds, but being tossed from the truck resulted in some back injuries that required another visit to the vet. Castle and her family helped pay those expenses.
Today, nearly four months after the accident spilled all of those bottles of vitamin water into a Bushland bar ditch, the Castles, with assistance from others, are still helping the Greens any way they can. Their son is trying to make it on his own and is sharing an apartment with Castle's son, Dakota. Kristin Rangel, one of Castle's neighbors, kept the Green's dog for a couple of weeks while Green got used to getting around in a wheelchair, and then she provided transportation for the family when they needed to run errands and Castle was at work.
Despite the injuries and the hardships, Castle said Green feels very lucky to be alive, though he still can't walk on his leg and he will still have to undergo facial surgery. Through it all, Castle hopes her family, friends and students have demonstrated to the Greens that people can show kindness without wanting anything in return.
"It's just an awesome friendship we have with the Greens," Castle said. "I really do miss them, but they know every time they come back they have to stay with us. Steven is now well known in our Falcon Club community as the water man, and God saved his life and his dog for a reason. They even went to our church, and it's just been such a blessing that I was in a time that I could open our home and our hearts to help some awesome people."
Related Stories
By Lori Rice-Spearman, Ph.D., Steven L. Berk, M.D.
March 22, 2022
TTUHSC Celebration of Life Service was held March 25th in remembrance of Tom McGovern, Ed.D.
By Suzanna Cisneros
March 18, 2022
TTUHSC has been named as a Military Friendly® School for 2022-2023. Among graduate schools, TTUHSC ranked fourth in the nation, achieving Gold award status.
By Meaghan Collier
March 17, 2022
On March 16, fourth-year TTUHSC Jerry H. Hodge School of Pharmacy students interested in completing a residency after they graduate in May, learned where they would spend the next stage of their training during the Pharmacy Residency Match Day.
Recent Stories
Research
By Mark Hendricks
January 31, 2023
Gail Cornwall, Ph.D., professor in the Department of Cell Biology and Biochemistry at the TTUHSC, has been named a member of the American Association for the Advancement of Science Fellowship Class of 2022.
Research
By Mark Hendricks
January 27, 2023
To help address communication hurdles, the Patient-Centered Outcomes Research Institute (PCORI) has awarded a $438,756 subcontract to Tetyana L. Vasylyeva, M.D., Ph.D., from the TTUHSC School of Medicine.
Education
By Suzanna Cisneros
January 19, 2023
Texas Tech University Health Sciences Center Department of Surgery Chair Sharmila Dissanaike, M.D., was elected as the American Burn Association president for 2025.