Grad Students Receive Awards, Scholarships, Speaking Opportunities
A group of students from the School of Pharmacy's Graduate Program in Pharmaceutical Sciences (GPPS) recently have received awards, earned scholarships and been invited to make presentations about their research.

Gupta
Nehal Gupta, Sreedhar Reddy Suthe and Ali Keshavarz were selected by the American Association of Pharmaceutical Scientists (AAPS) to give "Rapid Fire" oral presentations at PharmSci 360, part of the 2018 AAPS annual meeting Nov. 4-7 in Washington, D.C. Gupta's presentation was titled "Re-Purposing of synthetic drugs for treatment of breast cancer." Suthe's presentation was titled "RON-Targeted Antibody-Drug Conjugate Therapy for Triple-Negative Breast Cancer."
Gupta is a research assistant for Department of Immunotherapeutics and Biotechnology Chair Sanjay Srivastava, Ph.D. Suthe is a research assistant for Ming-Hai Wang in the Department of Pharmaceutical Sciences and Keshavarz is a research assistant for Fakhrul Ahsan, Ph.D. in the same department.

Suthe
Suthe also was selected by the American Association of Indian Pharmaceutical Scientists (AAiPS) as one of six people to receive a 2018 AAiPS Graduate Award. His abstract, titled, "RON-Targeted Antibody-Drug Conjugate Therapy Ablates Cancer Stem Cells and Induces Long-Term Tumor Regressions in Preclinical Models of Triple-Negative Breast Cancer," was applied to the Drug Delivery/Pharmaceutical Technologies category.

Keshavarz
Keshavarz also received a travel scholarship to attend the 2018 AAPS PharmSci360 Annual Meeting. Eli Lilly and Company sponsored the award to recognize Keshavarz's research titled, "An isolated perfused rat lung model for studying controlled and targeted release of fasudil, an anti‐PAH drug, from peptide grafted liposomal formulations." His AAPS presentation is titled, "Capturing, counting and identifying CECs: a potential diagnostic marker for patients with pulmonary arterial hypertension."
In addition, the International Foundation for Ethical Research (IFER), an organization that funds research on animal model alternatives, selected Keshavarz to receive a two-year fellowship for $12,500 per year. Keshavarz's proposal for the fellowship revolves around the development of a tissue-chip-based experimental tool as an animal model alternative for PAH-induced right-ventricular hypertrophy. His proposal is one of only four grants awarded nationwide and is the first IFER fellowship awarded to a Texas Tech University System graduate student since IFER began funding the fellowships in 1997.
Keshavarz, the first GPPS student from Iran, said he appreciates the opportunity TTUHSC has offered him to conduct his doctoral studies and thanked Dr. Ahsan for his help and encouragement to apply for this grant.
"It was only possible because of Dr. Ahsan's high expectations from his graduate students, and his complete dedication and passionate commitment in training graduate students," Keshavarz said.
Other recent GPPS honorees include:
Chowdhury
Ekram Chowdhury, a research assistant for Ulrich Bickel, Ph.D., in the Department of Pharmaceutical Sciences, received a travel scholarship sponsored by the Lonza Group to attend the AAPS PharmSci360 Annual Meeting Nov. 4 in Washington, D.C. The award recognizes Chowdhury's research titled, "Synthesis and Characterization of Biotinylated Hyroxyethyl Starch‐Polyethyleneimine Conjugates Having Potential for Targeted Delivery of Oligonucleotides."

Morsy
Ahmed Morsy, a Department of Pharmaceutical Sciences research assistant for Paul Trippier, Ph.D., gave an oral presentation Oct. 24-25 at the TTUHSC Regional Healthy Aging and Dementia Research Symposium in Lubbock. The symposium sought to educate health care professionals, researchers, faculty, staff and students about recent trends findings, community outreach and other topics focused upon the neurodegenerative disease associated with aging. Morsy's presentation was titled, "Synthesis and Structure-Activity Relationship Studies of AG18051 and Its Analogs in the Treatment of Alzheimer's Disease by Inhibiting Aβ-ABAD Interaction."
Patel
Ronak Patel, a research assistant in Department of Pharmaceutical Sciences laboratory of Abraham Al-Ahmad, Ph.D., received a full scholarship to attend a short course titled, "Improving Preclinical Translation of Alzheimer's Disease Research," Oct. 22-26 at the Jackson Laboratory in Bar Harbor, Maine. The Howard Hughes Medical Institute for Education and the National Institute of Health's National Institute on Aging Funding funded the scholarship.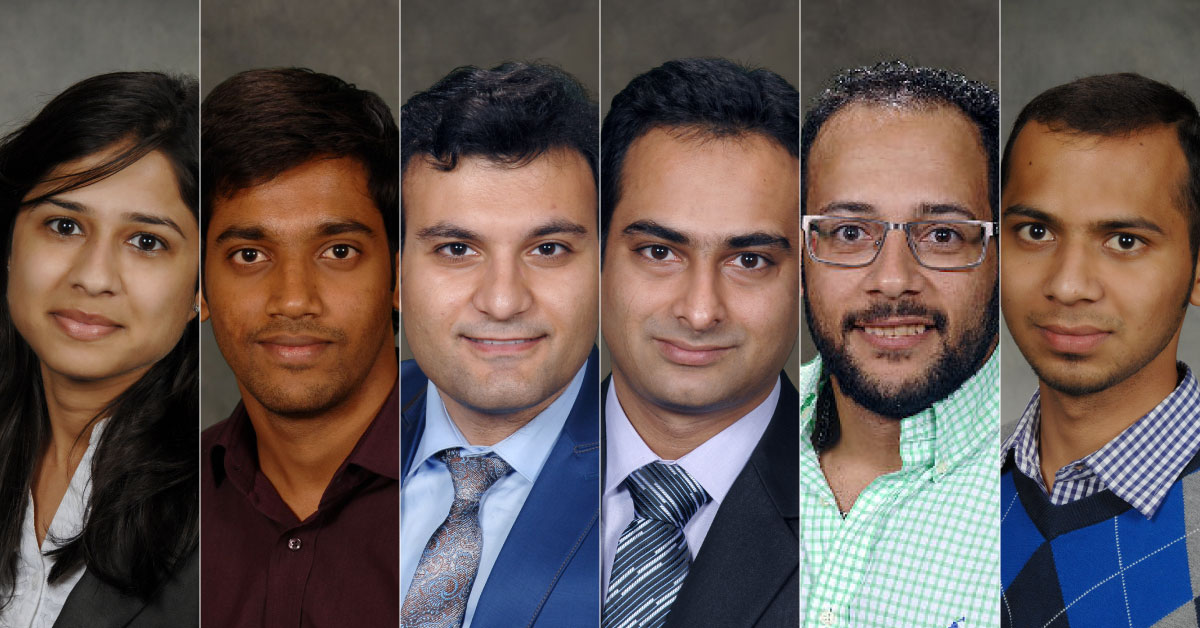 Related Stories
By QEP Committee
March 21, 2023
As spring approaches, some people's thoughts turn to gardening. Whether it's a flower garden they desire or a vegetable garden want to have, they begin planning what they'll plant and what they need to do to ensure a successful garden.
By QEP Committee
March 21, 2023
A "growth mindset" accepts that our intelligence and talents can develop over time, and a person with that mindset understands that intelligence and talents can improve through effort and learning.
By Melissa Whitfield
February 13, 2023
Abstaining from drug abuse and an early diagnosis of familial hypercholesterolemia (high cholesterol) can help prevent heart disease.
Recent Stories
Research
By Mark Hendricks
November 16, 2023
Ninh (Irene) La-Beck, Pharm.D., with the TTUHSC Jerry H. Hodge School of Pharmacy, received a five-year, $2.49 million grant to investigate how nanoparticles interact with the immune system and cancer.
Research
By Mark Hendricks
November 10, 2023
To help investigate the influence basal sex hormone alterations may have on chronic post-op pain, the NIH recently awarded a grant to Jenny Wilkerson, Ph.D., from the Jerry H. Hodge School of Pharmacy.
Health
By Tyler White
November 09, 2023
Scott Shurmur, M.D., a cardiologist at the Texas Tech Physicians Center for Cardiovascular Health, shared his expertise and his experience as a former collegiate athlete.