The TTUHSC School of Pharmacy celebrated the Class of 2018 with its annual graduation awards banquet and graduation ceremony May 19 at the Amarillo Civic Center.
Left to Right: Hayden Stewart, Dean Quentin R. Smith, Ph.D., and Shannon Rice
Hayden Stewart from the Abilene campus received the Bowl of Hygieia, the internationally recognized symbol for the pharmacy profession that signifies pure and potent medicines. The School of Pharmacy's award is presented annually to the graduating class member who is deemed to best exemplify the qualities most desirable in a pharmacist: leadership, high ethical standards, dedication and promotion of the pharmacy profession.
Shannon Rice from the Lubbock campus earned the Class of 2018 Banner Bearer award as the graduate with the highest four-year grade point average. As the Banner Bearer recipient, Rice carried the School of Pharmacy banner and led the class during commencement exercises.
In addition, Stewart, Jordan Bell (Lubbock campus), Krisgel Padolina (Dallas/Fort Worth) and Rachel Jackson (Amarillo) received the school's Dean's Leadership Award for their respective campuses.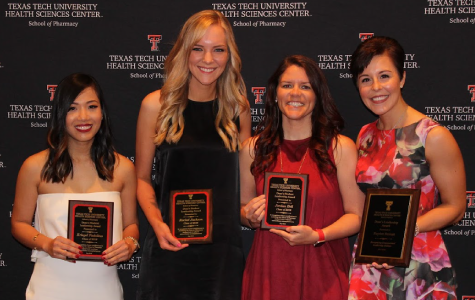 Left to Right: Krisgel Padolina, Rachel Jackson, Jordan Bell and Hayden Stewart
Bell also was named recipient of the TTUHSC School of Pharmacy Communication Award, and Jackson received the TTUHSC School of Pharmacy Pediatrics Award and the Eli Lilly Achievement Award.
Other Class of 2018 graduates honored for their performances in the classroom and in the clinic included Chanese Hampton (Abilene), the TTUHSC School of Pharmacy Geriatrics Award; Kathryn Johnson (Dallas/Fort Worth), the TTUHSC School of Pharmacy Patient Care Award; Bobby Outlaw (Amarillo), the Wolters Kluwer Excellence in Clinical Communications Award; Andrea Pratho (Abilene), the Natural Medicines Comprehensive Database Recognition Award; and Ballard Saul (Lubbock), the Mylan Excellence in Pharmacy Award.
The Class of 2018 selected Anna Kochanowska-Karamyan, Ph.D., as its Harold Miller – Most Influential Professor in recognition of her superior leadership, dedicated service and teaching excellence. Kochanowska-Karamyanan is assistant professor for the Department of Pharmaceutical Sciences in Amarillo. In March she was promoted to associate professor, effective Sept. 1.
The Most Influential Professor award was renamed for Miller, a retired assistant professor for the Department of Pharmaceutical Sciences who additionally served in 2016-2017 as interim chair for the Department of Immunotherapeutics and Biotechnology in Abilene.
Miller, who also was the commencement speaker for the Class of 2018, received numerous teaching awards during his career at TTUHSC, including the Most Influential Professor Award from the School of Pharmacy Classes of 2014, 2016 and 2017.