9 Ways to Make the Most Out of TTUHSC Graduation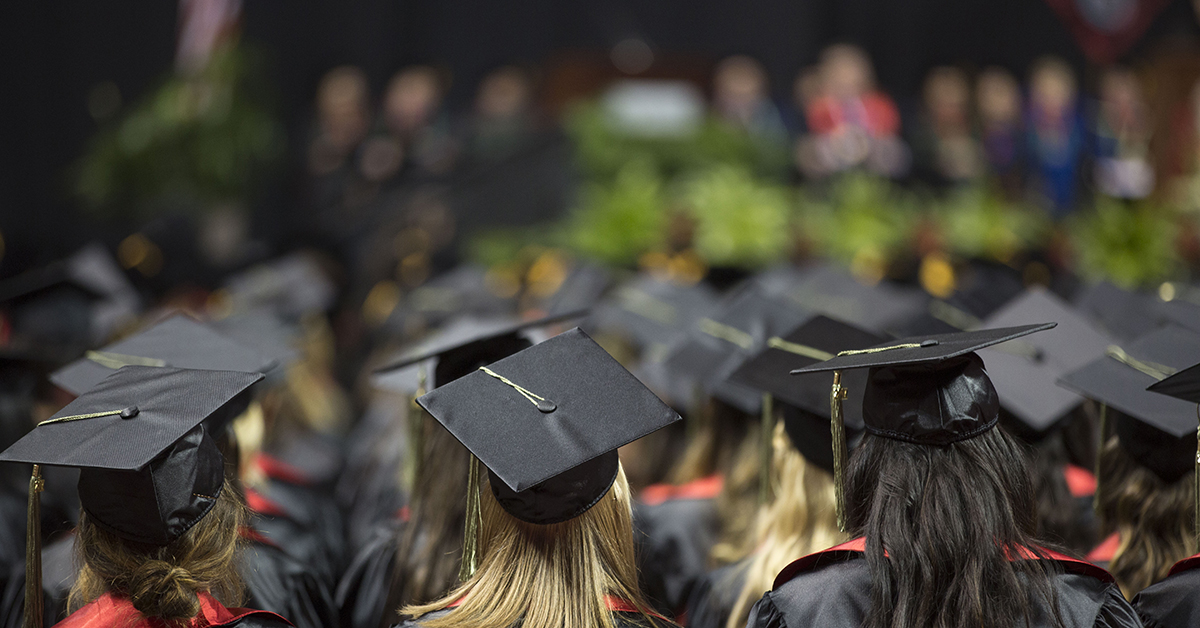 Graduation marks the end and a beginning of a new era. As each student embarks on a new journey, graduation is a time to reflect on the growth, accomplishments and experience students gain while at Texas Tech University Health Sciences Center (TTUHSC). Each student has so many unique experiences, which marks graduation as one of the most significant and unforgettable milestones.
As you get ready for graduation, we want to help your day be as memorable as possible! Follow these tips to make the most out of your graduation day:
1. Get a picture with the seal.
TTUHSC has iconic locations that are perfect for graduation photos. Take a photo in front of the TTUHSC seal or the main TTUHSC stairs highlighting our mission for "Your Life, Our Purpose." These locations always provide some of the best photos.
2. Take a "Guns Up" picture.
You can't be a true Red Raider graduate without sporting your "guns up." This long-standing tradition has been used by Texas Tech since 1961 and is one of our favorite poses for pictures.
3. Hydrate. Hydrate. Hydrate.
We're a health care institution, you knew we'd say it. Make sure you are well hydrated. With lots of standing, pictures and chaos throughout graduation day, water is essential to a smooth day where you feel your best.
4. Get a picture doing something you love in your cap & gown.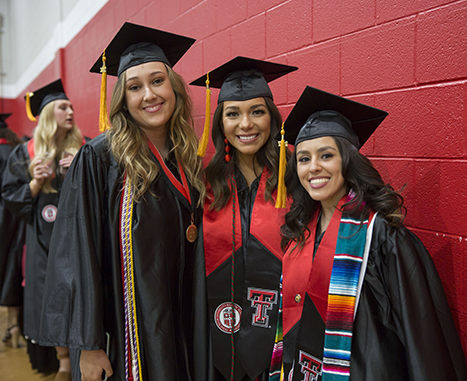 Highlight your culture, where you're from, or your favorite things about yourself in your graduation photos. Whether you like golfing, eating famous Texas barbeque or simply reading a book—simple things can make your pictures more personalized and memorable.
5. Catch a selfie with your school dean.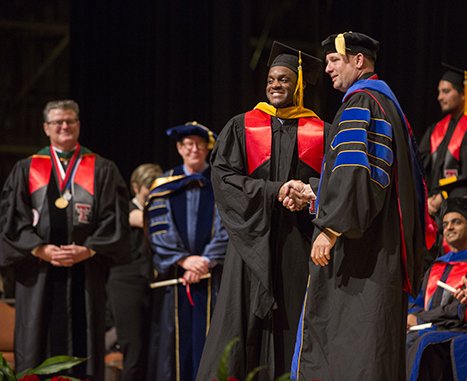 Our school deans, professors and advisors invest so much in your growth and success. Make graduation day extra fun by catching a photo with your dean or mentor.
6. Break your shoes in.
We're all about looking your best for graduation day and wearing nice shoes, but make sure you feel comfortable walking. Walking across the stage to accept your diploma is no easy task when you don't feel comfortable in your shoes.
7. Take a photo with the people who helped you get there.
Reflect on the people who helped you get to this point and let them know of their positive impact. Graduating is a major accomplishment, and so many friends, family and mentors helped get you to this point.
8. Take pictures with the friends you've made.
The learning environment brings a special bond of friendship that you will never lose. Take a photo with classmates and friends—you'll always look back on the networks and friendships you have made.
9. Live it up and enjoy the moment.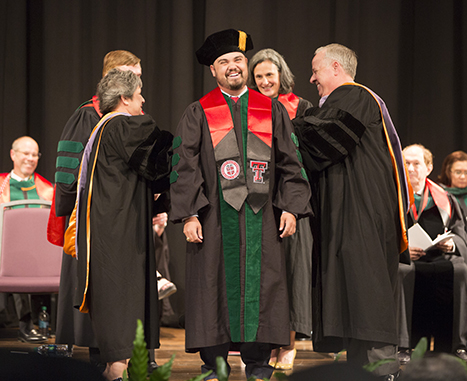 This day celebrates your accomplishments with your degree and how hard you worked. Give yourself a fist bump and remember that hard work comes with great rewards.
Congratulations Red Raiders! Carry your passion for learning and service to the world and keep us in the loop. Stay connected with us at:
TTUHSC:
https://www.facebook.com/ttuhsc
https://www.instagram.com/ttuhsc
TTUHSC Alumni:
https://www.facebook.com/TTUHSCAlumniAssociation
https://www.instagram.com/ttuhscalumni
Related Stories
By Lori Rice-Spearman, Ph.D., Steven L. Berk, M.D.
March 22, 2022
TTUHSC Celebration of Life Service was held March 25th in remembrance of Tom McGovern, Ed.D.
By Suzanna Cisneros
March 18, 2022
TTUHSC has been named as a Military Friendly® School for 2022-2023. Among graduate schools, TTUHSC ranked fourth in the nation, achieving Gold award status.
By Meaghan Collier
March 17, 2022
On March 16, fourth-year TTUHSC Jerry H. Hodge School of Pharmacy students interested in completing a residency after they graduate in May, learned where they would spend the next stage of their training during the Pharmacy Residency Match Day.
Recent Stories
Health
By Mark Hendricks
September 29, 2022
CPRIT recently awarded a $1 million prevention grant to Rakhshanda Rahman, M.D., Rebeccah Baucom, M.D., and John Kidwell, M.D., from the TTUHSC School of Medicine.
Research
By Kathryn Dankesreiter (TTU)
September 26, 2022
The Innovation Hub at Research Park today (September 26, 2022) announced the winners of its annual Presidents' Innovative Startup Awards. The award recognizes startups that have a high potential for growth and an economic impact in West Texas.
Education
By Mark Hendricks
September 23, 2022
Fifth graders from Bean Elementary School became doctors for a day. The Texas Tech University Health Sciences Center (TTUHSC) Student National Medical Association (SNMA) hosted the Doctors for a Day Minicamp on Sept. 23.