The Stories Behind Match Day
Medical Students Learn Residency Destinations with Match Day
Just as basketball fans wait every year for the tradition, excitement and upsets of March Madness, medical students await the same with Match Day. Fourth-year medical students from the Texas Tech University Health Sciences Center (TTUHSC) School of Medicine participated in Match Day. The following students chose a path with multiple degrees that led them to this day.
Pharmacy Background Paved the Way to Medical Oncology
At the age of 19, Michael Song considered heading into medical school. But he took a very non-traditional path. He had acquired enough college credits to start looking at medical school applications. However, with loving encouragement from his family and mentors, he explored other worthwhile pursuits before going to medical school. He received his bachelor's degree in sociology and a Doctor of Pharmacy from University of Texas at Austin, worked in a research lab during his undergraduate and pharmacy school years, then worked as a clinical pharmacist at the Dallas County Hospital District for nearly 8 years, before beginning medical school.
"I loved being an oncology pharmacist," Song said. "I loved working with cancer patients who would not have a place to go other wise, but I missed the research component in my clinically focused practice. I wanted to get into cancer therapeutics research. So I came to TTUHSC and started in the joint M.D./Ph.D. program."
In 2010, when Song began at TTUHSC, he heard about The Free Clinic and wanted to volunteer.
"Dr. Kelly Bennett took me aside and said, 'I hear you were a pharmacist. We could really use your help in putting a pharmacy in the clinic,'" Song said. "I couldn't think of anything more worthwhile to do."
The process of establishing a pharmacy at The Free Clinic was a complex process. Song went through meetings with legal teams, communicated with the State Board of Pharmacy and started everything from scratch. He wrote grants to secure funding, wrote policy and procedures for the clinic and pharmacy, worked on legal documents for pharmacy licensure, designed the physical facilities, wrote other grants to secure the starting inventory and recruited and trained the pharmacy volunteers. The process took three years of time-consuming work.
"I had completed my first two years of medical school and was in the first year of my Ph.D. program when we received the licensure for the pharmacy and opened its doors," Song said. "One of the biggest needs was to provide basic medications and education to keep The Free Clinic patients healthy. Now with the pharmacy in-house, we are able to do that. It speaks to how God works, by having the right person at the right place at the right time. I was at the right place at the right time, with the right background and experiences. Now the work gets to help a lot of people. I am fortunate to have been a part of that. The true beauty of The Free Clinic is all of the volunteers from TTUHSC and the community and their genuine care and concern for the patients."
After 8 years at TTUHSC, Song learned he matched at the University of Texas Health Science Center at San Antonio to complete his residency in internal medicine. His Ph.D. was in Biochemisty, Cellular and Molecular Biology (Class of 2016) and his work focused on cancer molecular biology. Song worked in the laboratories of Patrick Reynolds, M.D., Ph.D., and Ming Kang, Pharm.D., characterizing cell and xenograft models and utilizing them to study molecular mechanisms of drug resistance.
"The key component is patient care," Song said. "I very much look forward to working with each patient under my care, but I also want to continue my research work and develop new treatment modalities, which will benefit 100 other patients who may be fighting a similar disease. I am in a unique position with my pharmacy education and experience. I had outstanding training through my Ph.D. education. With my medical education and training, I will be in a good position to be a successful clinician-scientist. I hope to have the opportunities that will allow me to help a lot of patients in the future."
Siblings Match Career Journeys
As siblings, Mike and Kristen Russell remember being close and extremely competitive growing up along with their sister Rachel. The two have almost mirror-like career paths.
Natives of Tunkhannock, Pennsylvania, Mike earned a degree in chemical engineering and Kristen a degree in mechanical engineering both from Kettering University in Flint, Michigan. Mike worked three years for General Motors. Kristen worked for Zimmer Orthopedics.
The Russell parents, Gary and Susan, both family medicine physicians, worked with patients in Africa, Haiti and the Middle East. Those global experiences early on in their lives have made an impact on the Russell family.
"I remember being 11 and 13 when we traveled to Honduras and Kenya," Kristen said. "We were really blessed that we saw the good side of medicine during those oversea trips. I saw the connection you can have with people and how it can make a difference in their lives. We had a positive experience with medicine."
Those experiences led Kristen and Mike to look at the field of medicine. Mike, the oldest child, was accepted to the TTUHSC School of Medicine. Before he started medical school, he asked for a deferral to travel and work in Israel and the Palestinian Territories. He taught elementary students in the region. When Kristen also was accepted to medical school a year later, she too received a deferral and traveled to the West Bank to teach fifth graders.
"I miss helping people in need and being able to provide care to those who otherwise would go without," Mike said. "I also miss the cultural exposure. I miss being able to assist in the teaching process of future physicians. I'm excited about opportunities to further my own craft and help train future physicians in parts of the underdeveloped world."
With the scope of health care changing, both Mike and Kristen worked on multiple degrees to be better physicians in hopes of one day running their own clinics.
While at TTUHSC, both received their Masters in Public Health. Mike also completed his Masters of Business with the M.D./MBA program.
"I would love to jump into full time orthopaedics," Mike said. " It would be fulfilling to work with kids with club foot and hopefully train first-year African residents."
Kristen, who said she never intended to do the same as Mike, also hopes to work with global health.
"My goal is to establish an ophthalmology residency program in North West Africa," Kristen said. "I lived in Belgium with Rotary International in high school and learned French. That opened up Western Africa where there are two ophthalmologists per million people versus one per 20,000 here. There is a huge need in those areas. I always loved other cultures and would like to spend my life providing for the medical needs of others."
At Match Day, Mike matched to his first choice in orthopaedic surgery at the University of Iowa Hospitals. Kristen matched for her preliminary year at Creighton University in Nebraska and then will begin her ophthalmology residency at the University of Oklahoma/Dean McGee Eye Institute.
The Match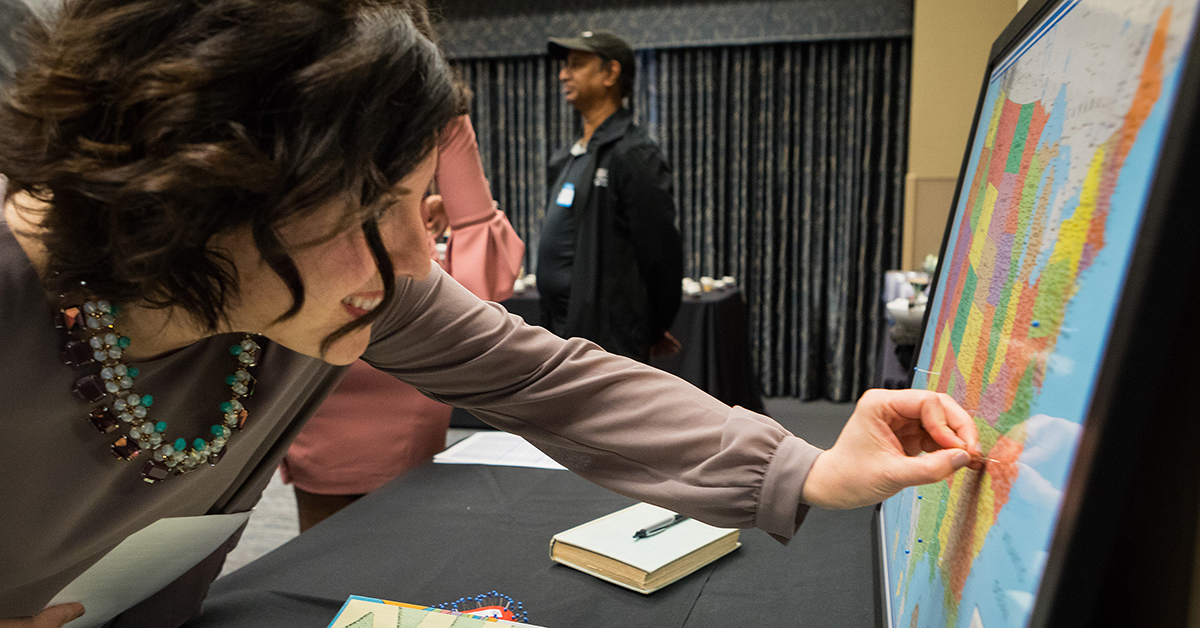 "All of our students who matched received an excellent education and worked hard," said Steven L. Berk, M.D., TTUHSC executive vice president, provost and School of Medicine dean. "Their commitment to become exceptional physicians has led them to match well, and we are excited to see the wonderful things they will do in the medical profession, both here and across the country."
This year also marks the first class matching from the Covenant Branch. Kristen is one of the twenty-six medical students from the Covenant Branch who matched in various specialties. The TTUHSC School of Medicine Covenant Branch is an alternate training site for students staying in Lubbock who wish to experience community–based medicine. The TTUHSC School of Medicine Covenant Branch officially opened July 2016 with third-year clerkships.
"The diversity of their experience in this setting greatly enhanced their overall educational knowledge base," said Robert Salem, M.D., Founding Vice Dean for Covenant Branch Medical Education Programs. "Covenant provided the students with the unique learning opportunity of "one-on-one" training with over 100 of Covenant's private practicing physicians."
This year's Match included TTUHSC School of Medicine students matching to institutions including, Baylor Scott & White, Emory University of Medicine, Dartmouth-Hitchcock Medical Center, Naval Medical Center, Wake Forest University, University of Texas Southwestern Medical School, Tripler Army Center and Phoenix Children's Hospital.
"People across the U.S. are recognizing the academic excellence at TTUHSC," Mike said. "My mom always said to maintain our humility and keep our priorities straight. It's not about you, but if God had not intervened in your life and put you on a specific pathway, you would not be where you are. Even though I matched at Iowa, I always will identify as a Red Raider and hopefully will help further expand TTUHSC's reputation of excellence to other places."
Related Stories
By QEP Committee
March 21, 2023
As spring approaches, some people's thoughts turn to gardening. Whether it's a flower garden they desire or a vegetable garden want to have, they begin planning what they'll plant and what they need to do to ensure a successful garden.
By QEP Committee
March 21, 2023
A "growth mindset" accepts that our intelligence and talents can develop over time, and a person with that mindset understands that intelligence and talents can improve through effort and learning.
By Melissa Whitfield
February 13, 2023
Abstaining from drug abuse and an early diagnosis of familial hypercholesterolemia (high cholesterol) can help prevent heart disease.
Recent Stories
Research
By Mark Hendricks
November 16, 2023
Ninh (Irene) La-Beck, Pharm.D., with the TTUHSC Jerry H. Hodge School of Pharmacy, received a five-year, $2.49 million grant to investigate how nanoparticles interact with the immune system and cancer.
Research
By Mark Hendricks
November 10, 2023
To help investigate the influence basal sex hormone alterations may have on chronic post-op pain, the NIH recently awarded a grant to Jenny Wilkerson, Ph.D., from the Jerry H. Hodge School of Pharmacy.
Health
By Tyler White
November 09, 2023
Scott Shurmur, M.D., a cardiologist at the Texas Tech Physicians Center for Cardiovascular Health, shared his expertise and his experience as a former collegiate athlete.