When the Abilene Research Coalition formed last summer, one of the group's top priorities was to organize an event where local scientists could gather to discuss their research. That priority was realized April 27 when the area's top researchers met at the Texas Tech University Health Sciences Center (TTUHSC) campus for the inaugural Abilene Interdisciplinary Symposium on Cancer & Biomedical Research.
Symposium participants included faculty and student scientists from TTUHSC, Abilene Christian University, Hardin-Simmons University, McMurry University, Cisco College and Hendrick Health System.
Elizabeth Henske, M.D., a professor of medicine at Harvard Medical School and the symposium's keynote speaker, presented, "Tuberous Sclerosis Complex: From Pathogenesis to Therapy." In addition to her teaching responsibilities, Henske is a practicing medical oncologist at the Lank Center for Genitourinary Cancer at the Dana-Farber Cancer Institute in Boston. Her laboratory is focused on the cell biology and biochemistry of Tuberous Sclerosis Complex (TSC), Lymphangioleiomyomatosis (LAM) and Birt-Hogg-Dube Syndrome (BHD).
Pearl Merritt, Ed.D., R.N., regional dean for School of Nursing in Abilene, helped form the Abilene Research Coalition. Merritt, who also is the Abilene regional director for TTUHSC's Laura W. Bush Institute for Women's Health, said the coalition is seeking to bring cutting-edge research and educational opportunities to undergraduate and graduate students from each of Abilene's colleges and universities. She said the level of expertise demonstrated by TTUHSC's cancer researchers in Abilene, and the state-of-the-art research equipment housed in the school's Abilene campus laboratories, are resources that can help other area scientists advance their research.
"Through collaboration, TTUHSC can help the researchers from other Abilene colleges and universities provide these opportunities for area students," Merritt said. "This is a great way for TTUHSC to share our expertise and resources with other local universities, and we are happy to do so because it's the students and the community who ultimately will benefit."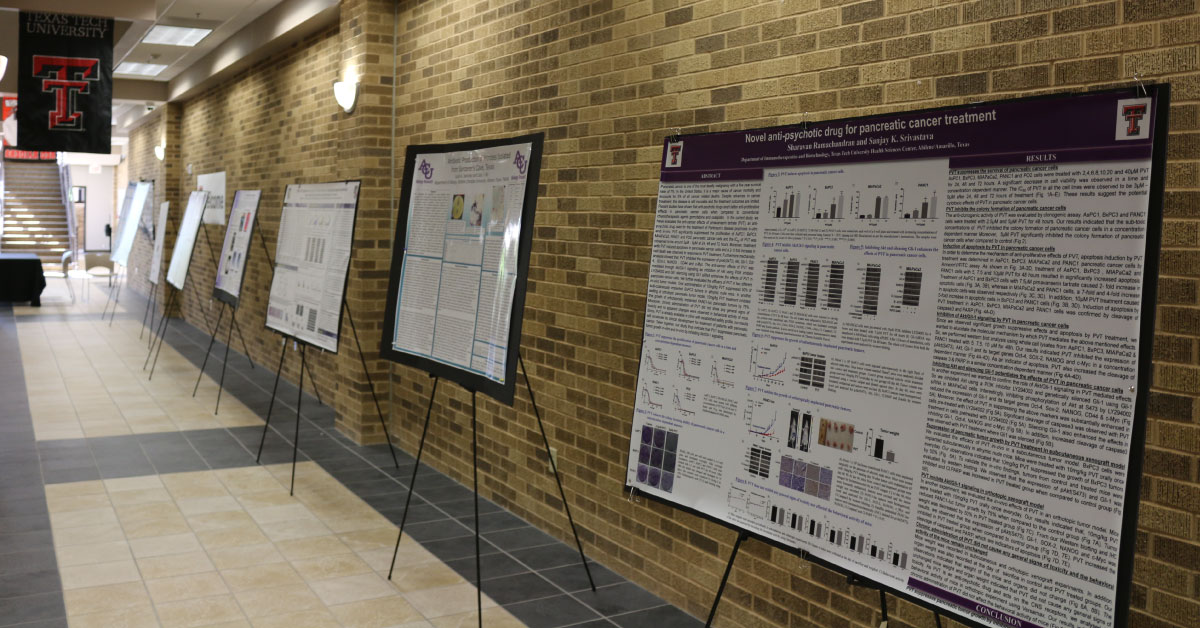 The symposium also featured podium and poster presentations by student and faculty scientists from each school, and distinguished speaker presentations by Sanjay Srivastava, Ph.D., a TTUHSC university distinguished professor and chair for the university's Department of Immunotherapeutics and Biotechnology; Magdalena Karbowniczek, M.D., Ph.D., a professor for TTUHSC's Department of Immunotherapeutics and Biotechnology; and Aristotelis Astreinidis, Ph.D., an assistant professor and a pediatric nephrologist at the University of Tennessee Health Science Center.
Event sponsors included TTUHSC, Hendrick Health System, the Development Corporation of Abilene and the Laura W. Bush Institute for Women's Health.