Pharmacy organization recognizes Abilene student leader
Hayley Brazeale was named one of 12 pharmacy students nationwide to receive a 2018 ASHP Student Leadership Award.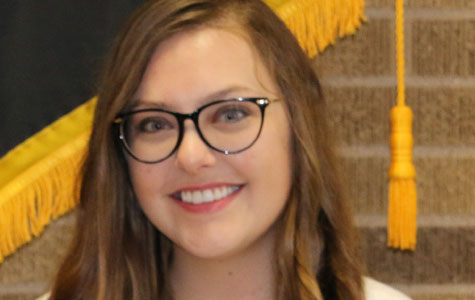 Hayley Brazeale
Hayley Brazeale believes each person has the ability to significantly improve their community, their profession—and in her case, patients' lives—by taking initiative, working toward a vision and accepting leadership roles.
Armed with those tenets, Brazeale never shied away from opportunities to lead during her four years as a member of the Class of 2018 at the Texas Tech University Health Sciences Center (TTUHSC) School of Pharmacy campus in Abilene. Instead, she combined them with the innovation and passion for a cause she observed in others to inspire and motivate her to be a leader for her classmates.
"Seeing people make big impacts through their hard work and dedication inspires me to get involved, too," Brazeale said. "I hope that through opportunities in leadership, I'm able to contribute to advancements as well."
Brazeale's leadership efforts did not go unnoticed. In late April she was named one of just 12 pharmacy students nationwide to receive a 2018 Student Leadership Award from the American Society of Health-System Pharmacists (ASHP).
The award, sponsored by ASHP and the ASHP Research and Education Foundation, recognizes second-, third- and fourth-year pharmacy students who also are ASHP members for their academic achievements, professional work experience, internships, research, poster presentations, active involvement and leadership in ASHP and in other state and local level organizations. Winners receive a plaque, an ASHP drug information reference library and a $2,000 cash award.
"This award is one of the highest honors I have ever received, and I'm so humbled to have been chosen from among student leaders across the country," Brazeale said.
In her four years on the Abilene campus, Brazeale was involved in many state, national and student organizations. The list includes student liaison for the West Texas Society of Health-System Pharmacists; chair for the American Pharmacists Association-Academy of Student Pharmacists' Operation Heart and Operation Immunization; chair of ASHP's pharmacy student forum career development and education advisory group; executive committee representative for the Texas Society of Health-System Pharmacists' student section; and a national liaison for Phi Lambda Sigma Region Six.
She also served as the Texas Tech Student Society of Health-System Pharmacists' Abilene community service chair, student liaison, president elect and president; vice president for the Translational Research Interest Group on the Abilene campus; and as a member of the TTUHSC President's Select Ambassador program.
"Every pharmacist is a leader in some capacity, and I believe my leadership experience in pharmacy school prepared me to serve as a leader in my upcoming career," Brazeale said. "I discovered that I thrive in roles centered around servant leadership, and I greatly developed my skills as a leader in school."
Through student organization involvement, Brazeale explained, pharmacy students can learn more about the various opportunities available in contemporary pharmacy, network with prominent pharmacy leaders and develop essential leadership skills. In addition, she added, actively participating in student organizations allows pharmacy students to contribute to initiatives that advance the profession and help them give back to their community.
"Pharmacy school helped me to learn what kind of leader I want to be in my career, and due to my experiences in school, I'll be continuing on that path to serve in the ASHP New Practitioners Forum Clinical Practice Advisory Group next year," she said.
Upon graduation in May, Brazeale began a PGY-1 pharmacy practice residency at Houston Methodist Hospital, which is part of the sprawling Texas Medical Center in Houston. She said she's most interested in internal medicine and critical care and will work to secure a PGY-2 residency in one of those specialized areas. She also hopes to continue practicing in the Houston area.
"I love that the Texas Medical Center houses so many different hospitals and a wide variety of health care professionals from which to learn and collaborate," she said. "There are countless people that helped me to get to the point where I am today, and I'm grateful for every single person that influenced and encouraged me throughout my pharmacy school career. Each of them helped me to grow, improve and achieve my goals."
Related Stories
By Lori Rice-Spearman, Ph.D., Steven L. Berk, M.D.
March 22, 2022
TTUHSC Celebration of Life Service was held March 25th in remembrance of Tom McGovern, Ed.D.
By Suzanna Cisneros
March 18, 2022
TTUHSC has been named as a Military Friendly® School for 2022-2023. Among graduate schools, TTUHSC ranked fourth in the nation, achieving Gold award status.
By Meaghan Collier
March 17, 2022
On March 16, fourth-year TTUHSC Jerry H. Hodge School of Pharmacy students interested in completing a residency after they graduate in May, learned where they would spend the next stage of their training during the Pharmacy Residency Match Day.
Recent Stories
Research
By Kathryn Dankesreiter (TTU)
September 26, 2022
The Innovation Hub at Research Park today (September 26, 2022) announced the winners of its annual Presidents' Innovative Startup Awards. The award recognizes startups that have a high potential for growth and an economic impact in West Texas.
Education
By Mark Hendricks
September 23, 2022
Fifth graders from Bean Elementary School became doctors for a day. The Texas Tech University Health Sciences Center (TTUHSC) Student National Medical Association (SNMA) hosted the Doctors for a Day Minicamp on Sept. 23.
Research
By Mark Hendricks
September 22, 2022
Pablo Artigas, Ph.D., from TTHSC's School of Medicine's Department of Cell Physiology and Molecular Biophysics, published a study with his team of collaborators in Nature Communications.