Pharmacy organization recognizes Abilene student leader
Hayley Brazeale was named one of 12 pharmacy students nationwide to receive a 2018 ASHP Student Leadership Award.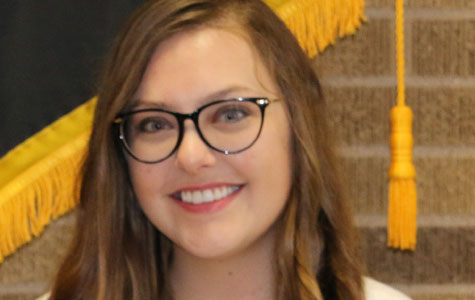 Hayley Brazeale
Hayley Brazeale believes each person has the ability to significantly improve their community, their profession—and in her case, patients' lives—by taking initiative, working toward a vision and accepting leadership roles.
Armed with those tenets, Brazeale never shied away from opportunities to lead during her four years as a member of the Class of 2018 at the Texas Tech University Health Sciences Center (TTUHSC) School of Pharmacy campus in Abilene. Instead, she combined them with the innovation and passion for a cause she observed in others to inspire and motivate her to be a leader for her classmates.
"Seeing people make big impacts through their hard work and dedication inspires me to get involved, too," Brazeale said. "I hope that through opportunities in leadership, I'm able to contribute to advancements as well."
Brazeale's leadership efforts did not go unnoticed. In late April she was named one of just 12 pharmacy students nationwide to receive a 2018 Student Leadership Award from the American Society of Health-System Pharmacists (ASHP).
The award, sponsored by ASHP and the ASHP Research and Education Foundation, recognizes second-, third- and fourth-year pharmacy students who also are ASHP members for their academic achievements, professional work experience, internships, research, poster presentations, active involvement and leadership in ASHP and in other state and local level organizations. Winners receive a plaque, an ASHP drug information reference library and a $2,000 cash award.
"This award is one of the highest honors I have ever received, and I'm so humbled to have been chosen from among student leaders across the country," Brazeale said.
In her four years on the Abilene campus, Brazeale was involved in many state, national and student organizations. The list includes student liaison for the West Texas Society of Health-System Pharmacists; chair for the American Pharmacists Association-Academy of Student Pharmacists' Operation Heart and Operation Immunization; chair of ASHP's pharmacy student forum career development and education advisory group; executive committee representative for the Texas Society of Health-System Pharmacists' student section; and a national liaison for Phi Lambda Sigma Region Six.
She also served as the Texas Tech Student Society of Health-System Pharmacists' Abilene community service chair, student liaison, president elect and president; vice president for the Translational Research Interest Group on the Abilene campus; and as a member of the TTUHSC President's Select Ambassador program.
"Every pharmacist is a leader in some capacity, and I believe my leadership experience in pharmacy school prepared me to serve as a leader in my upcoming career," Brazeale said. "I discovered that I thrive in roles centered around servant leadership, and I greatly developed my skills as a leader in school."
Through student organization involvement, Brazeale explained, pharmacy students can learn more about the various opportunities available in contemporary pharmacy, network with prominent pharmacy leaders and develop essential leadership skills. In addition, she added, actively participating in student organizations allows pharmacy students to contribute to initiatives that advance the profession and help them give back to their community.
"Pharmacy school helped me to learn what kind of leader I want to be in my career, and due to my experiences in school, I'll be continuing on that path to serve in the ASHP New Practitioners Forum Clinical Practice Advisory Group next year," she said.
Upon graduation in May, Brazeale began a PGY-1 pharmacy practice residency at Houston Methodist Hospital, which is part of the sprawling Texas Medical Center in Houston. She said she's most interested in internal medicine and critical care and will work to secure a PGY-2 residency in one of those specialized areas. She also hopes to continue practicing in the Houston area.
"I love that the Texas Medical Center houses so many different hospitals and a wide variety of health care professionals from which to learn and collaborate," she said. "There are countless people that helped me to get to the point where I am today, and I'm grateful for every single person that influenced and encouraged me throughout my pharmacy school career. Each of them helped me to grow, improve and achieve my goals."
Related Stories
By QEP Committee
March 21, 2023
As spring approaches, some people's thoughts turn to gardening. Whether it's a flower garden they desire or a vegetable garden want to have, they begin planning what they'll plant and what they need to do to ensure a successful garden.
By QEP Committee
March 21, 2023
A "growth mindset" accepts that our intelligence and talents can develop over time, and a person with that mindset understands that intelligence and talents can improve through effort and learning.
By Melissa Whitfield
February 13, 2023
Abstaining from drug abuse and an early diagnosis of familial hypercholesterolemia (high cholesterol) can help prevent heart disease.
Recent Stories
Education
By Suzanna Cisneros
December 07, 2023
HACU announced Sonya Castro-Quirino, D.Bioethics, TTUHSC vice president of Office of Institutional Compliance, as one of the 50 fellows of HACU's Leadership Academy/La Academia de Liderazgo.
Campus Life
By Samantha White via TAFP news release
December 05, 2023
Ronald L. Cook, DO, MBA, of Lubbock, Texas, was named the 2023 Texas Family Physician of the Year during TAFP's Annual Session and Primary Care Summit in Grapevine on Nov. 11.
Research
By Mark Hendricks
November 16, 2023
Ninh (Irene) La-Beck, Pharm.D., with the TTUHSC Jerry H. Hodge School of Pharmacy, received a five-year, $2.49 million grant to investigate how nanoparticles interact with the immune system and cancer.