Pharmacy students prepare for residency interviews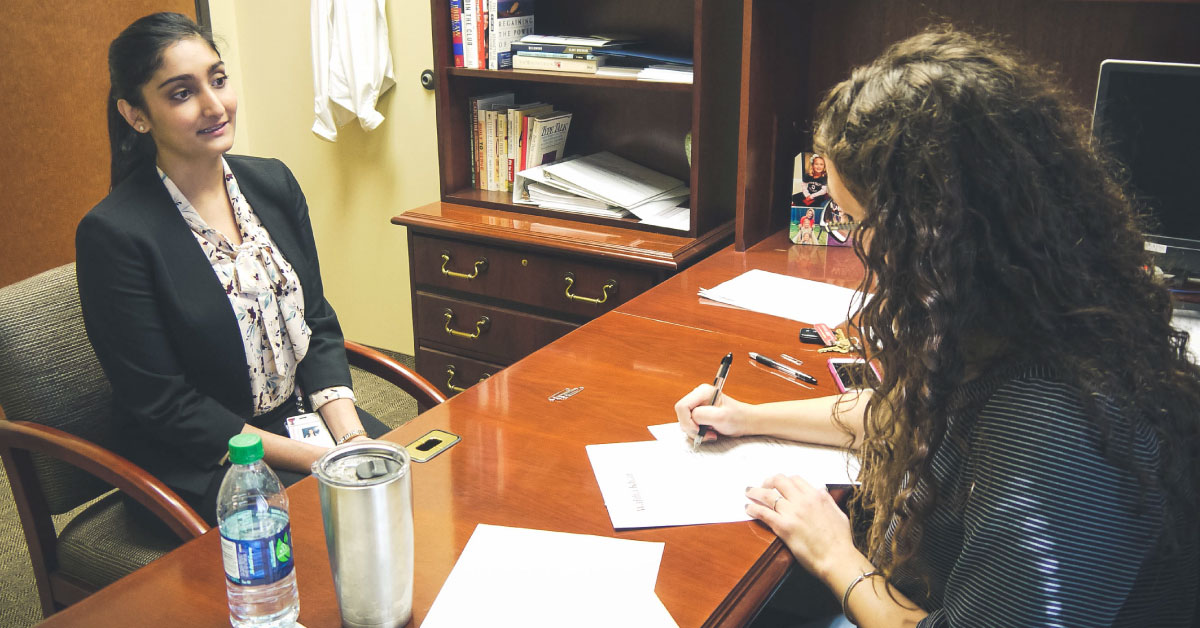 The School of Pharmacy's Office of Professional Affairs sponsored and conducted mock interviews for all fourth-year (P4) students who are planning to apply for post-graduate residency positions. The mock interviews were conducted Jan. 6 and Jan. 10 on all four School of Pharmacy campuses with the help of 49 faculty members, residents and staff volunteers.
Krystal Edwards, associate dean for career development, said 33 students signed up for the exercise. Each of those students completed four interviews, including two one-on-one faculty interviews, one group residency interview and one faculty-group interview. She said the future residents also presented a clinical case during the mock sessions.
"For each session, the students were asked to dress professionally and act as if they were onsite at the residency of their choice," Edwards said. "They provided their CV and a letter of intent for interviewers to simulate the residency individualized interview. Interviews were conducted with both students and the interviewers asking and answering questions followed by immediate feedback from the interviewer."
To better prepare the students for their future interviews, Edwards said faculty members were encouraged to play different roles like administrators, residency program directors and preceptors. At the conclusion of the interviews and case presentations, students, residents and faculty joined together for a group Q&A session and an overall debriefing on each campus. Formal written feedback was provided to the students at the end of the day.
Related Stories
By Mark Hendricks
March 25, 2022
The Texas Tech University Health Sciences Center (TTUHSC) Graduate School of Biomedical Sciences hosted its 34th Annual Student Research Week March 8-11.
By Mark Hendricks
March 25, 2022
The National Cancer Institute awarded a five-year, $1.9 million grant to C. Patrick Reynolds, M.D., Ph.D., director for the School of Medicine Cancer Center at TTUHSC.
By School of Health Professions
March 24, 2022
Richard Greenhill, DHA, FISQua, FACHE, discusses the hype and reality surrounding AI in healthcare.
Recent Stories
Education
By School of Health Professions
June 30, 2022
Ericka Hendrix, PhD, MB(ASCP)cm, spoke about the training and education involved for diagnostic molecular scientists and how the pandemic has affected the role.
Education
By Suzanna Cisneros
June 29, 2022
TTUHSC and members of the Abilene community today (June 29) celebrated the official unveiling the new Julia Jones Matthews School of Population and Public Health.
Education
By Kate Gollahon
June 28, 2022
On June 29, the opening celebration event for the Julia Jones Matthews School of Population and Public Health will recognize many years of hard work and look ahead to the start of a new and exciting journey.