TTUHSC Licenses Rights to Limb-girdle Muscular Dystrophy Gene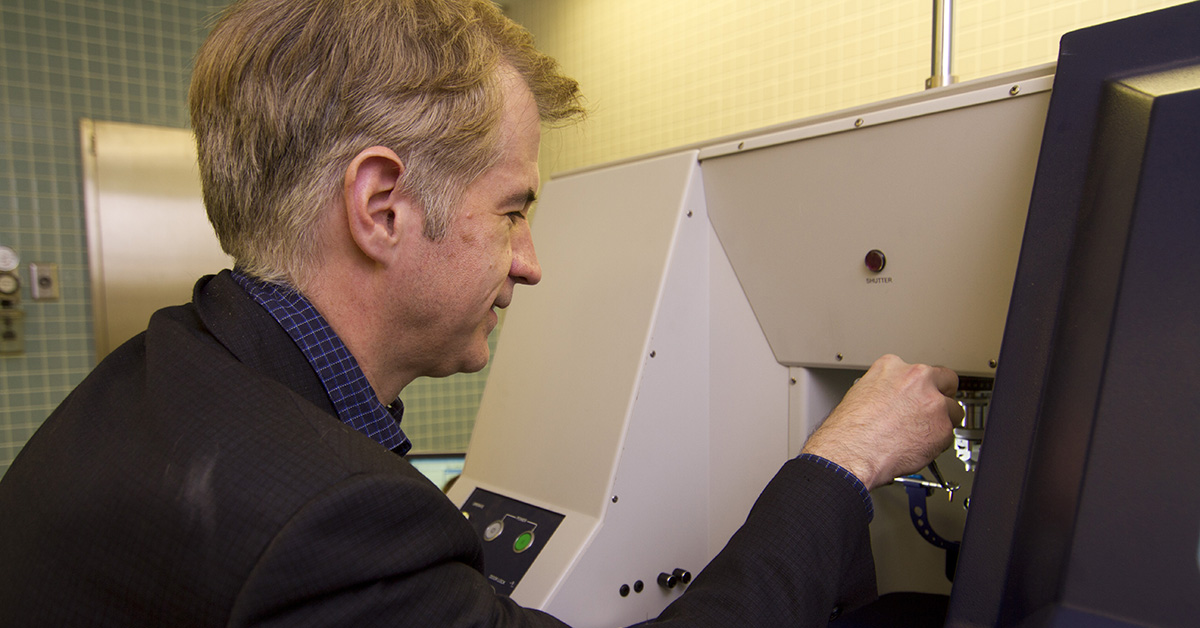 Texas Tech University Health Sciences Center (TTUHSC) has licensed patent rights to the limb-girdle muscular dystrophy gene, nano-dysferlin developed by Bryan Sutton, Ph.D., associate professor in the TTUHSC Department of Cell Physiology and Molecular Biophysics.
Sutton has worked with dysferlinopathies since 2009 in hopes of finding a therapy for people with limb-girdle muscular dystrophy. Matthew Hirsch, Ph.D., assistant professor at the University of North Carolina (UNC) Gene Therapy Center, has introduced the gene Sutton developed at TTUHSC into an adeno-associatied virus system (AAV). Since UNC has a gene therapy center, most of the development work has been conducted there.
Tamid Bio, Inc., a Fortress Biotech Inc. subsidiary, was formed to develop AAV gene therapies in orphan diseases with unmet medical needs. Tamid Bio recently licensed the rights to develop therapies using the nano-dysferline gene and will sponsor additional research at the UNC Gene Therapy Center to further develop and test the new technology.
According to the Muscular Dystrophy Association, people in the early stages of limb-girdle muscular dystrophy begin to walk with a "waddling" gait because of weakness of the hip and leg muscles. They also may have trouble getting out of chairs or climbing stairs. Other symptoms can include weakness in the shoulder, which makes reaching over the head and carrying heavy objects difficult.
Sutton said genes are the codes that cells use to manufacture proteins needed by the body. The genes associated with limb-girdle encode proteins that play vital roles in muscle function, regulation and repair.
"When one of these genes contains a flaw then your cells can't produce the proteins needed for healthy muscles," Sutton said. "Through our research, we tried to understand what happens at the atomic level of proteins involved. Dysferlin is a protein present in your muscles. For those with limb-girdle, when they move they introduce tears in their muscle cells. If you have tears in these proteins, you can't use those muscles like before."
Sutton said the gene he researched is long and causes many complications in coming up with a satisfactory gene therapy.
"One of the problems is having to find a gene small enough to stuff inside the box," Sutton said. "In the case of limb-girdle muscular dystrophy, it is similar to trying to stuff a big foot into a little shoe. I had to make the foot smaller and whittle it down and take out parts it did not necessarily need."
Sutton said the key was for the gene to still be functional. He designed several forms of the gene, and they functioned. That gene will be a part of the Tamid program. Currently, there is no cure for limb-girdle muscular dystrophy.
"We have other preclinical research testing to do," Sutton said. "But we hope the gene will be injected into muscles of limb-girdle patients to try to restore function with the muscles in next few years."
Related Stories
By Mark Hendricks
March 25, 2022
The Texas Tech University Health Sciences Center (TTUHSC) Graduate School of Biomedical Sciences hosted its 34th Annual Student Research Week March 8-11.
By Mark Hendricks
March 25, 2022
The National Cancer Institute awarded a five-year, $1.9 million grant to C. Patrick Reynolds, M.D., Ph.D., director for the School of Medicine Cancer Center at TTUHSC.
By School of Health Professions
March 24, 2022
Richard Greenhill, DHA, FISQua, FACHE, discusses the hype and reality surrounding AI in healthcare.
Recent Stories
Education
By School of Health Professions
June 30, 2022
Ericka Hendrix, PhD, MB(ASCP)cm, spoke about the training and education involved for diagnostic molecular scientists and how the pandemic has affected the role.
Education
By Suzanna Cisneros
June 29, 2022
TTUHSC and members of the Abilene community today (June 29) celebrated the official unveiling the new Julia Jones Matthews School of Population and Public Health.
Education
By Kate Gollahon
June 28, 2022
On June 29, the opening celebration event for the Julia Jones Matthews School of Population and Public Health will recognize many years of hard work and look ahead to the start of a new and exciting journey.