TTUHSC & Me: All that I Can Be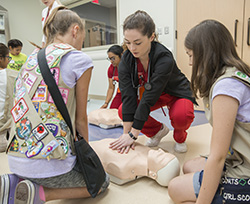 The Texas Tech University Health Sciences Center F. Marie Hall SimLife Center always is open for tours for prospective students, but recently it opened its doors to a very important clientele – Girl Scouts.
As a way to encourage girls to pursue careers in health care, the F. Marie Hall SimLife Center invited the Girl Scouts of the Texas Oklahoma Plains to tour the F. Marie Hall SimLife Center to learn about the human body and health care, earning their own honorary "TTUHSC and Me: All That I Can Be" patch.
"Encouraging girls at a young age to join The Girl Scouts' STEM Program (Science, Technology, Engineering and Math) provides them an opportunity to learn about the health care fields that give them the best asset they need to succeed – confidence," Executive Director of the TTUHSC Simulation Program at Abilene, Lubbock, and Odessa Sharon Decker, R.N., Ph.D., said. "These Girl Scout Cadettes are future leaders, and the more confidence we can instill in them today will inspire them to change the world tomorrow. We are proud to have our brightest nursing students mentoring these Cadettes".
The Cadettes toured the clinical rooms to the simulated neonatal unit and operating room. The Cadettes learned about the human body through presentations of the human heart; they even met the F. Marie Hall SimLife Center's Heartbeat Harvey.
Cadette Madelyn Caballero said she wants to become an obstetric nurse who helps women with high risk pregnancies after seeing the impact her mother has on the community.
"One thing that really stood out to me was all the new ways to learn all about the human body and how the program has improved in technology over the years," Caballero said. "I thought it was cool to see how many female nurses there were leading in teaching with technical mannequins. I learned how important it is to know how a heart and lung is supposed to sound compared to abnormal sounds."
Abby Mitchell, a senior nursing student and dean's ambassador, provided instruction in basic life support to the Cadettes.
"I wish I had been a Girl Scout," Abby said. "These girls picked up knowledge so quickly and knew a lot about health care beforehand. They have a great vision of what they want to do with their lives and many even wanted to go into health care. Those who didn't want to go into health care were interested in the technology involved with health and simulation. They applied their interests to an industry they weren't exactly looking to join."
Abby is happy to showcase TTUHSC, the School of Nursing and the F. Marie Hall SimLife Center.
"TTUHSC is such a conducive environment for learning," Abby said. "There is a culture of interprofessionalism that mingles the schools and students in a way that benefits everyone. It isn't about hierarchy; everyone's skills are essential when taking care of a patient. I've learned so much from those in other areas of health care."
Another Cadette, Lauren Settle, said the Girl Scouts gave her the confidence to pursue engineering.
"I would like to be an engineer of some sort," Settle said. "I like to solve problems, and that's what engineers do. One thing from the SimLife Center that was interesting to me was how the robot mannequins worked. They are quite interesting. Girl Scouts has helped me realize what I want to be when I'm older by teaching me that girls can be anything that boys can be."
Troop leader Erin Settle, Lauren's mom, said TTUHSC is allowing her daughter to look into a field she had never considered.
"She has always been technology-minded in the careers she has shown interest in over the years, but the medical field did not make it to her top choices." Settle said. "She came home from the experience at the SimLife Center relaying how big of a role technology now plays in the medical field and that she could see herself being a part of that now. I'd say that is a huge tribute."
Related Stories
By Lori Rice-Spearman, Ph.D., Steven L. Berk, M.D.
March 22, 2022
TTUHSC Celebration of Life Service was held March 25th in remembrance of Tom McGovern, Ed.D.
By Suzanna Cisneros
March 18, 2022
TTUHSC has been named as a Military Friendly® School for 2022-2023. Among graduate schools, TTUHSC ranked fourth in the nation, achieving Gold award status.
By Meaghan Collier
March 17, 2022
On March 16, fourth-year TTUHSC Jerry H. Hodge School of Pharmacy students interested in completing a residency after they graduate in May, learned where they would spend the next stage of their training during the Pharmacy Residency Match Day.
Recent Stories
Health
By School of Health Professions
February 02, 2023
Moumita Choudhury Au.D., CCC-A, spoke about the present and future of social media's impact on healthcare in general and on hearing healthcare specifically.
Research
By Mark Hendricks
January 31, 2023
Gail Cornwall, Ph.D., professor in the Department of Cell Biology and Biochemistry at the TTUHSC, has been named a member of the American Association for the Advancement of Science Fellowship Class of 2022.
Research
By Mark Hendricks
January 27, 2023
To help address communication hurdles, the Patient-Centered Outcomes Research Institute (PCORI) has awarded a $438,756 subcontract to Tetyana L. Vasylyeva, M.D., Ph.D., from the TTUHSC School of Medicine.