Chancellor's Council honors Amarillo Pharmacy Professor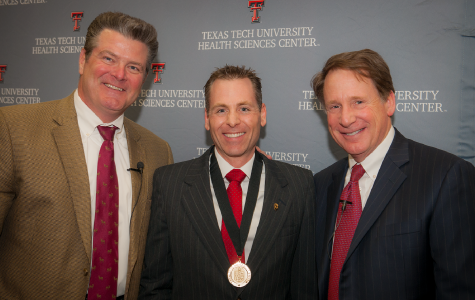 Eric MacLaughlin, Pharm.D. (center), with TTUHSC President Tedd L. Mitchell, M.D., and Chancellor Robert L. Duncan
Eric MacLaughlin, Pharm.D., professor and chair for the School of Pharmacy's Department of Pharmacy Practice in Amarillo, was among four Texas Tech University Health Sciences Center (TTUHSC) faculty members to receive a Chancellor's Council Distinguished Faculty Award Jan. 25 in Lubbock.
The Chancellor's Council Distinguished Faculty Award is the Texas Tech University System's highest faculty honor. MacLaughlin and Simon C. Williams, Ph.D., an associate professor for the School of Medicine, each received a Distinguished Teaching Award. Distinguished Researcher Awards went to Kendra P. Rumbaugh, Ph.D., associate professor for the Graduate School of Biomedical Sciences and the School of Medicine, and Phil S. Sizer, Ph.D., professor and associate dean for the School of Health Professions.
MacLaughlin came to the School of Pharmacy in 1999 as an assistant professor for the Department of Pharmacy Practice. In 2004, he was promoted to associate professor, and in 2011 he was promoted to professor. He was named department chair in 2014. He has also served as a clinical professor for the TTUHSC School of Medicine in Amarillo since 2012.
Since arriving at the School of Pharmacy, MacLaughlin has received numerous teaching and teaching team awards from his students and he received a TTUHSC President's Award for Excellence in Teaching in 2012. The American Society of Health-System Pharmacists named him a fellow in 2013, and he was elected to the board of regents for the American College of Clinical Pharmacists a year later.
In 2014, the American Pharmacists Association named MacLaughlin its representative to the American College of Cardiology (ACC) and American Heart Association (AHA) Guideline Writing Committee, which helped produce the joint ACC/AHA Guideline for the Management of Patients with Hypertension that was released in November 2017.
Related Stories
By QEP Committee
March 21, 2023
As spring approaches, some people's thoughts turn to gardening. Whether it's a flower garden they desire or a vegetable garden want to have, they begin planning what they'll plant and what they need to do to ensure a successful garden.
By QEP Committee
March 21, 2023
A "growth mindset" accepts that our intelligence and talents can develop over time, and a person with that mindset understands that intelligence and talents can improve through effort and learning.
By Melissa Whitfield
February 13, 2023
Abstaining from drug abuse and an early diagnosis of familial hypercholesterolemia (high cholesterol) can help prevent heart disease.
Recent Stories
Education
By Kate Gollahon
May 30, 2023
Several Texas Tech University Health Sciences Center (TTUHSC) School of Nursing faculty were awarded this year for their unparalleled contributions to medical education and patient care.
Education
By Kate Gollahon
May 29, 2023
On Memorial Day each May, a service is conducted to pay respect to the Willed Body Program donors and their families.
Education
By Kate Gollahon
May 24, 2023
While the TTU System aimed to cast a spotlight on these individuals and their work, the honorees chose to cast that light onto others, sharing their humble gratitude toward those who helped, guided and inspired them.