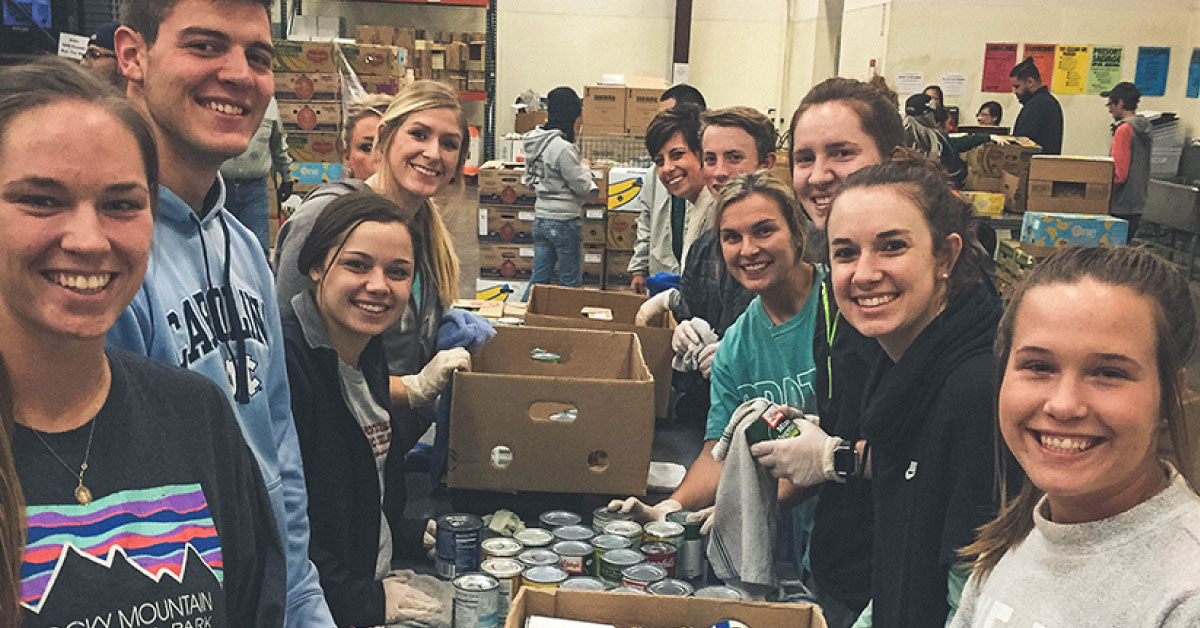 In the true spirit of the holiday season, a group comprised of first-year doctor of physical therapy (DPT) students, faculty and alumni from the TTUHSC School of Health Professions in Amarillo spent a few hours on Nov. 30 packing boxes with holiday meal ingredients at the High Plains Food Bank.
The TTUHSC team included alumnus Spencer Church (Amarillo DPT Class of 2016); Assistant Professor Misty Miller, PT, DPT (Class of 2011); and first-year Amarillo DPT students Brendon Pepper, Kaitlin Hesse, Bailey Theil, Maddison Moad, Caitlin Sieck, Raven McGrath and Carley Gilbreath.
Miller, whose son Lane also pitched in, said the TTUHSC contingent packed enough boxes in two hours to provide 6000 meals. The effort was part of the students' professional development portfolio.
"DPT students are mentored and asked to be involved not only in their profession, but in their community," Miller explained. "As faculty we feel like it is important as professionals to give back to the community that we serve. By volunteering at the food bank, the students get an opportunity to interact with individuals from the community as well as help prepare food boxes to go out into the community and bless others."
Miller said these types of projects also provide current students the opportunity to network with TTUHSC alumni from the DPT program and with other Amarillo community physical therapy (PT) professionals.
"We went back to the food bank in December and one of our third-year DPT students worked with several local PTs and their families to prepare items to kick-off the food bank donations in 2018," Miller added.
Image Gallery