Abilene Campus Hosts Second Public Health Museum
Several historical figures who helped advance public health made an appearance at the Abilene campus Dec. 3 when TTUHSC's Department of Public Health hosted its second annual Public Health Museum. This year's event included a "live" wax museum in one room and 16 displays depicting various social determinants to public health in another.
According to Julie St. John, DrPH, an assistant professor and the assistant chair for the Graduate School of Biomedical Sciences in Abilene, 16 undergraduate students minoring in public health at Hardin Simmons University put together the living wax museum. Some of the historical figures presented at the museum included Bernardino Ramazzini, Edward Jenner, John Snow, Louis Pasteur, Theodore Roosevelt and Margaret Chan.
"The students selected famous people from the past that made a significant contribution to public health," St. John said. "The presenters dressed up as their person, created a display and then presented short monologues."
Fifty-four students enrolled in TTUHSC's master of public health program put together the second exhibit as part of one of their required core public health courses. Some of the social determinants to public health that were on display dealt with issues like healthy child development, economic stability, education, access to community resources and health services, income, culture, exposure to violence, housing, food availability, poverty, transportation, and social norms and attitudes.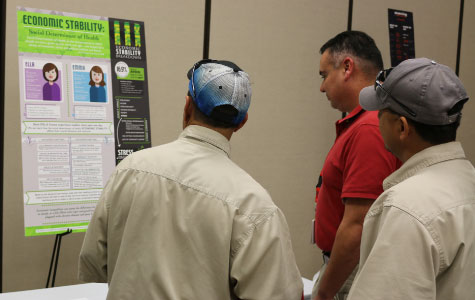 "The exhibits depicted social determinants of health, which are the conditions in which people are born, grow, live, work and age that influence individual and group differences in health status," St. John said. "These displays ranged from dioramas, photo collages and infographics to digital storybooks and videos."
St. John said the Department of Public Health plans to continue and expand the public health museum, and she welcomes collaboration. For more information, contact St. John at julie.st-john@ttuhsc.edu or (325) 513-4943.
Related Stories
By Lori Rice-Spearman, Ph.D., Steven L. Berk, M.D.
March 22, 2022
TTUHSC Celebration of Life Service was held March 25th in remembrance of Tom McGovern, Ed.D.
By Suzanna Cisneros
March 18, 2022
TTUHSC has been named as a Military Friendly® School for 2022-2023. Among graduate schools, TTUHSC ranked fourth in the nation, achieving Gold award status.
By Meaghan Collier
March 17, 2022
On March 16, fourth-year TTUHSC Jerry H. Hodge School of Pharmacy students interested in completing a residency after they graduate in May, learned where they would spend the next stage of their training during the Pharmacy Residency Match Day.
Recent Stories
Health
By Mark Hendricks
September 29, 2022
CPRIT recently awarded a $1 million prevention grant to Rakhshanda Rahman, M.D., Rebeccah Baucom, M.D., and John Kidwell, M.D., from the TTUHSC School of Medicine.
Research
By Kathryn Dankesreiter (TTU)
September 26, 2022
The Innovation Hub at Research Park today (September 26, 2022) announced the winners of its annual Presidents' Innovative Startup Awards. The award recognizes startups that have a high potential for growth and an economic impact in West Texas.
Education
By Mark Hendricks
September 23, 2022
Fifth graders from Bean Elementary School became doctors for a day. The Texas Tech University Health Sciences Center (TTUHSC) Student National Medical Association (SNMA) hosted the Doctors for a Day Minicamp on Sept. 23.