TTUHSC Amarillo Employees Honored as Texans Caring for Texans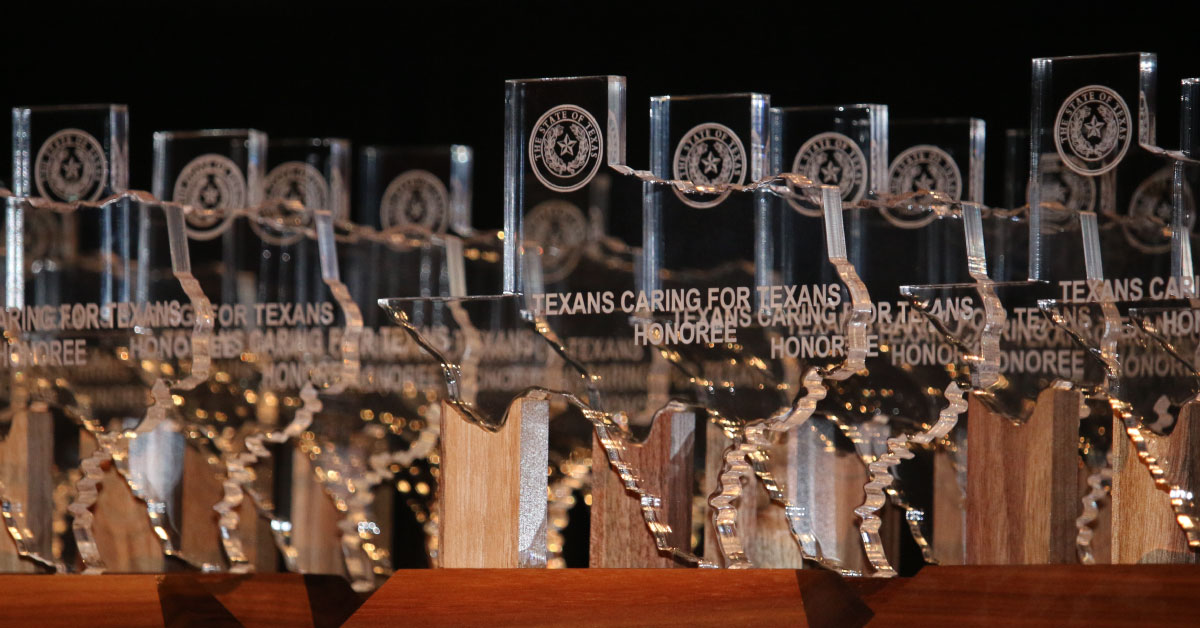 Each year state agencies from the upper 26 counties in the Texas Panhandle are are invited to select an employee or team of employees to receive a Texans Caring for Texans award. The award program, created in 1996 by former State Representative David Swinford, recognizes these state employees for the effort they put forth to positively impact their communities.
The 2018 Texans Caring for Texans recipients were recognized Aug. 9 in a ceremony on the West Texas A&M University campus in Canyon. TTUHSC-Amarillo honorees included Amador Villasenor from Facilities and Safety Services; Michelle Balducci, Ravi Bhardawaj, M.D., Sharon Felts, Brenda Hernandez and Izi Obokhare, M.D., from the School of Medicine; Jana Cookman, Ph.D., Deborah Casida, Patricia Francis Johnson, Melinda Mitchell Jones, Laura Opton and Deborah Sikes from the School of Nursing; and Christina Roybal, David Simmons, R.Ph., and Rebecca Young from the School of Pharmacy.
Image Gallery
Related Stories
By QEP Committee
March 21, 2023
As spring approaches, some people's thoughts turn to gardening. Whether it's a flower garden they desire or a vegetable garden want to have, they begin planning what they'll plant and what they need to do to ensure a successful garden.
By QEP Committee
March 21, 2023
A "growth mindset" accepts that our intelligence and talents can develop over time, and a person with that mindset understands that intelligence and talents can improve through effort and learning.
By Melissa Whitfield
February 13, 2023
Abstaining from drug abuse and an early diagnosis of familial hypercholesterolemia (high cholesterol) can help prevent heart disease.
Recent Stories
Research
By Mark Hendricks
November 16, 2023
Ninh (Irene) La-Beck, Pharm.D., with the TTUHSC Jerry H. Hodge School of Pharmacy, received a five-year, $2.49 million grant to investigate how nanoparticles interact with the immune system and cancer.
Research
By Mark Hendricks
November 10, 2023
To help investigate the influence basal sex hormone alterations may have on chronic post-op pain, the NIH recently awarded a grant to Jenny Wilkerson, Ph.D., from the Jerry H. Hodge School of Pharmacy.
Health
By Tyler White
November 09, 2023
Scott Shurmur, M.D., a cardiologist at the Texas Tech Physicians Center for Cardiovascular Health, shared his expertise and his experience as a former collegiate athlete.