TTUHSC Amarillo Employees Honored as Texans Caring for Texans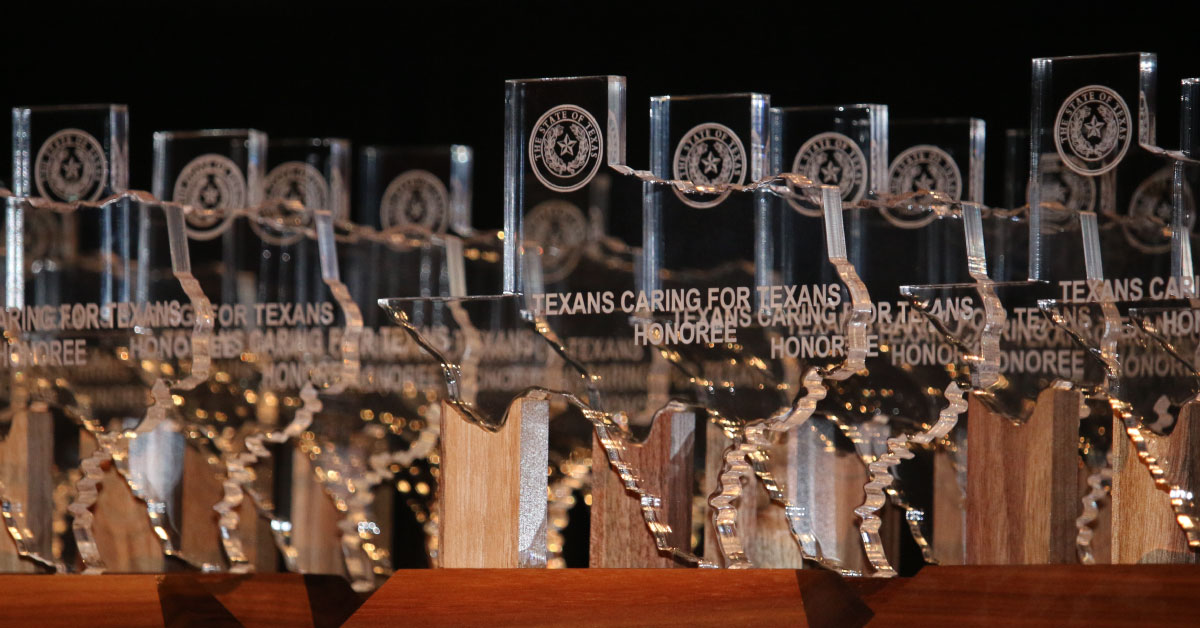 Each year state agencies from the upper 26 counties in the Texas Panhandle are are invited to select an employee or team of employees to receive a Texans Caring for Texans award. The award program, created in 1996 by former State Representative David Swinford, recognizes these state employees for the effort they put forth to positively impact their communities.
The 2018 Texans Caring for Texans recipients were recognized Aug. 9 in a ceremony on the West Texas A&M University campus in Canyon. TTUHSC-Amarillo honorees included Amador Villasenor from Facilities and Safety Services; Michelle Balducci, Ravi Bhardawaj, M.D., Sharon Felts, Brenda Hernandez and Izi Obokhare, M.D., from the School of Medicine; Jana Cookman, Ph.D., Deborah Casida, Patricia Francis Johnson, Melinda Mitchell Jones, Laura Opton and Deborah Sikes from the School of Nursing; and Christina Roybal, David Simmons, R.Ph., and Rebecca Young from the School of Pharmacy.
Image Gallery
Related Stories
By Mark Hendricks
March 25, 2022
The Texas Tech University Health Sciences Center (TTUHSC) Graduate School of Biomedical Sciences hosted its 34th Annual Student Research Week March 8-11.
By Mark Hendricks
March 25, 2022
The National Cancer Institute awarded a five-year, $1.9 million grant to C. Patrick Reynolds, M.D., Ph.D., director for the School of Medicine Cancer Center at TTUHSC.
By School of Health Professions
March 24, 2022
Richard Greenhill, DHA, FISQua, FACHE, discusses the hype and reality surrounding AI in healthcare.
Recent Stories
Education
By School of Health Professions
June 30, 2022
Ericka Hendrix, PhD, MB(ASCP)cm, spoke about the training and education involved for diagnostic molecular scientists and how the pandemic has affected the role.
Education
By Suzanna Cisneros
June 29, 2022
TTUHSC and members of the Abilene community today (June 29) celebrated the official unveiling the new Julia Jones Matthews School of Population and Public Health.
Education
By Kate Gollahon
June 28, 2022
On June 29, the opening celebration event for the Julia Jones Matthews School of Population and Public Health will recognize many years of hard work and look ahead to the start of a new and exciting journey.