Farming Accident Patient Receives Life-Saving Trauma Care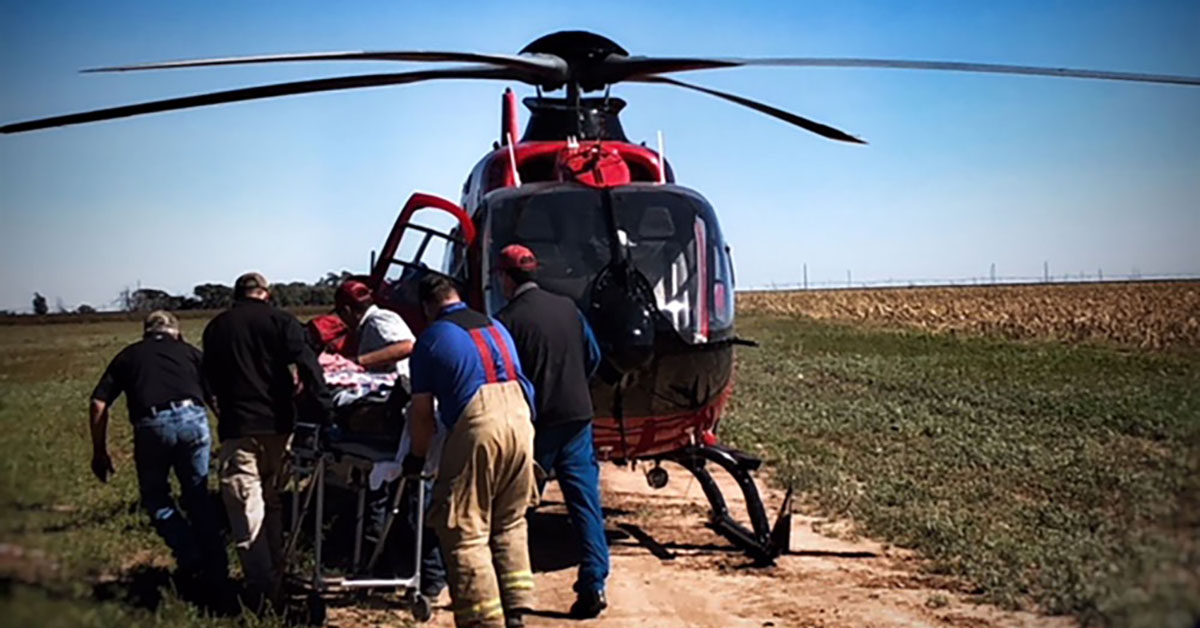 A farm accident between Plainview and Floydada led to life-saving measures by an emergency rescue and trauma team Tuesday (October 17th). Fifty-nine year-old Leo Martinez was trapped when his legs were caught inside of a 20-foot tall grain auger cart, causing severe life-threatening injuries.
A grain auger is a tube containing a solid shaft in the center with a spiral of flat steel that is welded onto the center shaft. The auger's sharp corkscrew blade rotates as it draws grain up. According to the Farm Injury Resource Center, on a per-hour-of-use basis, augers are one of the most dangerous machines in farm use. Martinez was sucked down and wedged in the auger, severely crushing and cutting his legs. First responders were unable to reverse the auger blades or free Martinez, and feared he could bleed to death from his injuries.
Steven Brooks, M.D., a trauma surgeon at Texas Tech Physicians and Trauma Medical Director at University Medical Center, was contacted and organized a team for travel to the accident site for a possible on-site leg amputation.
"Dr. Christopher Piel (UMC Emergency Department Medical Director) called me and described that the patient was wedged in the auger with his left leg crushed, and that saving Mr. Martinez's life might require an amputation surgery out in the field," Brooks said. "Our O.R. 'red team' prepared a surgical kit. The blood bank prepared coolers of blood for transfusion. The E.D. staff prepared a drug box for intubation and pain control. Thanks to these dedicated professionals who are all part of our trauma team, we were ready for anything. We then helicoptered to the site, essentially taking the operating room to the patient."
When Brooks and Andres Leal, M.D., chief resident, arrived on scene, they were prepared to intubate the patient. Police and sheriffs were present, while first responders from Lockney EMS & Fire Department and Floydada Fire Department, cut the metal housing away from the auger using a torch to peel back layers of steel. Water was sprayed during the use of the torch to immediately cool the metal.
"The AeroCare1 team was fantastic," Brooks said, "Transporting us rapidly to the scene and returning the patient safely to University Medical Center. The first responders performed brilliantly. They started IV fluids, treated Mr. Martinez with pain medicines, all while helping to free his crushed leg with a blowtorch."
Once freed, Martinez was lifted out of the 20-foot tall auger cart in a rescue basket with the help of a forklift. Immediately upon his arrival to University Medical Center, Brooks confirmed that the arterial blood supply to the patient's legs was intact. Texas Tech Physicians orthopaedic surgeon George Brindley, M.D., along with the orthopedic trauma team, operated on Martinez's numerous wounds and completed a left foot amputation that was largely done by the auger.
Martinez likely will require future surgeries and physical therapy due to soft tissue and muscle damage, but physicians anticipate his continued recovery. Brooks expressed gratitude for the patient's safety and pride in first responders and hospital professionals whose efforts resulted in that outcome.
"Yesterday, this man was working to make a living, and this happened to him," Brooks said. "We are extremely happy that Mr. Martinez is stable and safe."
"Trauma care has taken center stage in the media nationally," Brooks continued. "Lately we are frequently reminded that tragedy can strike us or our loved ones at any time. This is an example of how our Lubbock medical community handles such a challenge. It's a story of our first responders rising to the occasion. It's a story of how Texas Tech Physicians and health care professionals in our Level 1 Trauma Center all put their heads together to operate in the field and save a life. We're proud of our trauma team, and we show up every day ready to take care of our Lubbock community and the West Texas region."
Related Stories
By QEP Committee
March 21, 2023
As spring approaches, some people's thoughts turn to gardening. Whether it's a flower garden they desire or a vegetable garden want to have, they begin planning what they'll plant and what they need to do to ensure a successful garden.
By QEP Committee
March 21, 2023
A "growth mindset" accepts that our intelligence and talents can develop over time, and a person with that mindset understands that intelligence and talents can improve through effort and learning.
By Melissa Whitfield
February 13, 2023
Abstaining from drug abuse and an early diagnosis of familial hypercholesterolemia (high cholesterol) can help prevent heart disease.
Recent Stories
Education
By Suzanna Cisneros
December 07, 2023
HACU announced Sonya Castro-Quirino, D.Bioethics, TTUHSC vice president of Office of Institutional Compliance, as one of the 50 fellows of HACU's Leadership Academy/La Academia de Liderazgo.
Campus Life
By Samantha White via TAFP news release
December 05, 2023
Ronald L. Cook, DO, MBA, of Lubbock, Texas, was named the 2023 Texas Family Physician of the Year during TAFP's Annual Session and Primary Care Summit in Grapevine on Nov. 11.
Research
By Mark Hendricks
November 16, 2023
Ninh (Irene) La-Beck, Pharm.D., with the TTUHSC Jerry H. Hodge School of Pharmacy, received a five-year, $2.49 million grant to investigate how nanoparticles interact with the immune system and cancer.