TTUHSC's First Chapter of Phi Kappa Phi Inducted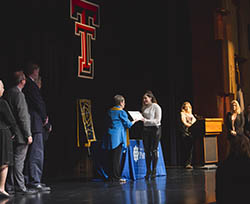 This March, the Honor Society of Phi Kappa Phi installed its 343rd chapter at Texas Tech University Health Sciences Center (TTUHSC). Founded in 1897 at the University of Maine, Phi Kappa Phi is the nation's oldest and most selective all-discipline collegiate honor society.
The installation of the TTUHSC chapter came after a thorough chartering process and approval from the society's board of directors. To be eligible, an institution must be a regionally accredited four-year college or university with an established reputation of excellence and an expressed commitment to upholding the values of the society.
The society's mission is to recognize and promote academic excellence in all fields of higher education and to engage the community of scholars in service to others. Some of the organization's more notable members include former President Jimmy Carter, NASA astronaut Wendy Lawrence, novelist David Baldacci and YouTube co-founder Chad Hurley. The society has awarded approximately $15 million since the inception of its awards program in 1932. Today, $1.4 million is awarded each biennium to qualifying students and members through graduate fellowships, undergraduate study abroad grants, member and chapter awards and grants for local and national literacy initiatives. For more information about Phi Kappa Phi, visit www.PhiKappaPhi.org.
TTUHSC's first chapter of Phi Kappa Phi were inducted this October. Congratulations to our Red Raiders!
Related Stories
By Mark Hendricks
March 25, 2022
The Texas Tech University Health Sciences Center (TTUHSC) Graduate School of Biomedical Sciences hosted its 34th Annual Student Research Week March 8-11.
By Mark Hendricks
March 25, 2022
The National Cancer Institute awarded a five-year, $1.9 million grant to C. Patrick Reynolds, M.D., Ph.D., director for the School of Medicine Cancer Center at TTUHSC.
By School of Health Professions
March 24, 2022
Richard Greenhill, DHA, FISQua, FACHE, discusses the hype and reality surrounding AI in healthcare.
Recent Stories
Health
By School of Health Professions
May 19, 2022
Dysphagia is a swallowing disorder that affects a person's ability to eat or drink, affecting between 300,000 and 700,000 people in the United States each year.
Health
By Suzanna Cisneros
May 18, 2022
Brittany Bankhead, M.D., an assistant professor of surgery for the Division of Trauma, Burns and Critical Care at the Texas Tech University Health Sciences Center, said life-threatening bleeding can happen in everyday scenarios.
Education
By Clarissa Sanchez
May 16, 2022
TTUHSC celebrated the completion of the School of Health Professions Physician Assistant Program expansion May 16 with a ceremonial ribbon cutting.