School of Pharmacy researchers pick up NIH renewal grant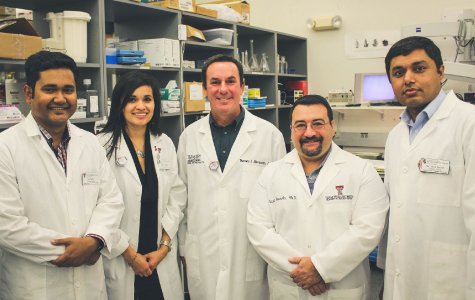 Left to right: Ali Sifat; Heidi Villalba; Thomas Abbruscato, Ph.D.; Luca Cucull, Ph.D., and Md. Abul Kaisar
The National Institutes of Health (NIH) recently awarded a multi-PI (principal investigator) RO1 grant to a pair of Texas Tech University Health Sciences Center (TTUHSC) faculty scientists in Amarillo who will continue their investigation into the health effects of electronic cigarettes.
Luca Cucullo, Ph.D., and Thomas Abbruscato, Ph.D., will use the five-year, $1.9 million grant to continue a research project titled, "Testing tobacco smoke and e-cigarette toxicity at the blood-brain barrier." The grant is a competitive renewal of an NIH-funded project Cucullo brought with him when he was hired as an assistant professor for the School of Pharmacy's Department of Pharmaceutical Sciences in 2011. Abbruscato is the department chair; the NIH and the American Heart Association have also supported his research into the effects of nicotine and tobacco smoke on blood-brain barrier injuries and stroke outcomes.
"We were excited to recruit Dr. Cucullo from the Cleveland Clinic to expand our expertise in Amarillo into the long term neurovascular effects of tobacco smoke exposure on neurodegenerative diseases," Abbruscato said.
Cucullo and Abbruscato said the primary goal of their research project is to compare the neurovascular effects of tobacco smoke to that of electronic cigarettes through a side-by-side study, per a recent call-to-action by the U.S. Surgeon General to investigate e-cig toxicity. Cucullo believes the significant amount of data and expertise he and his team gained by studying the effects of tobacco smoke on the cerebrovascular system during the initial phase of the NIH grant puts them in a unique position to accomplish this goal.
"E-cigarettes are advertised as safer products, and even as smoking cessation tools, though current reports point to the opposite direction," Cucullo said. "Also quite alarming is the fact that the popularity of these alternative devices is growing exponentially and has already surpassed that of conventional tobacco products among millennials, and yet we know nothing about the health risks associated with their use. Therefore, the NIH and the Food and Drug Administration (FDA) have launched a research campaign to look into these issues and provide critical information to inform the population and draw strong guidelines to regulate the manufacturing and e-liquid contents of e-cigarettes."
Cucullo was initially motivated to investigate how tobacco smoking affects cerebrovascular and neuroinflammatory diseases like stroke, Alzheimer's disease and vascular dementia because of personal experiences. Cucullo is a former smoker himself, and his mother was a chronic and heavy smoker who now depends entirely upon an external oxygen supply to function.
"I've been there and done that," Cucullo said. "I personally lived how easy it is to get addicted to smoking and what it takes to get out of it. As a scientist, I was working in a laboratory that entirely focused on studying the cerebrovascular disorders and how they impact the central nervous system. I discovered that smoking toxicity was emphasized so much in the cancer field but was practically ignored, or very marginalized, in the cerebrovascular field, save for a host of clinical reports. So I decided to take a leap of faith and start looking into it."
Cucullo's first research program into tobacco smoke toxicity at the blood-brain barrier was built using a three-year competitive grant that was funded by Philip Morris. He took his proposal to the NIH and eventually landed his first RO1 grant, then came to TTUHSC shortly thereafter and continued to expand his research by looking into the underlying mechanisms of electronic cigarettes toxicity and their potential countermeasures.
"All of this previous research paid off and brought me and Dr. Abbruscato this competitive renewal," Cucullo said. "On top of that, it has allowed us to build three more parallel research projects, two of which we recently submitted for funding to the NIH to relate our work to diabetes mellitus and to the FDA to study blood- and brain-based biomarkers to identify injury from emerging tobacco products. A proposal for the third project will be submitted soon."
In submitting these grant proposals, Abbruscato said he and Cucullo are seeking to provide their expertise in response to the research missions described by the NIH-FDA Tobacco Regulatory Sciences Program, which recently made several requests for these types of applications.
Cucullo credits Pooja Naik, Ph.D., and Shikha Prasad, Ph.D., two of his former graduate students, for laying the ground work for these projects by identifying previously unknown key mechanisms of toxicity. His said his current graduate student, Mohammad Abul Kaisar, is responsible for the foundational work that allowed he and Abbruscato to expand the project to include the electronic cigarettes.
In addition, Cucullo commended the work of Ravi Sajja, Ph.D., a senior research scientist in Cucullo's lab, for playing a critical role in identifying key molecular players and biological targets linking the oxidative stress resulting from smoking and type 2 diabetes-like conditions with blood-brain barrier dysfunctions.
Abbruscato praised his current graduate students, Heidi Villalba, M.S., and Ali Sifat, M.S., for playing a critical role in assessing the impact tobacco and e-cigarette toxicity have on stroke outcome and the resulting neurological impairments.
Both scientists also lauded the TTUHSC Center for Blood-Brain Barrier Research for its continued support of the collaboration between the Cucullo and Abbruscato labs.
"That collaboration has put TTUHSC, Amarillo and the School of Pharmacy on the map as the epicenter for expertise related to the brain health effects of emerging tobacco products," they agreed.
Related Stories
By QEP Committee
March 21, 2023
As spring approaches, some people's thoughts turn to gardening. Whether it's a flower garden they desire or a vegetable garden want to have, they begin planning what they'll plant and what they need to do to ensure a successful garden.
By QEP Committee
March 21, 2023
A "growth mindset" accepts that our intelligence and talents can develop over time, and a person with that mindset understands that intelligence and talents can improve through effort and learning.
By Melissa Whitfield
February 13, 2023
Abstaining from drug abuse and an early diagnosis of familial hypercholesterolemia (high cholesterol) can help prevent heart disease.
Recent Stories
Education
By Suzanna Cisneros
December 07, 2023
HACU announced Sonya Castro-Quirino, D.Bioethics, TTUHSC vice president of Office of Institutional Compliance, as one of the 50 fellows of HACU's Leadership Academy/La Academia de Liderazgo.
Campus Life
By Samantha White via TAFP news release
December 05, 2023
Ronald L. Cook, DO, MBA, of Lubbock, Texas, was named the 2023 Texas Family Physician of the Year during TAFP's Annual Session and Primary Care Summit in Grapevine on Nov. 11.
Research
By Mark Hendricks
November 16, 2023
Ninh (Irene) La-Beck, Pharm.D., with the TTUHSC Jerry H. Hodge School of Pharmacy, received a five-year, $2.49 million grant to investigate how nanoparticles interact with the immune system and cancer.