Emotional Abuse As Damaging As Physical Abuse To A Child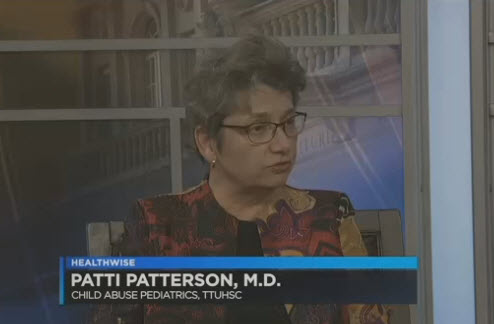 "Sticks and stones will break my bones, But words will never hurt me."
Dr. Patti Patterson says this about that adage, "That's absolutely not true. When it comes to children, emotional abuse can be just as damaging as physical abuse."
Dr. Patterson is a Texas Tech physician who is board certified in Child Abuse Pediatrics. She says emotional abuse can bring long-term consequences like depression, alcoholism, and drug abuse, among other problems.
So, even though child abuse is more easily recognized with burns and bruises, Dr. Patterson says hurtful words or the threat of bodily harm can trigger physical problems. "increased cortisone levels, glucose levels, your adrenaline – your fight or flight," she says, "if a child is always threatened, those actually go up and can lead to long-term consequences like high blood pressure or increased risk of diabetes."
So what about yelling at children? Would that be considered abusive? Dr. Patterson says some families are just loud and that's how they communicate. The difference, she explains, is the intent or anger behind those words.
Click on the interview with Dr. Patterson and you might be surprised to hear more of the hurtful ways that children are often abused.
Those can include everything from neglect to sarcasm. She says children may not understand adult humor. So, repeated teasing, which may appear as playful to some, could be devastating to a child's self-esteem.
Related Stories
By Mark Hendricks
March 25, 2022
The Texas Tech University Health Sciences Center (TTUHSC) Graduate School of Biomedical Sciences hosted its 34th Annual Student Research Week March 8-11.
By Mark Hendricks
March 25, 2022
The National Cancer Institute awarded a five-year, $1.9 million grant to C. Patrick Reynolds, M.D., Ph.D., director for the School of Medicine Cancer Center at TTUHSC.
By School of Health Professions
March 24, 2022
Richard Greenhill, DHA, FISQua, FACHE, discusses the hype and reality surrounding AI in healthcare.
Recent Stories
Education
By Suzanna Cisneros
May 24, 2022
The school, which is the sixth at the university, aims to train future health care leaders in population and public health.
Education
By Meaghan Collier
May 21, 2022
The TTUHSC Jerry H. Hodge School of Pharmacy celebrated the Class of 2022 May 21 with its annual commencement ceremony.
Health
By School of Health Professions
May 19, 2022
Dysphagia is a swallowing disorder that affects a person's ability to eat or drink, affecting between 300,000 and 700,000 people in the United States each year.