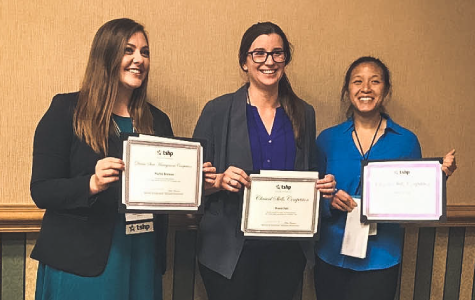 Hayley Brazeale, Brandi Dahl and Tina Tran.
TTUHSC's School of Pharmacy made a solid showing Apr. 28-30 at the Texas Society of Health-System Pharmacists' 2017 Annual Meeting in Galveston.
Three School of Pharmacy students won clinical competitions. The winners included Amarillo P4s Brandi Dahl and Tina Tran, who teamed up to win the P4 Clinical Skills competition, and Abilene P3 Hayley Brazeale, who took home top honors in the Disease State Management competition.
"TTUHSC was the defending champion for both of these categories, so it was especially great to see these student carry on the school winning streak," Assistant Professor Jennifer Grelle, Pharm.D., said.
In addition, Dallas P4s Jennifer Hardcopf and Lauren Staton made poster presentations and seven School of Pharmacy faculty members conducted continuing education presentations. The School of Pharmacy's Office of Professional Affairs also held an Apr. 28 reception for alumni and friends.