The Honor Society of Phi Kappa Phi Installed Chapter 343 at Texas Tech University Health Sciences Center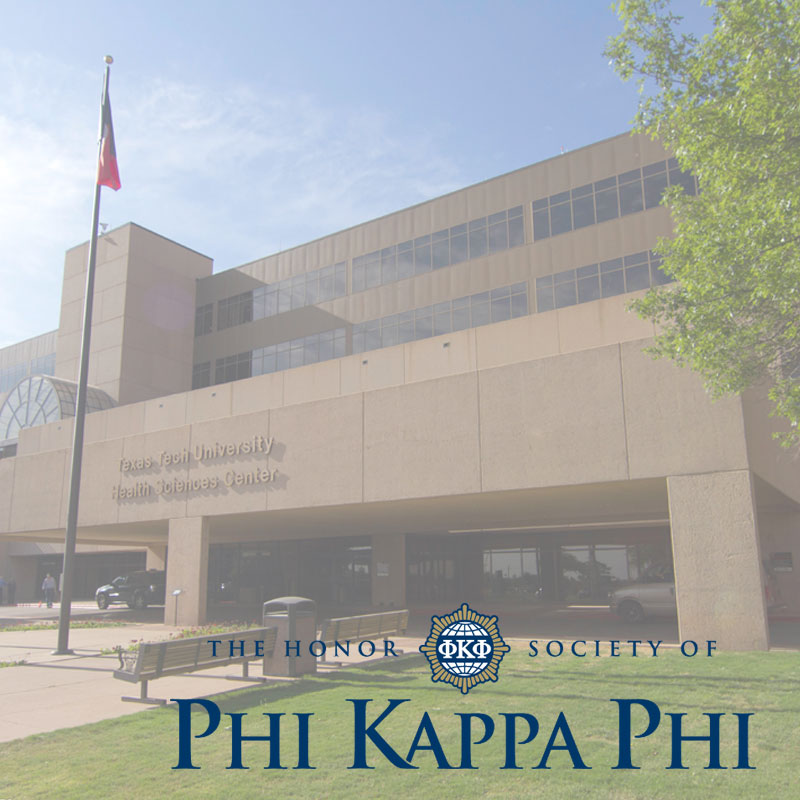 The Honor Society of Phi Kappa Phi installed its 343rd chapter at Texas Tech University Health Sciences Center (TTUHSC) on March 29 , 2016. Founded in 1897 at the University of Maine, Phi Kappa Phi is the nation's oldest and most selective all-discipline collegiate honor society.
The installation of the TTUHSC chapter comes after a thorough chartering process and approval from the society's board of directors. To be eligible, an institution must be a regionally accredited four-year college or university with an established reputation of excellence and an expressed commitment to upholding the values of the society.
"The Honor Society of Phi Kappa Phi is pleased to welcome Texas Tech University Health Sciences Center to its community of scholars," said Society Executive Director Dr. Mary Todd. "The university's leadership in interprofessional education is but one example of the excellence of their many programs."
Officers elected by the chartering group to serve the newly installed chapter include President Sharon Cannon, Ed.D., President Elect Jannette Dufour, Ph.D., Secretary Jacqueline Chavez, Treasurer Alyce Ashcraft, Ph.D., Public Relations Officer Suzanna Cisneros, Awards and Grants Coordinator Erin Woods, and Primary Contact Rial Rolfe, Ph.D.
Phi Kappa Phi was founded under the leadership of Marcus L. Urann who had a desire to create a different kind of honor society – one that recognized excellence in all academic disciplines. Today, the society has chapters on more than 300 campuses in the United States and the Philippines. Membership is by invitation only to the top 7.5 percent of juniors and the top 10 percent of seniors and graduate students, along with faculty, professional staff and alumni who have achieved scholarly distinction.
The society's mission is to recognize and promote academic excellence in all fields of higher education and to engage the community of scholars in service to others. Some of the organization's more notable members include former President Jimmy Carter, NASA astronaut Wendy Lawrence, novelist David Baldacci and YouTube co-founder Chad Hurley. The society has awarded approximately $15 million since the inception of its awards program in 1932. Today, $1.4 million is awarded each biennium to qualifying students and members through graduate fellowships, undergraduate study abroad grants, member and chapter awards and grants for local and national literacy initiatives. For more information about Phi Kappa Phi, visit www.PhiKappaPhi.org.
Nathan Anderson
TTUHSC President Tedd L. Mitchell, M.D.
Related Stories
By QEP Committee
March 21, 2023
As spring approaches, some people's thoughts turn to gardening. Whether it's a flower garden they desire or a vegetable garden want to have, they begin planning what they'll plant and what they need to do to ensure a successful garden.
By QEP Committee
March 21, 2023
A "growth mindset" accepts that our intelligence and talents can develop over time, and a person with that mindset understands that intelligence and talents can improve through effort and learning.
By Melissa Whitfield
February 13, 2023
Abstaining from drug abuse and an early diagnosis of familial hypercholesterolemia (high cholesterol) can help prevent heart disease.
Recent Stories
Education
By Kate Gollahon
May 29, 2023
On Memorial Day each May, a service is conducted to pay respect to the Willed Body Program donors and their families.
Education
By Kate Gollahon
May 24, 2023
While the TTU System aimed to cast a spotlight on these individuals and their work, the honorees chose to cast that light onto others, sharing their humble gratitude toward those who helped, guided and inspired them.
Campus Life
By Tyler White
May 23, 2023
TTUHSC hosted commencement ceremonies for its 1,669-member Class of 2023.