TTUHSC students join local heath care effort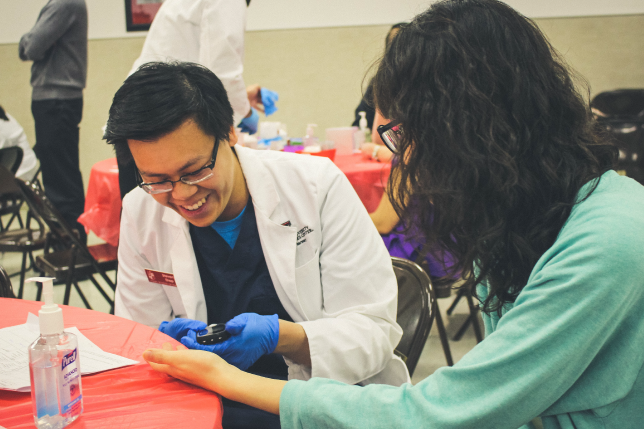 TTUHSC pharmacy and nursing students and faculty teamed up with volunteers from St. John Baptist Church, Amarillo College, West Texas A&M University and the City of Amarillo to conduct a free health fair Feb. 17 at the Amarillo United Citizens Forum. The effort, known as the Alive and Aware Health Fair, focused on the top health issues faced by the African-American community, including HIV, high blood pressure, stroke and diabetes.
Volunteers conducted free screenings for body mass index, blood pressure, glucose, cholesterol, pulmonary function, COPD, depression and HIV. School of Pharmacy Assistant Professor Shanna James, Pharm.D., said more than 160 people attended the health fair and more than 80 were screened by TTUHSC students. She said students also helped the Amarillo Department of Public Health provide sexually transmitted infection screenings and immunizations. All participating schools conducted sessions for children about careers in health care.
"For adults I provided three sessions: Diabetes and Me, Operation Breath (pulmonary disorders and smoking) and Love and Health," James said. "We provided the Love and Health session for everyone 13 and up and it was co-presented Marcus Nerios, an outreach specialist from the Department of Public Health, pharmacy students Kingsley Ugoji (P1) and Jeremy Camp (P3) and me. We talked about what is sex, what is safe sex and where to go for resources. We also had a condom demonstrator and at the end who had participants practice using condoms."
The Alive and Aware Health Fair was an extension of National Black HIV/AIDS Awareness Day that began in 1999 and was commemorated this year on Feb. 7. The 2017 theme was, "I Am My Brother's and Sister's Keeper. Fight HIV/AIDS!"
IMAGE GALLERY
Related Stories
By Mark Hendricks
March 25, 2022
The Texas Tech University Health Sciences Center (TTUHSC) Graduate School of Biomedical Sciences hosted its 34th Annual Student Research Week March 8-11.
By Mark Hendricks
March 25, 2022
The National Cancer Institute awarded a five-year, $1.9 million grant to C. Patrick Reynolds, M.D., Ph.D., director for the School of Medicine Cancer Center at TTUHSC.
By School of Health Professions
March 24, 2022
Richard Greenhill, DHA, FISQua, FACHE, discusses the hype and reality surrounding AI in healthcare.
Recent Stories
Education
By School of Health Professions
June 30, 2022
Ericka Hendrix, PhD, MB(ASCP)cm, spoke about the training and education involved for diagnostic molecular scientists and how the pandemic has affected the role.
Education
By Suzanna Cisneros
June 29, 2022
TTUHSC and members of the Abilene community today (June 29) celebrated the official unveiling the new Julia Jones Matthews School of Population and Public Health.
Education
By Kate Gollahon
June 28, 2022
On June 29, the opening celebration event for the Julia Jones Matthews School of Population and Public Health will recognize many years of hard work and look ahead to the start of a new and exciting journey.