Cooking classes focus on healthy meals
Abilene Public Health graduate organizes cooking classes and community garden.
The expanded community garden at the MERCY Health Care Center, 1902 Shelton Ave., includes squash, okra, tomatoes, jalapeños, watermelon and cantaloupe.
Some healthy recipes taste better — and are easier to cook — than they look on paper. That's one reason the Texas Healthy Communities program of the
Abilene-Taylor County Public Health District
is encouraging everyone to participate in the monthly cooking classes hosted by nutritionists with Taylor County's Women, Infants and Children program.
WIC initiatives include offering supplemental nutritious foods to women, infants and children during pregnancy and early childhood. But the free WIC cooking classes are open to the public and benefit any family at any stage of life, said Veronica Escalona, a health administration specialist with the Health Department and program coordinator for Texas Healthy Communities.
Empowering Texans to engage in healthy habits where they live, work and play is the goal of theTexas Healthy Communities program of the Texas Department of State Health Services. Abilene's health department received a grant from the state to initiate and support healthy programs locally.
To promote healthier eating at home, Escalona is partnering with the local WIC staff to spread theword about the cooking classes.
Two cooking sessions will be presented at 10:15 a.m. and 2:15 p.m. Aug. 4 at the Abilene-Taylor County Public Health District at 850 N. Sixth St. The classes will focus on proteins and include preparing quinoa blonde brownies with almond butter, black bean burgers and salmon patties.
QUICK TIPS FOR COOKING HEALTHY
Eating healthy does not happen by accident. Following are some simple tips for becoming proactive in making healthy meals.
Have a game plan. Set up a meal plan for the week, every two weeks or even the month. A menu helps save money and time in the long run.
Stretch the meals. Double a recipe, freezing the extra for later in the month. Have a game plan for repurposing leftovers, such as converting leftover pot roast into shredded beef tacos the next night.
Eat more fresh produce. Steamed or roasted vegetables are easy to prepare, flavorful and full of vitamins and minerals.
Stay focused. Make a shopping list, and stick to it. "Shop weekly or biweekly, not every day," said Escalona.
Make little changes. Minor adjustments to favorite recipes can yield healthier results. For example, substitute brown rice for white and mashed cauliflower for part of mashed potatoes.
COMMUNITY GARDENS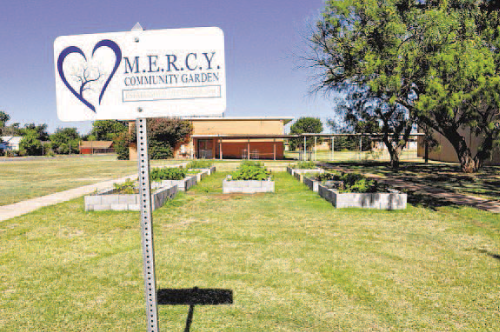 Expanding the community garden at the MERCY Health Care Center was one of the goals this year for the Texas Healthy Communities program of the city of Abilene Health Department. Promoting cooking classes that feature healthy ingredients is another program initiative.
Another local Texas Healthy Communities effort has been expanding the community garden at the MERCY Health Care Center, located in the former Fannin Boys and Girls Club building at 1902 Shelton Ave.
Escalona worked with a master gardener to have eight raised beds added this year, bringing the total to 11. Produce planted this summer includes tomatoes, cucumbers, green peppers, cilantro, jalapeños, watermelon, cantaloupe and squash.
Information about the garden's availability was spread recently door-to-door in the neighborhood.
"Anyone in the community can use them," Escalona said.
Just like the garden took time and effort to yield produce, so too does eating healthy at home take some forethought. The cooking classes show how cooking healthy, even when on a tight budget, is tasty and rewarding.
"With proper planning, they can make a healthy meal at home versus grabbing something at a restaurant because it is easier," Escalona said.
Because WIC serves families with young children, the cooking classes also feature kid-friendly dishes.
"They cater especially to the children. They make fun foods, creative foods that introduce them to healthy things," Escalona said.
To register for the next WIC class or for more information, contact Escalona at 325-437-4604 or veronica.escalona@abilenetx.com.
Story originally published by, and reproduced with permission from, the Abilene Reporter-News.
Related Stories
By Lori Rice-Spearman, Ph.D., Steven L. Berk, M.D.
March 22, 2022
TTUHSC Celebration of Life Service was held March 25th in remembrance of Tom McGovern, Ed.D.
By Suzanna Cisneros
March 18, 2022
TTUHSC has been named as a Military Friendly® School for 2022-2023. Among graduate schools, TTUHSC ranked fourth in the nation, achieving Gold award status.
By Meaghan Collier
March 17, 2022
On March 16, fourth-year TTUHSC Jerry H. Hodge School of Pharmacy students interested in completing a residency after they graduate in May, learned where they would spend the next stage of their training during the Pharmacy Residency Match Day.
Recent Stories
Health
By Mark Hendricks
September 29, 2022
CPRIT recently awarded a $1 million prevention grant to Rakhshanda Rahman, M.D., Rebeccah Baucom, M.D., and John Kidwell, M.D., from the TTUHSC School of Medicine.
Research
By Kathryn Dankesreiter (TTU)
September 26, 2022
The Innovation Hub at Research Park today (September 26, 2022) announced the winners of its annual Presidents' Innovative Startup Awards. The award recognizes startups that have a high potential for growth and an economic impact in West Texas.
Education
By Mark Hendricks
September 23, 2022
Fifth graders from Bean Elementary School became doctors for a day. The Texas Tech University Health Sciences Center (TTUHSC) Student National Medical Association (SNMA) hosted the Doctors for a Day Minicamp on Sept. 23.