New Systems for TTUHSC Announcements and Events
TTUHSC has launched two new systems for Announcements and Events!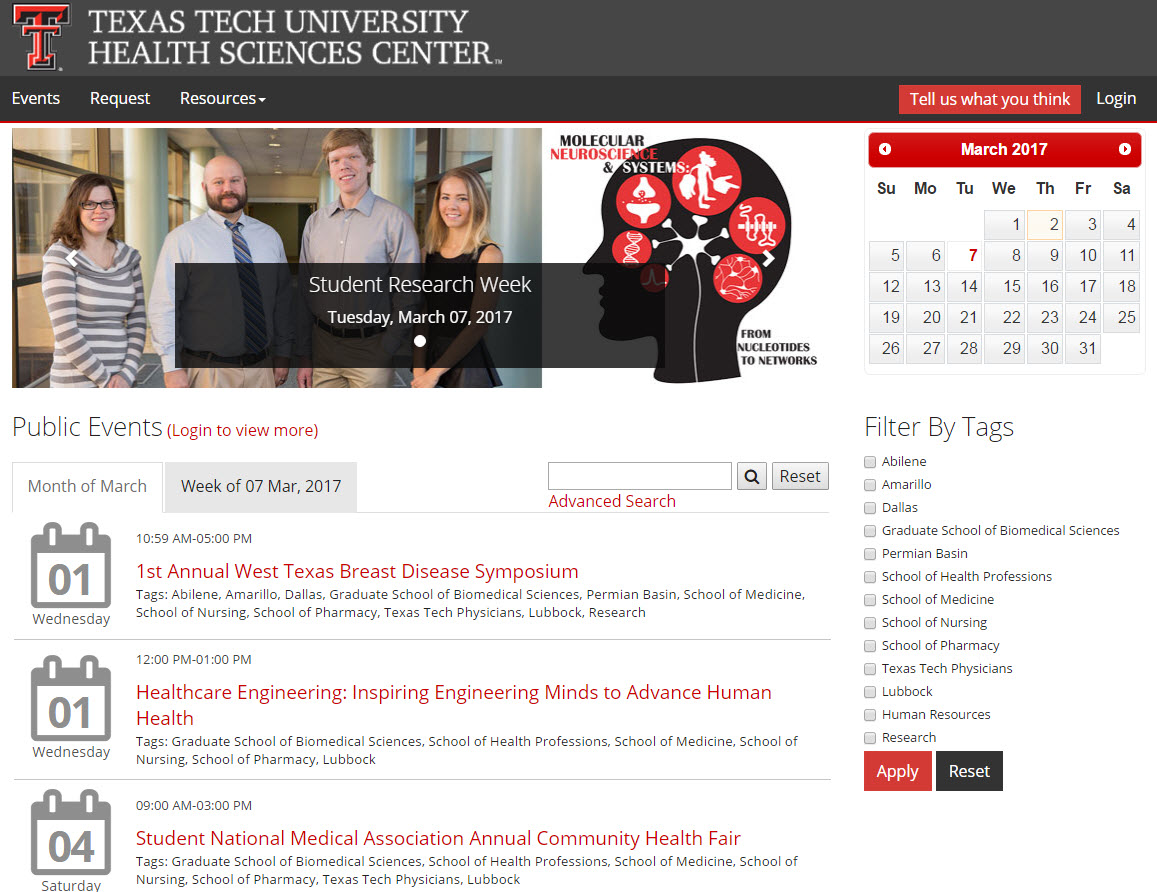 Access each new system at the addresses below:
What is new with the new Announcements and Events systems?
A new design that is responsive and can be accessed from mobile devices.
There will be public and private announcements and events.
Public announcements and events will be visible to anyone inside or outside of TTUHSC.
Private announcements and events are protected and can only be viewed with your eRaider account.
Any faculty, staff, or student with a valid eRaider account can submit a request to have an announcement or event posted.
The announcement and events posting requests will go through a review and approval process before being posted.
General, non-student related announcements and events will be reviewed by Communications and Marketing.
Student related announcements and events will be reviewed by Student Services.
Featured announcements or events will display in a highlighted section of the web sites.
Subscribe and get the latest TTUHSC announcements and events delivered to your inbox.
Related Stories
By QEP Committee
March 21, 2023
As spring approaches, some people's thoughts turn to gardening. Whether it's a flower garden they desire or a vegetable garden want to have, they begin planning what they'll plant and what they need to do to ensure a successful garden.
By QEP Committee
March 21, 2023
A "growth mindset" accepts that our intelligence and talents can develop over time, and a person with that mindset understands that intelligence and talents can improve through effort and learning.
By Melissa Whitfield
February 13, 2023
Abstaining from drug abuse and an early diagnosis of familial hypercholesterolemia (high cholesterol) can help prevent heart disease.
Recent Stories
Research
By Mark Hendricks
November 16, 2023
Ninh (Irene) La-Beck, Pharm.D., with the TTUHSC Jerry H. Hodge School of Pharmacy, received a five-year, $2.49 million grant to investigate how nanoparticles interact with the immune system and cancer.
Research
By Mark Hendricks
November 10, 2023
To help investigate the influence basal sex hormone alterations may have on chronic post-op pain, the NIH recently awarded a grant to Jenny Wilkerson, Ph.D., from the Jerry H. Hodge School of Pharmacy.
Health
By Tyler White
November 09, 2023
Scott Shurmur, M.D., a cardiologist at the Texas Tech Physicians Center for Cardiovascular Health, shared his expertise and his experience as a former collegiate athlete.