New heart procedure gives new option to those too weak for surgery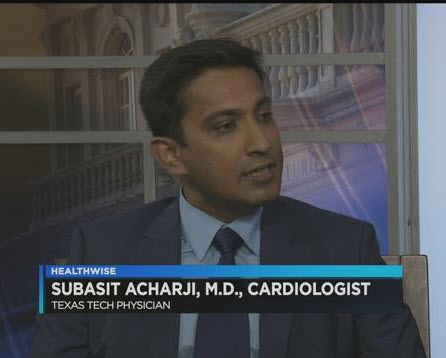 If a heart emergency is complicated with multiple blockages, the solution is normally bypass surgery. But what happens if those patients are even too sick for surgery?
Now there is another option. More and more heart centers across the country are adopting new techniques to give even the sickest patients new hope by using an artificial heart to save the patient… without surgery.
Dr. Subasit Acharji, a cardiologist and Texas Tech Physician says, "Now we have minimally invasive heart support which we can place in the cath lab itself. We can support the heart and even open up multiple blockages which could only be treated with open heart by-pass surgery in the past."
Dr. Acharji says this is very exciting because now even patients who were considered too high risk for surgery in the past have a new option to give them longer, healthier lives without the risk of bypass surgery and the difficult recovery that follows.
Related Stories
By Lori Rice-Spearman, Ph.D., Steven L. Berk, M.D.
March 22, 2022
TTUHSC Celebration of Life Service was held March 25th in remembrance of Tom McGovern, Ed.D.
By Suzanna Cisneros
March 18, 2022
TTUHSC has been named as a Military Friendly® School for 2022-2023. Among graduate schools, TTUHSC ranked fourth in the nation, achieving Gold award status.
By Meaghan Collier
March 17, 2022
On March 16, fourth-year TTUHSC Jerry H. Hodge School of Pharmacy students interested in completing a residency after they graduate in May, learned where they would spend the next stage of their training during the Pharmacy Residency Match Day.
Recent Stories
Health
By Mark Hendricks
September 29, 2022
CPRIT recently awarded a $1 million prevention grant to Rakhshanda Rahman, M.D., Rebeccah Baucom, M.D., and John Kidwell, M.D., from the TTUHSC School of Medicine.
Research
By Kathryn Dankesreiter (TTU)
September 26, 2022
The Innovation Hub at Research Park today (September 26, 2022) announced the winners of its annual Presidents' Innovative Startup Awards. The award recognizes startups that have a high potential for growth and an economic impact in West Texas.
Education
By Mark Hendricks
September 23, 2022
Fifth graders from Bean Elementary School became doctors for a day. The Texas Tech University Health Sciences Center (TTUHSC) Student National Medical Association (SNMA) hosted the Doctors for a Day Minicamp on Sept. 23.