Hardcopf invests in others through leadership
Jennifer Hardcopf
When it comes to assuming leadership roles, Jennifer Hardcopf looks for positions that challenge her to be a better person, which she hopes motivates others to also create better versions of themselves.
"I volunteer to run for leadership positions and roles to potentiate the servant style of leadership that I seek to embody," Hardcopf explained. "I have been blessed with a plethora of leadership roles, but I did not pursue these roles to further my own name and to just have titles. I took them to invest in others. It's really such a unique experience to be able to foster and see growth in other officers and members of organizations you are leading or serving in other capacities."
Hardcopf, the 2017 recipient of the Dean's Student Leadership Award for the School of Pharmacy's Dallas/Fort Worth regional campus, served as an officer or special committee member for six School of Pharmacy student organizations during her years at TTUHSC. She was also a member or student representative to six more. She said student organization leadership requires much planning and dealing with unknown factors, often on the fly. The experiences have made her more adaptable and taught her to trust others. She has also learned to delegate responsibilities so that others have equal opportunities to grow.
"A preceptor once told me that the value of a business or organization lies in its most valuable member, and if that member were to leave, would the success of the organization be sustainable?" Hardcopf recalled. "This inspired me to train an organization full of equipped officers and members so there could be smooth transitions each year."
Hardcopf also sought ways to improve existing processes in ways she believed would benefit the organizations she served and the School of Pharmacy for years to come. In short, she looks for positions where she can most effectively fulfill the unmet needs and expectations of others.
"When I came across a problem I would think, 'what could I do to make this better, easier or more efficient for the future officer team?' From there we could then brainstorm ways to make it happen," she added.
When asked to name a person who inspires her, Hardcopf said the list is too long to single out one person. She has benefitted from the examples set by fellow School of Pharmacy alumnae like Drs. Jordan Burdine and Eva Coulson and by faculty members like Drs. Krystal Edwards, Jennifer Grelle, Meagan Whitworth and Kalin Clifford.
"There are many, many more, and they have sustained and continued to grow my motivation by modeling their leadership styles daily," Hardcopf said. "The tenacity of the student and the human spirit also constantly inspires me. It is incredibly encouraging to see student members full of so many great ideas and genuine enthusiasm and passion for the profession of pharmacy."
Receiving the Dean's Student Leadership Award is especially humbling for Hardcopf. She said knowing her peers and colleagues consider her to be someone who exemplifies the leadership practices associated with the award is the best part of the honor. She said she would be "terribly remiss" if she failed to express gratitude for the important input and support she received from others in meeting the characteristics associated with the award. Her thank you list includes patients, preceptors, faculty, mentors, advisors, family, friends and fellow students who are now colleagues.
"I love them all very much and I sincerely acknowledge how integral they have all been to my growth as a leader and a person," Hardcopf said. "My heart is overwhelmed with joy and gratitude because this award encourages me to continue to grow in the practices of a leader in my residency and throughout the rest of my career and life. I am often asked what my favorite part of pharmacy school and being a leader has been, and I can wholeheartedly say it's the people I had the opportunity to meet, interact with and learn from. I am forever grateful for the mark they have made on my life and I wouldn't be who I am today as a leader or a person without all of them."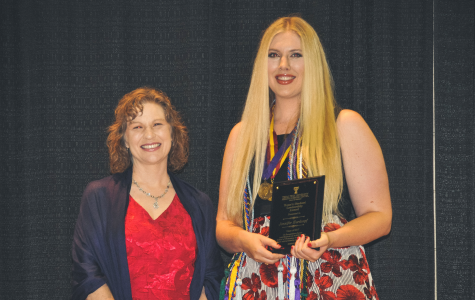 Related Stories
By Lori Rice-Spearman, Ph.D., Steven L. Berk, M.D.
March 22, 2022
TTUHSC Celebration of Life Service was held March 25th in remembrance of Tom McGovern, Ed.D.
By Suzanna Cisneros
March 18, 2022
TTUHSC has been named as a Military Friendly® School for 2022-2023. Among graduate schools, TTUHSC ranked fourth in the nation, achieving Gold award status.
By Meaghan Collier
March 17, 2022
On March 16, fourth-year TTUHSC Jerry H. Hodge School of Pharmacy students interested in completing a residency after they graduate in May, learned where they would spend the next stage of their training during the Pharmacy Residency Match Day.
Recent Stories
Education
By Clarissa Sanchez
October 04, 2022
TTUHSC hosted "Building the Basin: a Permian Basin Health Care Workforce Summit" Oct. 4.
Health
By Mark Hendricks
September 29, 2022
CPRIT recently awarded a $1 million prevention grant to Rakhshanda Rahman, M.D., Rebeccah Baucom, M.D., and John Kidwell, M.D., from the TTUHSC School of Medicine.
Research
By Kathryn Dankesreiter (TTU)
September 26, 2022
The Innovation Hub at Research Park today (September 26, 2022) announced the winners of its annual Presidents' Innovative Startup Awards. The award recognizes startups that have a high potential for growth and an economic impact in West Texas.