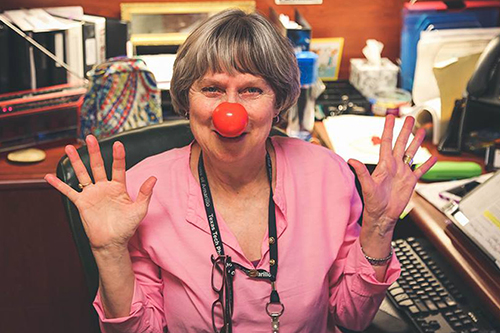 Employees representing multiple TTUHSC-Amarillo departments donned playful red noses to help kids in need May 25 to support national Red Nose Day, a Walgreens initiative to combat child poverty.
Walgreens sells the rubber noses for $1 each at its retail locations and online to raise money for non-profit organizations that help needy children across the country. Funds raised locally benefit the High Plains Food Bank's Kids Cafe program.
Student Council members from the TTUHSC School of Pharmacy pre-purchased 200 noses to sell on the Amarillo campus. Approximately half of the pre-purchased noses were purchased by pharmacy students prior to Red Nose Day. The remainder were purchased on the day of the event by clinic staff working in the School of Medicine building.
Walgreens has raised more than $60 million nationally since the first Red Nose Day in 2015.