Hard work yields recognition for nursing faculty member
Deborah Casida wins Outstanding Faculty Award two years in a row.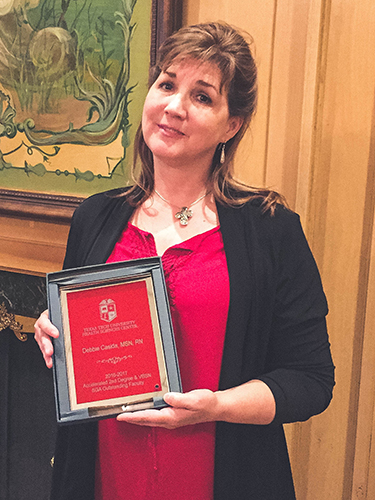 Deborah Casida, MSN, R.N.
The last several months of the 2016-2017 school year have been rewarding for Deborah Casida, MSN, R.N., an assistant professor for the School of Nursing in Amarillo.
Casida, who is also the Amarillo site coordinator for the Second Degree Nursing and Veteran to Bachelor of Science in Nursing (VBSN) programs, received the Outstanding Faculty Award from the TTUHSC Student Government Association (SGA) for her efforts related to the Second Degree program. She received the same award following the 2015-2016 school year for her work with the VBSN program.
SGA award recipients are selected by students, something Casida said makes the award especially gratifying.
"I am honored that the students think so very highly of me and I have received this amazing award for the second year in a row," Casida said. "I am honored and thrilled that the students took time out of their schedules to think of me and vote for me."
Casida was also recognized as a member of the nursing team that received an SGA Team Teaching Award for its work in developing the VBSN track. Other team members include Deborah Sikes, DNP, R.N., CNE; Patricia Frances-Johnson, DNP, R.N., CNE; Melinda Mitchell-Jones, MSN, J.D., R.N.; and Laura Opton, DHSc, R.N., CNE.
"I work with an incredible group of women and I have learned a ton from each of them," Casida said. "It is because of their leadership, team building and their mentoring and support of me that I am able to receive such an award. The credit is to these incredible women and I am thankful that they have considered me as part of their team."
In addition to her recognition at TTUHSC, the Bowie Middle School Junior Achievers named Casida their Volunteer of the Year. Casida said she has met with the group of seventh graders for the past three years to teach them about the college and financial responsibilities. She said she enjoys spending time with the students because they are so eager to learn.
"These children do not have much, so talking with them and teaching them the many possibilities that come with gaining a college degree and a career has blessed me in so many ways," Casida added. "I keep my crystal candy dish on my desk as a reminder of those students. I am in awe that I could even be considered, and to receive these awards is all by the grace of God."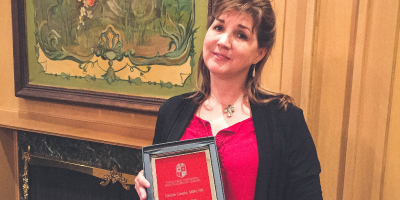 Related Stories
By Lori Rice-Spearman, Ph.D., Steven L. Berk, M.D.
March 22, 2022
TTUHSC Celebration of Life Service was held March 25th in remembrance of Tom McGovern, Ed.D.
By Suzanna Cisneros
March 18, 2022
TTUHSC has been named as a Military Friendly® School for 2022-2023. Among graduate schools, TTUHSC ranked fourth in the nation, achieving Gold award status.
By Meaghan Collier
March 17, 2022
On March 16, fourth-year TTUHSC Jerry H. Hodge School of Pharmacy students interested in completing a residency after they graduate in May, learned where they would spend the next stage of their training during the Pharmacy Residency Match Day.
Recent Stories
Health
By School of Health Professions
February 02, 2023
Moumita Choudhury Au.D., CCC-A, spoke about the present and future of social media's impact on healthcare in general and on hearing healthcare specifically.
Research
By Mark Hendricks
January 31, 2023
Gail Cornwall, Ph.D., professor in the Department of Cell Biology and Biochemistry at the TTUHSC, has been named a member of the American Association for the Advancement of Science Fellowship Class of 2022.
Research
By Mark Hendricks
January 27, 2023
To help address communication hurdles, the Patient-Centered Outcomes Research Institute (PCORI) has awarded a $438,756 subcontract to Tetyana L. Vasylyeva, M.D., Ph.D., from the TTUHSC School of Medicine.