Twenty Years and Counting
Longtime professor recalls the first two decades of the School of Pharmacy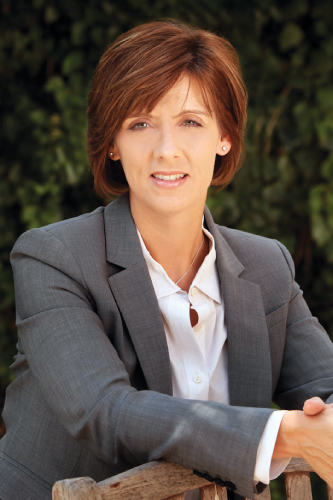 Sherry Luedtke, Pharm.D.
In many ways, it was a typical summer morning in the Texas Panhandle when the School of Pharmacy opened its classroom doors for the first time in August 1996. However, the program that took root on that dusty plot of West Texas prairie 20 years ago has been anything but typical.
As the first public pharmacy school to open in the U.S. in decades — and the first TTUHSC school whose main campus wasn't located in Lubbock — there was a certain pioneering spirit that permeated the hallways. Enthusiasm and excitement surged through the 64-member founding class, and the school's first faculty members shared those feelings.
Wisconsin native Sherry Luedtke, Pharm.D., was one of those founding faculty members. She had just completed her pediatric specialty residency at the University of Kentucky when she heard TTUHSC was recruiting for its new pharmacy program. Luedtke had earned her Pharm.D. from the University of Wisconsin-Madison School of Pharmacy and learned that two of her former professors, the late Chester A. (CAB) Bond, Pharm.D., and Cynthia Raehl, Pharm.D., were heading to Texas to help get the new pharmacy school up and running.
"The opportunity to begin an academic career at a new pharmacy school with no walls to breakdown and become part of a fresh approach to how a strong clinical doctor of pharmacy program should be delivered was exciting," Luedtke recalls. "I interviewed with other established programs at which I felt a sense of elitism. At (TTUHSC) there was a true sense of community and an attitude that everyone's contribution was valued. It was also amazing to see the pride that the local community had in bringing the School of Pharmacy to Amarillo."
FINDING THE RIGHT PEOPLE
Luedtke was one of many faculty recruited to the School of Pharmacy by founding dean Arthur A. Nelson, Ph.D., R.Ph. Nelson came to TTUHSC from Pocatello, Idaho, where he had served as dean for the Idaho State University College of Pharmacy.
Almost immediately after his arrival in 1993, Nelson began seeking some of the nation's top pharmacy educators, clinicians and administrators like Bond, Raehl, Butch Habeger, RPh, MBA, Ranee Lenz, Pharm.D., and Roland Patry, DrPH, FASHP, to piece together the practice component of the new school's curriculum. For the sciences component, Nelson sought out up-and-coming pharmaceutical scientists like Jim and Carolyn Stoll, Ph.D., David Allen, RPh, Ph.D., and Quentin Smith, Ph.D., BA, a renowned blood-brain barrier researcher who would become the school's second dean when Nelson retired in 2012.
Luedtke says the concept of scientists and practice faculty working together on teaching teams was a new idea that utilized the strengths of each team member to deliver a well-rounded curriculum. She says applying case-based learning and emphasizing experiential learning during all four years of the program were all new philosophies that were adopted into the new curriculum.
"Clearly, Dean Nelson recruiting the right leadership team to draft the curriculum and recruiting young enthusiastic faculty were key," Luedtke adds. "Since we were starting fresh, we were able to throw out the 'but-that's-the-way-I-was-taught' attitudes and our faculty were all on board for implementing new strategies. Everyone was completely open to trying to learn new teaching strategies and adapt as needed."
During the School of Pharmacy's early years, Luedtke says the faculty was a small and tight-knit core transplanted to Amarillo from across the country. They struggled together, celebrated together and were bonded together like family. And like a family, she says it was always bittersweet whenever one of those early faculty members left the TTUHSC fold to accept opportunities elsewhere.
"I cherish all of the memories we made together, from our 'mishaps' with technology, our creative problem solving on the fly and football games against the students, to our elation at seeing our first class graduate through the program," Luedtke said. "We learned a lot about each other — and ourselves — in those early years."
THE PAST BECOMES THE FUTURE
As the School of Pharmacy begins its third decade, Luedtke says the biggest challenges for her and many of her colleagues have come through the program's expansion to multiple campus sites and a class size that has increased to 155 students.
"Initially we only had 64 students and I can say I knew every one of their names," Luedtke says. "As we expanded, challenges in delivering the same content, active engagement in the classroom and developing the same relationship with the students arose.
"I think the trend for many new schools opening, often for financial reasons rather than need, have changed the face of pharmacy education — surprising since before TTUHSC opened the School of Pharmacy there had not been such an occurrence or concern."
In the classroom, Luedtke says faculty and staff have had to transition to distance learning techniques for educating students across multiple campus sites. They have also collectively embraced the merits of interdisciplinary teaching, the utilization of clinical simulations and the trend toward creating active learning environments. She says the school is in the midst of a curricular renewal process that will further expand these strategies and allow faculty to increasingly engage students in their own learning to a greater degree.
"Clearly, the changes in health care coverage and the expanding role of pharmacists as providers will have a huge impact on the future of our graduates," Luedtke stresses. "It is important that we assess the current and future needs of our students and continue to evolve our curriculum to ensure our students success in the years to come. Along with that, we need to recruit students who are aware of the changes forthcoming and are willing to move forward with them, because they need to go out and be the leaders of the profession just like our graduates of 2000 did."
Despite all of the changes and expansions, additions and subtractions, Luedtke says the School of Pharmacy and its faculty remain as committed today as they were in the beginning.
"There are no other schools that I am aware of that maintain this dedication to clerkship teaching, and I believe this shows in the quality of our students clinically," Luedtke says without hesitation. "I am amazed at some of the
accomplishments our alumni have made in a very short time within the State of Texas and beyond. I am often told the phrase "Tech Pharmacy Alumnus" is synonymous with strong clinically trained pharmacists and leaders. That makes me believe that all the hard work put into the program for the last 20 years has paid off."
Related Stories
By QEP Committee
March 21, 2023
As spring approaches, some people's thoughts turn to gardening. Whether it's a flower garden they desire or a vegetable garden want to have, they begin planning what they'll plant and what they need to do to ensure a successful garden.
By QEP Committee
March 21, 2023
A "growth mindset" accepts that our intelligence and talents can develop over time, and a person with that mindset understands that intelligence and talents can improve through effort and learning.
By Melissa Whitfield
February 13, 2023
Abstaining from drug abuse and an early diagnosis of familial hypercholesterolemia (high cholesterol) can help prevent heart disease.
Recent Stories
Health
By Suzanna Cisneros
September 19, 2023
Natalie Scanlon, Ph.D., a clinical psychologist in the Department of Psychiatry at Texas Tech Physicians, provides tips for keeping children safe.
Research
By Mark Hendricks
September 13, 2023
In a list published by the National Academy of Inventors (NAI), the Texas Tech University System, including TTUHSC, ranked 75th among the Top 100 U.S. Universities Granted Utility Patents in 2022.
Education
By Suzanna Cisneros
September 13, 2023
TTUHSC President Lori. Rice-Spearman, Ph.D., announced the appointment of Deborah L. Birx, M.D., as the TTUHSC presidential advisor and adjunct professor in the Julia Jones Matthews School of Population and Public Health.