Family Gift to Help with Cost of Health Care Education
FOR IMMEDIATE RELEASE
February 9, 2017
CONTACT: Suzanna Cisneros, suzanna.cisneros@ttuhsc.edu
(806) 743-7605
Family Gift to Help with Cost of Health Care Education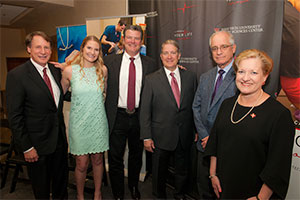 Students at Texas Tech University Health Sciences Center (TTUHSC) will have access to scholarship funds as a result of a generous $2 million gift from the Bill and Corinne Wright Family. The Wright Family ASCO Foundation Endowed Presidential Scholarship was established to provide scholarships available to all qualified recruits andcurrent students.
With the high cost of a health career education, students search for ways to offset some of the debt. Cost of tuition alone can vary for each health field. For nursing students to complete one semester for a traditional Bachelors of Science in Nursing (BSN) track, costs can run more than $12,000 for residents and $18,675 for non-residents. For four years of medical school, cost approximations can run more than $210,000.
Tedd L. Mitchell, M.D., TTUHSC president, said that TTUHSC is exceedingly fortunate to have the Wright family's support.
"They give back to the community in many ways, with notable contributions in community leadership, business success, financial support for education and academic endowments at TTUHSC," Mitchell said. "The Wrights reinforce their personal and their company's core values that stress service, spirituality and generosity to their employees. With their thoughtful assistance, our university will continue to educate students in all health care fields and help lessen the burden of debt."
The Wright family owns and operates ASCO, a heavy line equipment dealer and rental house founded in 1960. In 2005, they established the Corinne Payne Wright Endowed Chair in Alzheimer's Disease in the School of Medicine's Department of Neurology.
"Our company's core values include to grow profitably: a means to a more important end," Paula Key said. "Our family, which includes our employees, contributed this gift to TTUHSC with the hopes that in the end, these scholarships will educate quality health care providers in West Texas and other areas to give our communities the best health care possible."
Related Stories
By Mark Hendricks
March 25, 2022
The Texas Tech University Health Sciences Center (TTUHSC) Graduate School of Biomedical Sciences hosted its 34th Annual Student Research Week March 8-11.
By Mark Hendricks
March 25, 2022
The National Cancer Institute awarded a five-year, $1.9 million grant to C. Patrick Reynolds, M.D., Ph.D., director for the School of Medicine Cancer Center at TTUHSC.
By School of Health Professions
March 24, 2022
Richard Greenhill, DHA, FISQua, FACHE, discusses the hype and reality surrounding AI in healthcare.
Recent Stories
Education
By Meaghan Collier
May 21, 2022
The TTUHSC Jerry H. Hodge School of Pharmacy celebrated the Class of 2022 May 21 with its annual commencement ceremony.
Health
By School of Health Professions
May 19, 2022
Dysphagia is a swallowing disorder that affects a person's ability to eat or drink, affecting between 300,000 and 700,000 people in the United States each year.
Health
By Suzanna Cisneros
May 18, 2022
Brittany Bankhead, M.D., an assistant professor of surgery for the Division of Trauma, Burns and Critical Care at the Texas Tech University Health Sciences Center, said life-threatening bleeding can happen in everyday scenarios.