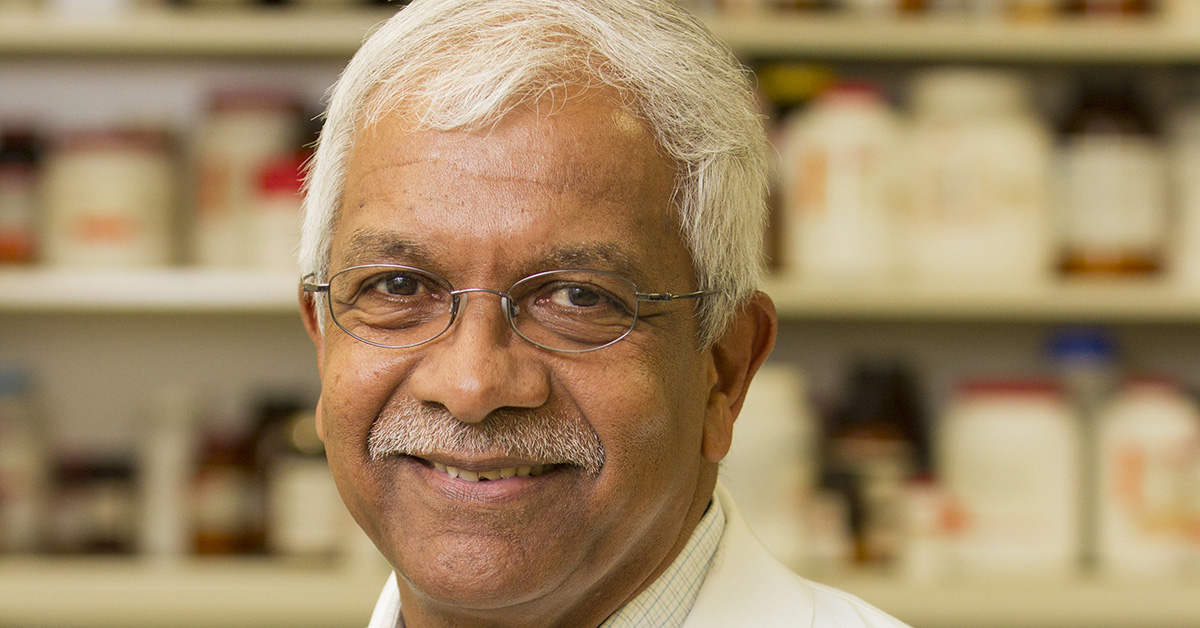 The Texas Tech University System today (Dec. 14) approved Vadivel Ganapathy, Ph.D., as a Grover E. Murray Professor. Ganapathy joined the Texas Tech University Health Sciences Center (TTUHSC) School of Medicine in 2014 as professor and chair of the Department of Cell Biology and Biochemistry after serving in the same capacity for fourteen years at the Medical College of Georgia at Augusta University.
The Grover E. Murray Professorship is intended for a faculty member who attains national and international distinction for outstanding research, scholarly and creative achievement. Steven L. Berk, M.D., TTUHSC executive vice president, provost and School of Medicine dean, said Ganapathy exemplifies all of these criteria.
"Murray professors represent the very best among our faculty," Berk said. "We value Dr. Ganapathy for his research and his many contributions to our university, and we are proud to commend him with this honor.
Ganapathy has thirty-five years of academic experience as a researcher, educator and administrator. In his career, he has received more than $19.5 million in grant funding from the National Institutes of Health, Scientist Training Program from Medical College of Georgia Research Institute, the Department of Defense and the Health Resources and Services Administration, among many others, for his primary research interest in cancer biology.
As a biochemist with a national and international reputation, Ganapathy has cloned more than 40 transporters that transport nutrients such as amino acids and vitamins in the human body. Transporter biology is the primary focus of his research, and modulation of selective transporters provides potential novel treatments for hemochromatosis and certain cancers, such as colon, pancreatic and cervical cancer. Ganapathy received the prestigious Rank Prize in 2003 for his work on the identification, molecular characterization and control of cellular nutrient transporters. He has served on numerous editorial boards and as a reviewer for many of the country's most important science journals. To his credit, Ganapathy has more than 460 research publications and 29 book chapters.
"Although he is highly accomplished as a researcher, being an outstanding educator is one of Dr. Ganapathy's most celebrated areas of achievement," Berk said. "Throughout his career, he has received more than 32 teaching accolades or awards. Except for one year, he was bestowed at least one teaching award every year since 1996. He is one of only a few Ph.D. scientists in the nation to be elected to the Alpha Omega Alpha Medical Honor Society in recognition of his outstanding contributions to medical student teaching."
Since joining TTUHSC, he has been the recipient of the Dean's Basic Science Teaching Award, the Student Government Association Outstanding Faculty Award, the Block Teaching Award for Biology of Cells and Tissues, the John Buesseler Award for Basic Sciences and the TTUHSC University Distinguished Faculty.
Ganapathy received his undergraduate, graduate and Ph.D. degrees in chemistry and biochemistry from Madras University in India from 1971 through 1978.
Faculty previously named Grover E. Murray professors include:
Neil Kurtzman, M.D.
John Orem, Ph.D.
Gabor Racz, M.D.
Quentin Smith, Ph.D.
Doug Stocco, Ph.D.
Sharon Decker, Ph.D.
Cynthia Raehl, Pharm.D.
Afzal Siddiqui, Ph.D.
Surendra Varma, M.D.
Abraham Verghese, M.D.