Poison Center schedules next Medication Cleanout events
Fall collection events in Abilene, Amarillo and Lubbock have been scheduled.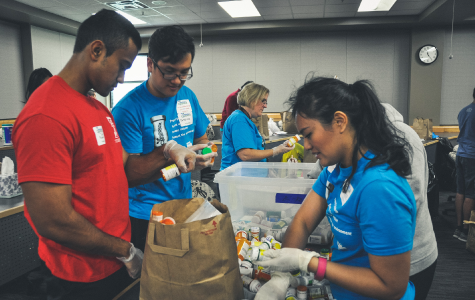 The fall collection cycle for Medication Cleanout, an important community program started by the Texas Panhandle Poison Center (TPPC) in 2009, will begin Sept. 30 at the TTUHSC campus in Abilene. Additional Medication Cleanout collections are scheduled for Oct. 7 in Lubbock and Oct. 28 in Amarillo.
Medication collection runs from 10 a.m. to 2 p.m. However, volunteers are also needed to help set up prior to the collection and to continue logging medications after collection ends. TPPC Managing Director Jeanie Jaramillo-Stametz, Pharm.D., said shifts are generally scheduled from 9 a.m. to 2:15 p.m. and from 1:45 to 5:45 p.m. Volunteers can sign up for one shift or both.
"Medication Cleanout cannot function without the assistance of volunteers, especially TTUHSC students, faculty and staff," Jaramillo-Stametz stressed. "As always, we really need your help, so please consider participating as a volunteer."
Training for the Amarillo collection is set for 5:30 to 7 p.m. Oct. 27. Jaramillo-Stametz said the training is mandatory for all volunteers who have not previously participated.
"We strongly encourage even those who have volunteered before to attend the training," Jaramillo-Stametz said. "For those who have not volunteered before, Medication Cleanout events are a lot of fun and a great learning and community service experience. You will see firsthand the unbelievable effect of non-adherence, overprescribing and over-marketing. And, the community participants are so grateful for the opportunity to properly dispose of their medications."
Training for Abilene and Lubbock volunteers will take place on those campuses from 5:30 to 7 p.m. the Friday prior to each collection event.
To date, TPPC has conducted 50 Medication Cleanout collections that have resulted in the appropriate disposal of more than 37,000 pounds of unused or unwanted medications and more than 1,900 pounds of medical sharps. Jaramillo-Stametz said the events help to reduce accidental poisonings and medication misuse and drug abuse. She said the collections are also a good opportunity for families who have had a loved one pass away to safely dispose of leftover medications.
"People are told not to flush these drugs or throw them in the trash because this may result in contamination of the water supply, but they are not really provided with alternatives," Jaramillo-Stametz added. "The Medication Cleanout event provides a safe and responsible alternative."
For more information, visit the Medication Cleanout website.
Related Stories
By Lori Rice-Spearman, Ph.D., Steven L. Berk, M.D.
March 22, 2022
TTUHSC Celebration of Life Service was held March 25th in remembrance of Tom McGovern, Ed.D.
By Suzanna Cisneros
March 18, 2022
TTUHSC has been named as a Military Friendly® School for 2022-2023. Among graduate schools, TTUHSC ranked fourth in the nation, achieving Gold award status.
By Meaghan Collier
March 17, 2022
On March 16, fourth-year TTUHSC Jerry H. Hodge School of Pharmacy students interested in completing a residency after they graduate in May, learned where they would spend the next stage of their training during the Pharmacy Residency Match Day.
Recent Stories
Health
By School of Health Professions
February 02, 2023
Moumita Choudhury Au.D., CCC-A, spoke about the present and future of social media's impact on healthcare in general and on hearing healthcare specifically.
Research
By Mark Hendricks
January 31, 2023
Gail Cornwall, Ph.D., professor in the Department of Cell Biology and Biochemistry at the TTUHSC, has been named a member of the American Association for the Advancement of Science Fellowship Class of 2022.
Research
By Mark Hendricks
January 27, 2023
To help address communication hurdles, the Patient-Centered Outcomes Research Institute (PCORI) has awarded a $438,756 subcontract to Tetyana L. Vasylyeva, M.D., Ph.D., from the TTUHSC School of Medicine.