Dr. Richard Lampe offers tips to avoid travel sickness
LUBBOCK, TX (KCBD) -
With Spring Break coming up next week, you may be packing for a road trip and hoping that someone in the family doesn't get car sick.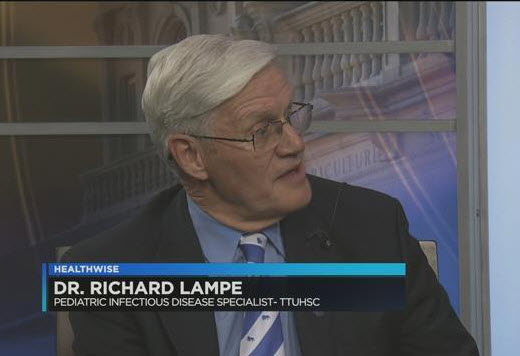 Dr. Richard Lampe, a pediatrician and Texas Tech Physician, suggests rather than planning a food stop after you get on down the road, begin your trip AFTER eating something.
He says, "Never start hungry. Light food will work. Snacks, a cheese sandwich, ginger snaps may be an alternative."
Ginger has been a home remedy for motion sickness for centuries. It may not work for everybody, but it's cheap, especially in the form of ginger snap cookies.
As for air travel, Dr. Lampe says there are simple tips to help ease ear aches at high altitudes.
He says, "For a young baby, a pacifier to swallow because that process of swallowing opens the Eustachian tubes if there are some middle ear issues."
For older kids, he says chewing gum is good therapy in making a child swallow to open those tubes and lessen the pressure during a flight.
If you are planning international travel, Dr. Lampe suggests checking with the Texas Tech Travel Clinic. He says they have a lot of information that can help you prevent travel issues while abroad. Or he says you can always go to the CDC website to see if there are any vaccines recommended for the country you plan to visit.
Related Stories
By Lori Rice-Spearman, Ph.D., Steven L. Berk, M.D.
March 22, 2022
TTUHSC Celebration of Life Service was held March 25th in remembrance of Tom McGovern, Ed.D.
By Suzanna Cisneros
March 18, 2022
TTUHSC has been named as a Military Friendly® School for 2022-2023. Among graduate schools, TTUHSC ranked fourth in the nation, achieving Gold award status.
By Meaghan Collier
March 17, 2022
On March 16, fourth-year TTUHSC Jerry H. Hodge School of Pharmacy students interested in completing a residency after they graduate in May, learned where they would spend the next stage of their training during the Pharmacy Residency Match Day.
Recent Stories
Education
By Clarissa Sanchez
October 04, 2022
TTUHSC hosted "Building the Basin: a Permian Basin Health Care Workforce Summit" Oct. 4.
Health
By Mark Hendricks
September 29, 2022
CPRIT recently awarded a $1 million prevention grant to Rakhshanda Rahman, M.D., Rebeccah Baucom, M.D., and John Kidwell, M.D., from the TTUHSC School of Medicine.
Research
By Kathryn Dankesreiter (TTU)
September 26, 2022
The Innovation Hub at Research Park today (September 26, 2022) announced the winners of its annual Presidents' Innovative Startup Awards. The award recognizes startups that have a high potential for growth and an economic impact in West Texas.