Dr. Richard Lampe offers tips to avoid travel sickness
LUBBOCK, TX (KCBD) -
With Spring Break coming up next week, you may be packing for a road trip and hoping that someone in the family doesn't get car sick.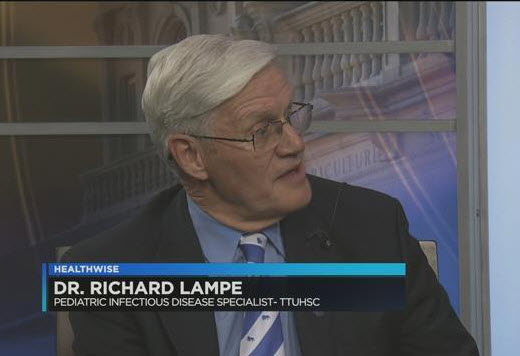 Dr. Richard Lampe, a pediatrician and Texas Tech Physician, suggests rather than planning a food stop after you get on down the road, begin your trip AFTER eating something.
He says, "Never start hungry. Light food will work. Snacks, a cheese sandwich, ginger snaps may be an alternative."
Ginger has been a home remedy for motion sickness for centuries. It may not work for everybody, but it's cheap, especially in the form of ginger snap cookies.
As for air travel, Dr. Lampe says there are simple tips to help ease ear aches at high altitudes.
He says, "For a young baby, a pacifier to swallow because that process of swallowing opens the Eustachian tubes if there are some middle ear issues."
For older kids, he says chewing gum is good therapy in making a child swallow to open those tubes and lessen the pressure during a flight.
If you are planning international travel, Dr. Lampe suggests checking with the Texas Tech Travel Clinic. He says they have a lot of information that can help you prevent travel issues while abroad. Or he says you can always go to the CDC website to see if there are any vaccines recommended for the country you plan to visit.
Related Stories
By Mark Hendricks
March 25, 2022
The Texas Tech University Health Sciences Center (TTUHSC) Graduate School of Biomedical Sciences hosted its 34th Annual Student Research Week March 8-11.
By Mark Hendricks
March 25, 2022
The National Cancer Institute awarded a five-year, $1.9 million grant to C. Patrick Reynolds, M.D., Ph.D., director for the School of Medicine Cancer Center at TTUHSC.
By School of Health Professions
March 24, 2022
Richard Greenhill, DHA, FISQua, FACHE, discusses the hype and reality surrounding AI in healthcare.
Recent Stories
Education
By Suzanna Cisneros
May 24, 2022
The school, which is the sixth at the university, aims to train future health care leaders in population and public health.
Education
By Meaghan Collier
May 21, 2022
The TTUHSC Jerry H. Hodge School of Pharmacy celebrated the Class of 2022 May 21 with its annual commencement ceremony.
Health
By School of Health Professions
May 19, 2022
Dysphagia is a swallowing disorder that affects a person's ability to eat or drink, affecting between 300,000 and 700,000 people in the United States each year.