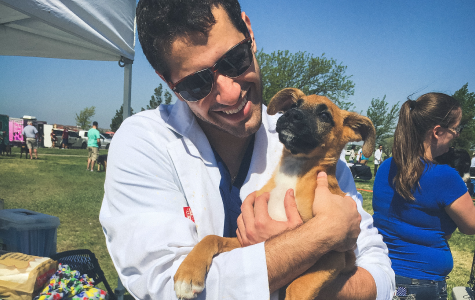 Area dog lovers got a chance to show off their furry four-legged friends and join the fight against cancer when the TTUHSC-Amarillo Student Council conducted Bark for Life 2017 Apr. 15 at John Stiff Memorial Park.
Bark for Life is a fundraising event for the American Cancer Society (ACS) that honors the lifelong contributions of canine caregivers. It offers cancer survivors—and all dog lovers—the opportunity to partner with their canine best friends to create new connections and share a smile as they come together to fight cancer. Bark for Life is styled as a relay-for-life event for canine companions and caregivers, including guide dogs, service dogs, rescue dogs, therapy dogs, police dogs, cancer survivor dogs and diagnostic dogs.
Amarillo's first Bark for Life included a health fair conducted by students and faculty from the TTUHSC School of Pharmacy. Shelter dogs were also available for people to walk and to adopt and the Amarillo-Panhandle Humane Society was available to offer microchip services.
Parth Patel, first-year pharmacy student and community outreach chair for the Amarillo Student Council, said more than 300 people attended Bark for Life. Though there was no admission charge for the event or for the health fair, he said the effort raised more than $400 for ACS. In addition, five shelter dogs were adopted and 23 dogs received microchips, which is more than the Amarillo Panhandle Humane Society typically implants in a month.
Image Gallery