SGA organizes Amarillo's first Bark for Life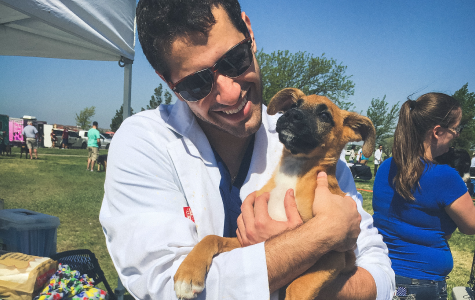 Area dog lovers got a chance to show off their furry four-legged friends and join the fight against cancer when the TTUHSC-Amarillo Student Council conducted Bark for Life 2017 Apr. 15 at John Stiff Memorial Park.
Bark for Life is a fundraising event for the American Cancer Society (ACS) that honors the lifelong contributions of canine caregivers. It offers cancer survivors—and all dog lovers—the opportunity to partner with their canine best friends to create new connections and share a smile as they come together to fight cancer. Bark for Life is styled as a relay-for-life event for canine companions and caregivers, including guide dogs, service dogs, rescue dogs, therapy dogs, police dogs, cancer survivor dogs and diagnostic dogs.
Amarillo's first Bark for Life included a health fair conducted by students and faculty from the TTUHSC School of Pharmacy. Shelter dogs were also available for people to walk and to adopt and the Amarillo-Panhandle Humane Society was available to offer microchip services.
Parth Patel, first-year pharmacy student and community outreach chair for the Amarillo Student Council, said more than 300 people attended Bark for Life. Though there was no admission charge for the event or for the health fair, he said the effort raised more than $400 for ACS. In addition, five shelter dogs were adopted and 23 dogs received microchips, which is more than the Amarillo Panhandle Humane Society typically implants in a month.
Image Gallery
Related Stories
By QEP Committee
March 21, 2023
As spring approaches, some people's thoughts turn to gardening. Whether it's a flower garden they desire or a vegetable garden want to have, they begin planning what they'll plant and what they need to do to ensure a successful garden.
By QEP Committee
March 21, 2023
A "growth mindset" accepts that our intelligence and talents can develop over time, and a person with that mindset understands that intelligence and talents can improve through effort and learning.
By Melissa Whitfield
February 13, 2023
Abstaining from drug abuse and an early diagnosis of familial hypercholesterolemia (high cholesterol) can help prevent heart disease.
Recent Stories
Research
By Mark Hendricks
November 16, 2023
Ninh (Irene) La-Beck, Pharm.D., with the TTUHSC Jerry H. Hodge School of Pharmacy, received a five-year, $2.49 million grant to investigate how nanoparticles interact with the immune system and cancer.
Research
By Mark Hendricks
November 10, 2023
To help investigate the influence basal sex hormone alterations may have on chronic post-op pain, the NIH recently awarded a grant to Jenny Wilkerson, Ph.D., from the Jerry H. Hodge School of Pharmacy.
Health
By Tyler White
November 09, 2023
Scott Shurmur, M.D., a cardiologist at the Texas Tech Physicians Center for Cardiovascular Health, shared his expertise and his experience as a former collegiate athlete.