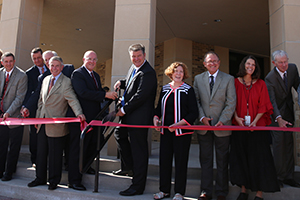 Texas Tech University Health Sciences Center (TTUHSC) President Tedd L. Mitchell, M.D., joined Abilene community leaders and fellow TTUHSC administrators in cutting the ribbon on a new building located on the TTUHSC Abilene campus. The building will be home to the future TTUHSC School of Public Health.
TTUHSC at Abilene offers the latest in educational opportunities that deliver the real-world experience necessary for future health care providers to understand and meet the challenges of the industry. The future School of Public Health, made possible through private donations, will occupy the third building on the Abilene campus adjacent to the School of Nursing and School of Pharmacy buildings. Graduates of the future School of Public Health will become qualified experts in managing data and providing important and timely health-related resources to communities in need.
Mitchell said the future school will act as a resource for the region, by acquiring and providing data vital to those in the public and private sectors who seek to better understand the factors that impact the health of citizens.
TTUHSC President Tedd L. Mitchell, M.D.
"Through educational and research programs, the future TTUHSC School of Public Health will address the growing needs of our region and state by providing professionals trained to study and preserve the health of communities," said Mitchell. "We could not have done this without the support of the Abilene community and the hard work of its leaders," Mitchell added. "This future school adds an entirely new dimension to TTUHSC's mission to serve the great folks of West Texas and beyond."
The collaboration between Abilene city officials, community leaders and TTUHSC has created an innovative economic and academic development model for the future of the Big Country region's health care industry. In the years to come, the future School of Public Health in Abilene will join TTUHSC schools of medicine, nursing, pharmacy and health professions as one of the nation's top programs in providing hands-on learning experiences that provide students with the practical knowledge necessary for successful and meaningful careers in health care.