TTUHSC Researcher to Collaborate with Lubbock ISD for Research Project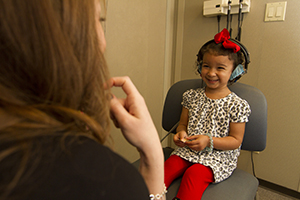 Texas Tech University Health Sciences Center (TTUHSC) School of Health Professions Department of Speech, Language and Hearing Sciences faculty is working with kindergarten students from school districts in Lubbock County as part of a new research project for the 2016-17 school year.
According to the U.S. Department of Education, approximately 1.4 million children in public schools have a diagnosed language impairment. The long-term implications of language impairment can be severe, with about 50 percent of kindergarten children with language impairments being diagnosed with reading disabilities in the second and fourth grade. As young adults, only about 14 percent of children diagnosed with language impairment enter college. Researchers for the project will work with Lubbock County kindergarten students with language impairment in order to improve their behavior regulation skills – attention, memory and inhibition – to improve their academic success.
"There is a critical need to identify effective strategies for improving the behavior regulation skills of kindergarten children with language impairment," said Mary Beth Schmitt, Ph.D., assistant professor of speech and hearing sciences. "Without these strategies, kindergarteners with language impairment are quite likely to experience academic failure related to diminished language and literacy."
Schmitt, who recently was awarded a grant from the National Institutes of Health (NIH) for this project, is identifying effective strategies for improving behavior regulation skills in children with language impairment. Existing studies have indicated that children with language impairment who utilize behavior regulation skills during therapy make better progress in language than peers who do not. Schmitt's research project hopefully will lead to a model strategy to be used by other professionals working with children with language impairment to obtain the best possible benefit from their therapy.
School of Health Professions Dean Lori Rice-Spearmen, Ph.D., said the NIH grant indicates the national and global significance this project could have in improving academic outcomes for the more than 50 million children in U.S. public schools, many of whom have language impairment.
"The School of Health Professions takes pride in the confidence NIH has expressed in Dr. Schmitt's research by funding this groundbreaking project," Rice-Spearman said. "Certainly, the findings of this work could be transformative in the lives of children with language impairment locally and around the world."
Related Stories
By QEP Committee
March 21, 2023
As spring approaches, some people's thoughts turn to gardening. Whether it's a flower garden they desire or a vegetable garden want to have, they begin planning what they'll plant and what they need to do to ensure a successful garden.
By QEP Committee
March 21, 2023
A "growth mindset" accepts that our intelligence and talents can develop over time, and a person with that mindset understands that intelligence and talents can improve through effort and learning.
By Melissa Whitfield
February 13, 2023
Abstaining from drug abuse and an early diagnosis of familial hypercholesterolemia (high cholesterol) can help prevent heart disease.
Recent Stories
Education
By Suzanna Cisneros
December 07, 2023
HACU announced Sonya Castro-Quirino, D.Bioethics, TTUHSC vice president of Office of Institutional Compliance, as one of the 50 fellows of HACU's Leadership Academy/La Academia de Liderazgo.
Campus Life
By Samantha White via TAFP news release
December 05, 2023
Ronald L. Cook, DO, MBA, of Lubbock, Texas, was named the 2023 Texas Family Physician of the Year during TAFP's Annual Session and Primary Care Summit in Grapevine on Nov. 11.
Research
By Mark Hendricks
November 16, 2023
Ninh (Irene) La-Beck, Pharm.D., with the TTUHSC Jerry H. Hodge School of Pharmacy, received a five-year, $2.49 million grant to investigate how nanoparticles interact with the immune system and cancer.