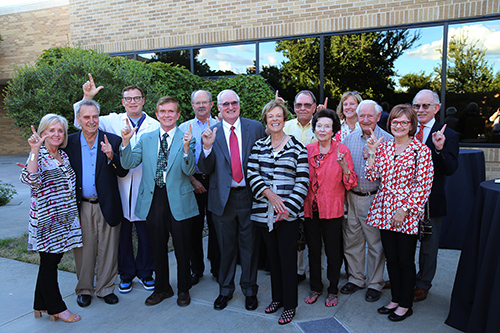 A Sept. 8 reception held at the TTUHSC Amarillo campus honored a long-time supporter of medical education in Amarillo. For more than 20 consecutive years Charles Kitsman has donated to TTUHSC in support of the School of Medicine's resident recognition ceremony.
A handful of friends and several TTUHSC School of Medicine representatives joined Kitsman and his wife, Georgia, in the School of Pharmacy courtyard to sample hors d'oeuvres and cocktails provided by the Office of Institutional Advancement.
During the reception, Kitsman told a story about a time when his father was hospitalized and cared for by a TTUHSC resident. Kitsman was so impressed by the quality of care the resident provided before the physician arrived that he felt compelled to support the program from that point forward.
The reception concluded with a toast to Kitsman for his generosity. Many others in attendance shared remarks about how Kitsman's contributions could provide the extra help that drives a medical student to complete the program.
"For more than 20 years, Charles has been the driving force to recognize our medical residents," Amarillo Director of Development Carley du Menil said. "Without individuals like Georgia and Charles, and all those that support Texas Tech, there would be a gapping hole on our campus. I can not express my gratitude enough for their commitment and giving spirits."