Texas Tech University Health Sciences Center School of Medicine Ranked Nationally for Family Medicine Residency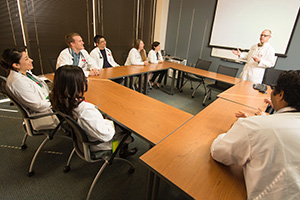 The Society of Teachers of Family Medicine (STFM) ranked Texas Tech University Health Sciences Center (TTUHSC) School of Medicine 12th in the nation for students who specialize in family medicine. The ranking is based on the percentage of students choosing a career in family medicine over a three-year period.
The TTUHSC School of Medicine was the only allopathic medical school in Texas that was on the Medical Doctor Granting Medical School list. The American Academy of Family Physicians national ranking was from their October Family Medicine Journal.
The Texas Medical Association reported Texas has about 43,000 physicians for a population of about 23 million. Texas has only 62 primary care physicians per 100,000 population, ranking 46th in the nation.
Providing primary care physicians for Texas has been a priority for the TTUHSC School of Medicine. In 2010, a new three-year medical degree program that would provide more primary care physicians received national coverage. TTUHSC School of Medicine created the first three-year medical degree approved by the nationally recognized accrediting authority for medical education. Nationally, more than 90 percent of those graduating from a family medicine residency program go onto practice primary care as compared to only 20 percent of those who complete an internal medicine residency program.
The Family Medicine Accelerated Track (FMAT) program allows primary care students at the TTUHSC School of Medicine to complete their degree in three years at less than half of the cost of the standard four-year program. The first FMAT class completed their family medicine residency training and began their careers as practicing physicians this year. Eleven other medical schools have developed or are developing similar programs.
"The TTUHSC School of Medicine's early adoption of an accelerated pathway has opened a new road for the institution as a leader in curricular innovation," said Steven Berk, M.D., TTUHSC executive vice president, provost and dean of the School of Medicine. "This is a program of national importance as we work to ensure that all Americans will have access to a primary care physician. We committed to taking the first steps in changing how medical schools attract and educate future family medicine doctors. This program demonstrates that our School of Medicine is contributing to health care education nationally as well as locally."
Related Stories
By Lori Rice-Spearman, Ph.D., Steven L. Berk, M.D.
March 22, 2022
TTUHSC Celebration of Life Service was held March 25th in remembrance of Tom McGovern, Ed.D.
By Suzanna Cisneros
March 18, 2022
TTUHSC has been named as a Military Friendly® School for 2022-2023. Among graduate schools, TTUHSC ranked fourth in the nation, achieving Gold award status.
By Meaghan Collier
March 17, 2022
On March 16, fourth-year TTUHSC Jerry H. Hodge School of Pharmacy students interested in completing a residency after they graduate in May, learned where they would spend the next stage of their training during the Pharmacy Residency Match Day.
Recent Stories
Education
By Clarissa Sanchez
October 04, 2022
TTUHSC hosted "Building the Basin: a Permian Basin Health Care Workforce Summit" Oct. 4.
Health
By Mark Hendricks
September 29, 2022
CPRIT recently awarded a $1 million prevention grant to Rakhshanda Rahman, M.D., Rebeccah Baucom, M.D., and John Kidwell, M.D., from the TTUHSC School of Medicine.
Research
By Kathryn Dankesreiter (TTU)
September 26, 2022
The Innovation Hub at Research Park today (September 26, 2022) announced the winners of its annual Presidents' Innovative Startup Awards. The award recognizes startups that have a high potential for growth and an economic impact in West Texas.