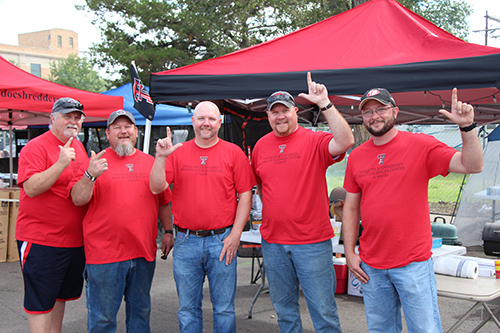 Employees representing multiple departments from the TTUHSC Amarillo campus formed a cooking team for the Amarillo Chamber of Commerce's 21st Annual Good Times Celebration Barbecue Cook-Off Sept. 8 in downtown Amarillo. The team also participated in the private VIP night Sept. 7.
The event featured more than 100 cooking teams serving ribs, brisket and more to a crowd of approximately 8,000 people. Money from event ticket sales and sponsorships go toward helping the chamber cover its operating costs throughout the year.
The Good Times Celebration Barbecue Cook-Off is the largest event the chamber hosts each year and provides an opportunity for local businesses to network with each other and the Amarillo community.
"This is a great opportunity for us to showcase the Health Sciences Center to a large number of people and to tell them the depth of what we do," TTUHSC Amarillo Communications & Marketing Director Justin Patterson said. "We are a big part of the Amarillo community, and the people in attendance saw that with our team this year."
The TTUHSC team hung signs on their table labeling food "Bevo Brisket," "Sooner Ribs" and other names poking fun at rival college football mascots. Texas Tech fans and foes alike were highly entertained by the jokes.
Members of the main cooking team included Patterson and Mark Hendricks from the Office of Communications & Marketing, Michael Corona from Facilities, Guy Gilbert from SiM Central and Tim Taylor from Safety Services. Many more volunteers from across campus came out to support the team and help serve food during the two-day event.