Specialized Pediatric Facility Changes the Game for Area Families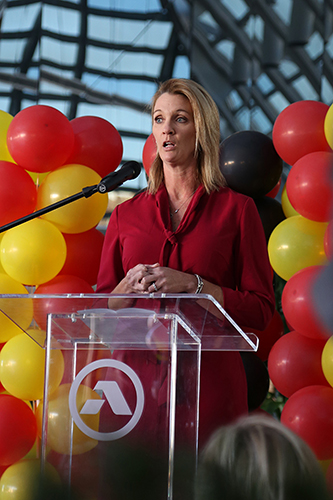 Children's Miracle Network (CMN), a long-standing partner for Texas Tech University Health Sciences Center (TTUHSC) at Amarillo, is contributing $6 million toward a stand-alone pediatric specialty facility that will be constructed on the grounds of TTUHSC's Amarillo campus.
The gift was formally announced at 2:30 p.m., Nov. 18 at Amarillo National Bank Plaza Two, 500 S. Taylor in Amarillo.
Jodi Reid, director of CMN-Amarillo for the Harrington Cancer and Health Foundation, said the building will house all of TTUHSC's pediatric specialties, including cardiology, nephrology, neurology, endocrinology, hemoncology, special needs, gastroenterology and pulmonology. She said the facility will significantly aid TTUHSC's efforts to bring new pediatric specialties, and recruit specialized pediatric practitioners, to its Amarillo campus.
"Children's Miracle Network of Amarillo is proud to partner with TTUHSC to have a positive impact on pediatric care in our community," Reid said. "This project will provide a home for pediatric specialty physicians and will allow children to receive the care they need close to home. This gift will not only transform Amarillo and the TTUHSC campus, it will make an exceptional difference in the lives of pediatric patients in the Texas Panhandle area."
William Ware, executive vice president for Amarillo National Bank, said CMN is making this commitment after seeing so many Panhandle-area families have to travel outside the region to receive specialized pediatric care and after successfully helping TTUHSC recruit a pediatric neurologist to Amarillo.
"CMN's involvement in this new facility is a dream come true," Ware said. "Our goal — to improve the quality of children's health care in Amarillo — will be met with this facility. Local families will finally have access to full-service children's medical care without having to travel. This truly changes everything."
Related Stories
By Mark Hendricks
March 25, 2022
The Texas Tech University Health Sciences Center (TTUHSC) Graduate School of Biomedical Sciences hosted its 34th Annual Student Research Week March 8-11.
By Mark Hendricks
March 25, 2022
The National Cancer Institute awarded a five-year, $1.9 million grant to C. Patrick Reynolds, M.D., Ph.D., director for the School of Medicine Cancer Center at TTUHSC.
By School of Health Professions
March 24, 2022
Richard Greenhill, DHA, FISQua, FACHE, discusses the hype and reality surrounding AI in healthcare.
Recent Stories
Education
By Mark Hendricks
May 26, 2022
The Willed Body Program has served West Texas since 1972 and is the foundation upon which the TTUHSC Institute of Anatomical Sciences is built.
Education
By Mark Hendricks
May 25, 2022
The Texas Tech University Health Sciences Center (TTUHSC) recently hosted traditional commencement ceremonies for its 1,595-member Class of 2022.
Education
By Suzanna Cisneros
May 24, 2022
The school, which is the sixth at the university, aims to train future health care leaders in population and public health.