Pharmacy students speak out at regional meeting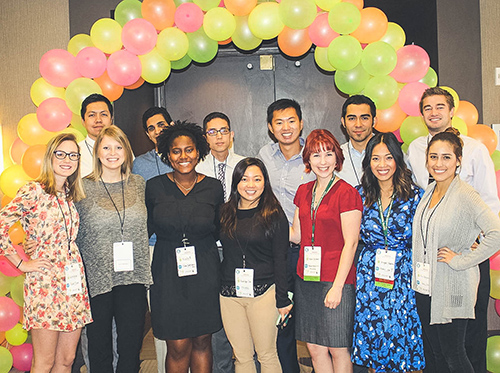 Fourteen TTUHSC School of Pharmacy student members of the American Pharmacists Association-Academy of Pharmacy Students (APhA-ASP) represented the school at the APhA Region VI Midyear Regional Meeting Nov. 4-6 in Little Rock, Arkansas.
Krisgel Padolina, a third-year (P3) pharmacy student on the Dallas/Fort Worth campus and TTUHSC's student chapter president, said the group was engaged at each session. Some stepped up to the microphone to address the room during an open session to discuss resolutions.
"Alexandria Ybarra (P3-Abilene) serves as an excellent regional delegate" Padolina said. "She exuded poise and confidence as she stood before the student body during the open session. She represented our school well."
The TTUHSC School of Pharmacy group included five first-year (P1) students. Abilene P1 Ervin Lopez ran for regional delegate, and though he wasn't selected, Padolina said Lopez described it as a valuable learning experience and he is making plans to run for a Region VI position next year.
"Overall I think attending the meeting was a success," Padolina said. "The P1s realized just how exciting policy can be."
Other students who attended included Abilene P1s Kelsie Basso, Justin Langreck, Viktoria Guttenberg and Nicole Asonganyi; Amarillo P1 Mimi Xuan Ngoc; Amarillo P2s Alex Parish, Christian Tulio, Samer Hadrous, Arsany Gadallah and Erica Dominguez; and Abilene P3 Tegan Jacobson.
Related Stories
By Lori Rice-Spearman, Ph.D., Steven L. Berk, M.D.
March 22, 2022
TTUHSC Celebration of Life Service was held March 25th in remembrance of Tom McGovern, Ed.D.
By Suzanna Cisneros
March 18, 2022
TTUHSC has been named as a Military Friendly® School for 2022-2023. Among graduate schools, TTUHSC ranked fourth in the nation, achieving Gold award status.
By Meaghan Collier
March 17, 2022
On March 16, fourth-year TTUHSC Jerry H. Hodge School of Pharmacy students interested in completing a residency after they graduate in May, learned where they would spend the next stage of their training during the Pharmacy Residency Match Day.
Recent Stories
Health
By Mark Hendricks
September 29, 2022
CPRIT recently awarded a $1 million prevention grant to Rakhshanda Rahman, M.D., Rebeccah Baucom, M.D., and John Kidwell, M.D., from the TTUHSC School of Medicine.
Research
By Kathryn Dankesreiter (TTU)
September 26, 2022
The Innovation Hub at Research Park today (September 26, 2022) announced the winners of its annual Presidents' Innovative Startup Awards. The award recognizes startups that have a high potential for growth and an economic impact in West Texas.
Education
By Mark Hendricks
September 23, 2022
Fifth graders from Bean Elementary School became doctors for a day. The Texas Tech University Health Sciences Center (TTUHSC) Student National Medical Association (SNMA) hosted the Doctors for a Day Minicamp on Sept. 23.