Pharmacy students speak out at regional meeting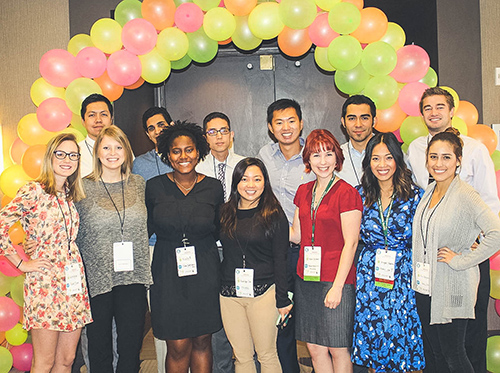 Fourteen TTUHSC School of Pharmacy student members of the American Pharmacists Association-Academy of Pharmacy Students (APhA-ASP) represented the school at the APhA Region VI Midyear Regional Meeting Nov. 4-6 in Little Rock, Arkansas.
Krisgel Padolina, a third-year (P3) pharmacy student on the Dallas/Fort Worth campus and TTUHSC's student chapter president, said the group was engaged at each session. Some stepped up to the microphone to address the room during an open session to discuss resolutions.
"Alexandria Ybarra (P3-Abilene) serves as an excellent regional delegate" Padolina said. "She exuded poise and confidence as she stood before the student body during the open session. She represented our school well."
The TTUHSC School of Pharmacy group included five first-year (P1) students. Abilene P1 Ervin Lopez ran for regional delegate, and though he wasn't selected, Padolina said Lopez described it as a valuable learning experience and he is making plans to run for a Region VI position next year.
"Overall I think attending the meeting was a success," Padolina said. "The P1s realized just how exciting policy can be."
Other students who attended included Abilene P1s Kelsie Basso, Justin Langreck, Viktoria Guttenberg and Nicole Asonganyi; Amarillo P1 Mimi Xuan Ngoc; Amarillo P2s Alex Parish, Christian Tulio, Samer Hadrous, Arsany Gadallah and Erica Dominguez; and Abilene P3 Tegan Jacobson.
Related Stories
By Mark Hendricks
March 25, 2022
The Texas Tech University Health Sciences Center (TTUHSC) Graduate School of Biomedical Sciences hosted its 34th Annual Student Research Week March 8-11.
By Mark Hendricks
March 25, 2022
The National Cancer Institute awarded a five-year, $1.9 million grant to C. Patrick Reynolds, M.D., Ph.D., director for the School of Medicine Cancer Center at TTUHSC.
By School of Health Professions
March 24, 2022
Richard Greenhill, DHA, FISQua, FACHE, discusses the hype and reality surrounding AI in healthcare.
Recent Stories
Health
By Meaghan Collier
May 27, 2022
TTUHSC Assistant Professor of Pediatrics Christine Garner, Ph.D., R.D., says if your baby's normal brand of formula isn't available, you can swap it out for a different one.
Education
By Mark Hendricks
May 26, 2022
The Willed Body Program has served West Texas since 1972 and is the foundation upon which the TTUHSC Institute of Anatomical Sciences is built.
Education
By Mark Hendricks
May 25, 2022
The Texas Tech University Health Sciences Center (TTUHSC) recently hosted traditional commencement ceremonies for its 1,595-member Class of 2022.