Pharmacy students speak out at regional meeting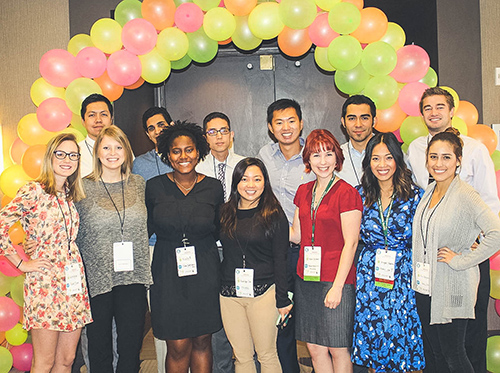 Fourteen TTUHSC School of Pharmacy student members of the American Pharmacists Association-Academy of Pharmacy Students (APhA-ASP) represented the school at the APhA Region VI Midyear Regional Meeting Nov. 4-6 in Little Rock, Arkansas.
Krisgel Padolina, a third-year (P3) pharmacy student on the Dallas/Fort Worth campus and TTUHSC's student chapter president, said the group was engaged at each session. Some stepped up to the microphone to address the room during an open session to discuss resolutions.
"Alexandria Ybarra (P3-Abilene) serves as an excellent regional delegate" Padolina said. "She exuded poise and confidence as she stood before the student body during the open session. She represented our school well."
The TTUHSC School of Pharmacy group included five first-year (P1) students. Abilene P1 Ervin Lopez ran for regional delegate, and though he wasn't selected, Padolina said Lopez described it as a valuable learning experience and he is making plans to run for a Region VI position next year.
"Overall I think attending the meeting was a success," Padolina said. "The P1s realized just how exciting policy can be."
Other students who attended included Abilene P1s Kelsie Basso, Justin Langreck, Viktoria Guttenberg and Nicole Asonganyi; Amarillo P1 Mimi Xuan Ngoc; Amarillo P2s Alex Parish, Christian Tulio, Samer Hadrous, Arsany Gadallah and Erica Dominguez; and Abilene P3 Tegan Jacobson.
Related Stories
By QEP Committee
March 21, 2023
As spring approaches, some people's thoughts turn to gardening. Whether it's a flower garden they desire or a vegetable garden want to have, they begin planning what they'll plant and what they need to do to ensure a successful garden.
By QEP Committee
March 21, 2023
A "growth mindset" accepts that our intelligence and talents can develop over time, and a person with that mindset understands that intelligence and talents can improve through effort and learning.
By Melissa Whitfield
February 13, 2023
Abstaining from drug abuse and an early diagnosis of familial hypercholesterolemia (high cholesterol) can help prevent heart disease.
Recent Stories
Education
By Suzanna Cisneros
March 24, 2023
Recognizing academic excellence, the honors are the most prestigious awards granted to faculty throughout the TTU System. The awards are funded by gifts to the Chancellor's Council, a giving society that supports the chancellor's priorities across the TTU System.
Campus Life
By Suzanna Cisneros
March 23, 2023
TTUHSC School of Medicine students will host a Women's Health Day free clinic from 10 a.m. to 1 p.m. April 15 at The Free Clinic
Research
By Mark Hendricks
March 21, 2023
TTUHSC Cytogenetic Technologist Jasbir Bisht and a team from P. Hemachandra Reddy's internal medicine laboratory analyzed the impact of cancer in Hispanics in comparison to other ethnic groups.