Laura W. Bush Institute for Women's Health Hosts Spring Events
Taya Kyle
The Texas Tech University Health Sciences Center (TTUHSC) Laura W. Bush Institute for Women's Health hosted three events in April to educate and raise money for the institute and sex and gender research, education and women's health initiatives.
The institute kicked off the month with an educational event with keynote speaker Taya Kyle in San Angelo. The luncheon and discussion featured news and information related to women's health, sex and gender medicine and the outreach of the Laura W. Bush Institute for Women's Health in the San Angelo area.
Later in April, the Laura W. Bush Institute for Women's Health presented the seventh annual Power of the Purse in Amarillo. The event featured a luncheon and designer purse auction, benefitting the InfantRisk Center.
As keynote speaker for Power of the Purse and in San Angelo, Taya Kyle, wife of "American Sniper" Chris Kyle, former U.S. Navy SEAL, spoke about the work of her organization, the Chris Kyle Frog Foundation, which gives support to military and emergency responder personnel and their families.
Taya explained that themes of love, war, faith and renewal are at the center of her organization's mission and are universally important to everyone.
"Everyone wants to be loved, everyone is fighting some kind of war, everyone needs faith and everyone is hoping through faith for renewal," Taya said.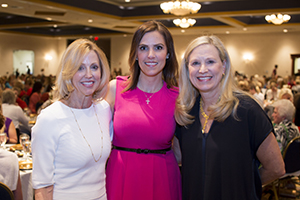 These themes are also the center of Taya's book, "American Wife," which she wrote after the sudden death of her husband. She explained that her experience as both the military spouse and widow of such an inspiring figure encouraged her to start an organization that works to support families dealing with the pressures of service. Taya also said it was nice to be speaking in Texas, her and her late husband's home state.
Thomas Hale, R.Ph., Ph.D., executive director of the InfantRisk Center, spoke at Power of the Purse regarding the mission of the InfantRisk Center, which conducts research regarding the safety of medications while pregnant or breastfeeding and operates a call center to answer questions from health care providers and mothers regarding medication safety.
"It's terribly important you know what you're funding here today," Hale said. "Mothers need access to this information, and until recently, no one was doing this research. We now can say if medication for depression, thyroid issues or some other medication is safe for pregnant and breastfeeding mothers."
Hale said that, additionally, the InfantRisk Center has launched two mobile apps to answer questions related to medication safety during pregnancy and breastfeeding. Hale said that the center is concerned with getting evidence-based information into the hands of mothers, not convincing them what to do.
"All we need to do is give mothers the information," Hale said. "We never tell them what to do."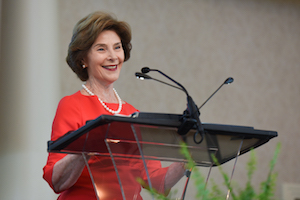 Former First Lady Laura W. Bush
The Texas Tech University Health Sciences Center (TTUHSC) Laura W. Bush Institute for Women's Health presented the "Female Focus: Differences Matter" women's health symposium to bring attention to the importance of personalized medicine and highlight medical differences between men and women that are critical to health and longevity with regard to heart disease, hormones and brain health.
The Fort Worth symposium, held in April, was the idea of Fort Worth Mayor Betsy Price who developed the city's ongoing FitWorth initiative and announced in 2014 that Fort Worth would join the Blue Zone Project as part of her Healthiest City Initiative. Price explained that the focus of her health and wellness campaign is not to force people to do anything, but to encourage people toward a healthy lifestyle by creating easy options.
Former First Lady Laura W. Bush welcomed the audience and encouraged women to take control of their health. She emphasized the importance of women taking time for themselves, even though they are very busy caring for their families and careers.
Four keynote speakers spoke on health topics related to women's health and sex and gender medicine. Wayne Isom, M.D., chairman emeritus of cardiothoracic surgery at NewYork-Presbyterian Hospital Weill Cornell Medical Center, presented "Focus on the Heart," which was a heart health lecture targeted towards women and emphasizing the critical importance of preventing heart disease, rather than treating it.
"You want to avoid seeing me, the surgeon," Isom said. "You can avoid most risk factors, such as smoking and weight. If you do require medication, though, one important thing is the differences between men and women."
The second keynote presentation by University of North Texas Health Science Center's Meharvan "Sonny" Singh, Ph.D., dean of the Graduate School of Biomedical Sciences and professor of pharmacy and neuroscience, and Rebecca Cunningham, Ph.D., assistant professor at the Center for Alzheimer's Research and Neurological Disorders, was "Focus on Hormones and the Brain." They discussed in detail the effects of hormones like estrogen and testosterone, which extend beyond their effect on individuals' reproductive function. Interestingly, these hormones or a lack of them can have significant consequences for brain health.
Speaking on the topic of "Focus on Sex and Gender: Differences Matter" was fellow keynote speaker Marjorie Jenkins, M.D., Laura W. Bush Institute for Women's Health chief scientific officer and director of medical initiatives and scientific engagement within the Food and Drug Administration Office of Women's Health. Jenkins explained that medications prescribed to women are often studied in men. She explained that the differences between men and women are important, and the sex and gender medicine research funded by the Laura W. Bush Institute for Women's Health is critical to understanding how these differences affect personalized medicine.
"Women are more likely than men to have adverse reactions to prescription drugs," Jenkins explained. "In fact, eight out of 10 medications pulled from the market show toxic effects in women. Yet, most drugs do not have different recommended dosages depending on a patient's gender."
Laura W. Bush and TTUHSC President Tedd L. Mitchell
The Laura W. Bush Institute for Women's was established in August 2007 to pioneer a new approach to women's health care that would consider the many differences between men and women that affect their health. Since its establishment, the institute has funded research projects in women's health and sex and gender medicine; organized community events, such as GiRL Power and Girls Night Out; and provided breast and cervical cancer screening for women in underserved Texas populations.
"The impact of the Laura W. Bush Institute for Women's Health continues to grow with events like these across the State of Texas," said Connie Tyne, executive director of the Laura W. Bush Institute for Women's Health. "We work to make these communities and the world healthier by raising money for services in these areas and funding groundbreaking research that will benefit women everywhere."
Related Stories
By Lori Rice-Spearman, Ph.D., Steven L. Berk, M.D.
March 22, 2022
TTUHSC Celebration of Life Service was held March 25th in remembrance of Tom McGovern, Ed.D.
By Suzanna Cisneros
March 18, 2022
TTUHSC has been named as a Military Friendly® School for 2022-2023. Among graduate schools, TTUHSC ranked fourth in the nation, achieving Gold award status.
By Meaghan Collier
March 17, 2022
On March 16, fourth-year TTUHSC Jerry H. Hodge School of Pharmacy students interested in completing a residency after they graduate in May, learned where they would spend the next stage of their training during the Pharmacy Residency Match Day.
Recent Stories
Education
By Kate Gollahon
October 07, 2022
APRN student Lori Kenny's journey to nursing began at only 12 years old. After her mother's stage IV breast cancer diagnosis, Kenny started to help with home health care.
Health
By Veronica L. Estrada, DNP, R.N
October 07, 2022
Breast cancer is the second most common cancer and the second leading cause of cancer deaths among women in the United States.
Health
By Suzanna Cisneros
October 07, 2022
TTUHSC School of Medicine students will host a Women's Health Day free clinic from 10 a.m. to 1 p.m. Nov. 5 at The Free Clinic located at Lubbock Impact, 2707 34th St.