Community Stars
Kim Cousatte Recieving the Life Participation Award
The Texas Tech University Health Sciences Center (TTUHSC) School of Health Professions Stroke/Aphasia Recovery (StAR) Program hosted an awards luncheon to honor the achievements of StAR Program participants and community members who have been advocates for those with aphasia. The StAR Program is a community outreach program for people who have aphasia as the result of a stroke or other brain injury. Aphasia affects the ability to speak, understand, read, write and calculate. The StAR Program engages therapists, students and stroke survivors in an effort to provide a safe, supportive environment in which individuals can practice communication skills in order to regain life participation.
Program participants nominate community members to receive awards during the luncheon. The StAR Program presented Kim Cousatte of Embrace Medical with the Life Participation Award for service to community members through fitting individuals with specialized devices, such as diabetic shoes, so they may embrace life fully again. The program presented Roger Wolcott, M.D., with the Aphasia Friendly Award for going above and beyond in his treatment of people with aphasia.
"Dr. Wolcott is well-known by many of our StAR Program members," said Melinda Corwin, Ph.D., professor of speech and hearing sciences and director of the StAR Program. "We appreciate Dr. Wolcott for treating everyone with aphasia with kindness and respect. Ms. Cousatt specializes in fitting individuals with special devices, such as ankle foot orthoses and diabetic shoes. She was nominated for demonstrating dignity and respect to aphasia patients and helping them regain ability to participate in life by fitting them with these devices."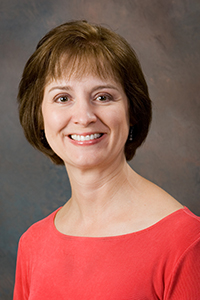 Melinda Corwin, Ph.D.
The StAR program holds as one of its core principles that aphasia is the loss of language, not the loss of intellect. Both award recipients were nominated for demonstrating respect for the intelligence of people with aphasia. StAR Program participants and Corwin explained that not everyone understands that a loss of language does not mean a person is less intelligent. Therefore, these instances of respect are meaningful to StAR Program participants and their families.
The StAR Program recognized the accomplishments of its own members, as well. All group participants, including stroke survivors and their caregivers, were recognized with awards that acknowledged their individual value in contributing to the group. The StAR participants put considerable work into planning and facilitating the annual luncheon.
"They serve as hosts for the luncheon, and they are each responsible for different portions of the program, such as the welcome and introduction, entertainment, award distribution and closing prayer," Corwin said.
Speech-language pathology students within the StAR program are active in facilitating the sessions. The group provides students valuable experience working with aphasia. For some students in the StAR program, the luncheon marked the end of their time participating in the program as they looked ahead toward graduation and careers in speech-language pathology.
Related Stories
By QEP Committee
March 21, 2023
As spring approaches, some people's thoughts turn to gardening. Whether it's a flower garden they desire or a vegetable garden want to have, they begin planning what they'll plant and what they need to do to ensure a successful garden.
By QEP Committee
March 21, 2023
A "growth mindset" accepts that our intelligence and talents can develop over time, and a person with that mindset understands that intelligence and talents can improve through effort and learning.
By Melissa Whitfield
February 13, 2023
Abstaining from drug abuse and an early diagnosis of familial hypercholesterolemia (high cholesterol) can help prevent heart disease.
Recent Stories
Campus Life
By Suzanna Cisneros
March 31, 2023
The TPPC, managed by the TTUHSC Jerry H. Hodge School of Pharmacy, will host Lubbock's Spring Medication Cleanout™ event from 10 a.m. to 2 p.m. April 22 (Saturday) at the Texas Tech Physicians Medical Pavilion.
Campus Life
By Meaghan Collier
March 31, 2023
TTUHSC School of Nursing honored its first class of Bachelor of Science in Nursing (BSN) graduates with a lamp lighting ceremony on Thursday, March 30.
Health
By Melissa Whitfield
March 30, 2023
Texas Tech Physicians primary and specialty clinics across West Texas have completed more than 160,000 telehealth visits since the start of the pandemic.