Called to Serve
TTUHSC Nursing Student Credits Military Experience for Academic Success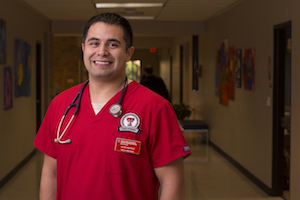 Alex Munoz
First-year Veteran to Bachelor of Science (VBSN) program student Alex Munoz's first health care education experiences were not at Texas Tech University Health Sciences Center (TTUHSC) School of Nursing, but that is where he will achieve his dream of becoming a nurse. His journey getting to TTUHSC involved courage, challenging clinical experiences in hostile environments and a chance encounter that would change his life.
A few years after joining the military in 2008, Munoz decided to pursue his interest in health care by attending the Medical Education Training Campus at Ft. Sam Houston in San Antonio. Shortly afterward, he was deployed and that's when he says he received his real training.
"I deployed to Iraq soon after graduation and learned very fast that the skills I was taught at Ft. Sam Houston were just the beginning of my education," Munoz recalled. "I was thrown into the mix and expected to pick up new knowledge on my own."
Munoz says that he was taken under the wing of two sergeants who mentored him and trained him to be a great medic, and he quickly adapted to life in the Army, but there were still challenges he never before would have imagined.
"I have been to some of the darkest places in this world both emotionally and physically," Munoz said. "I have been asked to make decisions in the blink of an eye that meant life or death for an individual. At times, quitting would have left this world a whole lot different for those individuals. When someone's life depends on your skills and abilities, you learn to pick up skills very quickly."
Munoz demonstrated not only that he was capable of dealing with the intense pressure as a medic, but actually excelled in high-stakes situations. After his first deployment to Iraq as a ground medic, he quickly became a flight medic. In this role, he discovered new thrills while still engaging in his passion for saving lives.
"As a flight medic in Afghanistan, I flew in helicopters and the feeling of being in the air is exhilarating," Munoz said. "I have never found a greater rush than flying as low and fast as you can while treating a patient's medical conditions."
When he arrived back home, he was eager to find a place to apply his skills. But like many returning veterans with military medical experience, Munoz discovered there were limited opportunities to leverage that experience for a career path.
"Many veterans have extensive medical and clinical knowledge, but until recently, there has not been a way to translate time served in a military clinical capacity into course credit hours," said Melinda Mitchell Jones, MSN, J.D., R.N., School of Nursing associate dean for nontraditional studies.
Jones was working on a plan to address this issue in education just as Munoz was trying to navigate civilian life and looking for the best way to apply his years of clinical experience and stay in the professional field he loved. Then one day, serendipity struck and set Munoz on a path to nursing school.
"It all began when my father-in-law, David Smith, was at a business luncheon for nonprofit organizations in Midland, and Dr. Melinda Mitchell Jones happened to be there that day and they began to talk," Munoz said.
Jones told Smith about a new nursing program for veterans she was developing with other faculty at TTUHSC. Jones explained that she too had lamented the lack of a standardized method with which to assess advanced placement for veterans with military experience. The School of Nursing had developed a way to advance qualified veterans through nursing school and onto assisting patients more quickly.
"The program is an accelerated 12-month course of study for veterans who have prior military medical experience who want to earn a Bachelor of Science in Nursing (BSN) degree from TTUHSC," Jones said.
Smith immediately thought of Munoz, who after serving in the U.S. Army as a medic for years, would have expected to spend about four additional years in school to get back to serving patients in a civilian setting. Taking notes, Smith excitedly approached Munoz with information about a program that would drastically reduce the time needed to earn his BSN.
"At that time, the program came to me as an idea on the back of a napkin," Munoz recalled. "My father-in-law told Dr. Jones he knew the perfect candidate, and soon my relationship with the VBSN program began."
Applicants to the VBSN program complete a series of tests to confirm their health care knowledge. Then, using the demonstrated aptitude on the placement assessment and reviewing the applicant's transcript, the School of Nursing awards nursing course credit according to the applicant's knowledge level. Once the student enters the program, he or she must develop both academic and clinical skills in order to earn a BSN degree.
According to Jones, it's the combination of awarding credit for military medical experience and offering an expedited timeline to attain a bachelor's degree that sets the TTUHSC School of Nursing VBSN program apart.
"The School of Nursing sees applicants eligible for advanced placement with the awarding of credits for several nursing courses based on review of transcripts and the applicant's passing of the assessment," Jones said. "The program facilitates the veteran's progression to graduation. Courses are delivered online through a distance education platform. For clinical experiences, students work one-on-one with a clinical coach for one year under the supervision of TTUHSC School of Nursing faculty."
For Munoz, the curriculum has been demanding, but his military experience prepared him to succeed under pressure.
"I think my military experience is invaluable to the nursing field," Munoz said. "The experience I gained will assist me in better caring for patients in extremely stressful situations. I am one of those people who has learned to thrive under pressure and there are several areas of the nursing field that need those types of people."
Munoz said that the opportunity to earn his bachelor's degree quickly and return to the work he loves is amazing, but he's equally moved by TTUHSC's recognition of his value as a veteran.
"The fact that TTUHSC specifically chooses individuals because of their connection to the military for this program just shows the dedication to success that TTUHSC has for its students," Munoz said. "I had already demonstrated the ability to learn information quickly and display fortitude to go out and perform that skill with confidence like I had been doing it for years. To be a great nurse, you need to be able to act quickly, efficiently and with confidence that what you are doing is in the best interest of the patient."
In a recent visit to TTUHSC to celebrate the formation of the VBSN program, Texas Governor Greg Abbott echoed Munoz's belief that medical military professionals have exhibited evidence of their skills and explained that universities should work to assign appropriate value to the experience of veteran students.
"They've gone through this training already," Abbott said. "There's no reason why they should have to repeat the process and spend the time and money for training they already have. I happen to believe whatever training they got serving in the U.S. military, if it is good enough for the U.S. military, it's good enough for the State of Texas."
Munoz believes that his military experience in health care is not only sufficient to account for some of his needed clinical nursing experiences, but will actually make him a better nurse.
"To be a great nurse you need to be able to be one with your patient," Munoz said. "You need to be on their level and understand the pain and suffering they are going through. You need to act quickly, efficiently and with confidence that what you are doing is in the best interest of the patient. I gained all of these qualities in one way or the other."
Munoz says his experience in the VBSN program has prepared him to become a nurse, especially since VBSN faculty, clinical coaches and classmates all value the experience he brings from his time serving as an Army medic and work to help him complement his previous training.
"My experience so far has been nothing short of amazing," Munoz said. "I have done a lot of education programs and never have I found the support and care that TTUHSC has offered to me and other VBSN students. Dr. Deborah Sikes and Dr. Patricia Francis have been amazing in getting the first year program started. Their work just shows the pure dedication TTUHSC has for its students' success."
After he earns his BSN, Munoz says he would like to become a nurse anesthetist, or perhaps become a Medevac flight nurse and return to the sky. Either way, Munoz intends to maintain the highest level of commitment to his patients, just as he did for his country in the Army.
"You can never give up, and you can never allow your team to give up because when you do, your patient is right behind you," Munoz said. "The context of my military experience embodies unwavering commitment that I bring to medical situations. I say to my future patients, 'I will never quit on you, and you will receive the best care my hands and mind have to offer.'"
Related Stories
By QEP Committee
March 21, 2023
As spring approaches, some people's thoughts turn to gardening. Whether it's a flower garden they desire or a vegetable garden want to have, they begin planning what they'll plant and what they need to do to ensure a successful garden.
By QEP Committee
March 21, 2023
A "growth mindset" accepts that our intelligence and talents can develop over time, and a person with that mindset understands that intelligence and talents can improve through effort and learning.
By Melissa Whitfield
February 13, 2023
Abstaining from drug abuse and an early diagnosis of familial hypercholesterolemia (high cholesterol) can help prevent heart disease.
Recent Stories
Education
By Kate Gollahon
May 30, 2023
Several Texas Tech University Health Sciences Center (TTUHSC) School of Nursing faculty were awarded this year for their unparalleled contributions to medical education and patient care.
Education
By Kate Gollahon
May 29, 2023
On Memorial Day each May, a service is conducted to pay respect to the Willed Body Program donors and their families.
Education
By Kate Gollahon
May 24, 2023
While the TTU System aimed to cast a spotlight on these individuals and their work, the honorees chose to cast that light onto others, sharing their humble gratitude toward those who helped, guided and inspired them.