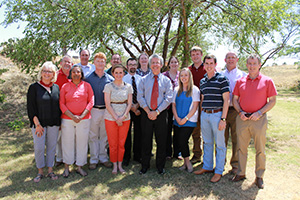 FMAT Inaugural Class and Founding Faculty
Eileen Sprys, M.D., always had interest in primary care medicine. Yet, she was concerned about the debt that she would face upon graduating from medical school.
"As much as I did not like to think about how many years the debt would take to work off if I did primary care, I had to think about it," Sprys said. "The debt was a reality whether I liked it or not."
Sprys is one of eight students from the inaugural class of the Family Medicine Accelerated Track (FMAT) program created by the Texas Tech University Health Sciences Center (TTUHSC) School of Medicine. The FMAT program allows primary care students at the TTUHSC School of Medicine to complete their degree in three years at about half of the cost of the standard four-year program. This month, Sprys along with the inaugural class that includes Keeley Ewing-Bramblett, M.D., Clay Buchanan, M.D., Robert Cooper, M.D., Emily Dosier, M.D., Amanda Hartman, M.D., Seth Wilhelm, M.D., and Charles Willnaue, M.D., completed family medicine residency training and will begin their careers as practicing physicians.
"The FMAT program took an edge off of that reality of completing medical school with a huge debt," Sprys said. "The program has allowed me to consider family practice without bias. I was motivated to do the FMAT because it would allow me to practice what I genuinely want, family medicine program without the fear of insurmountable debt in the back of my mind."
Steven Berk, M.D., TTUHSC executive vice president, provost and dean of the School of Medicine, said with the baby boomer generation growing older and the increased demand for primary care with the ederal health care law, this program has addressed the need for more family medicine doctors.
"This is a program of national importance as we work to ensure that all Americans will have access to a primary care physician," Berk said. "We committed to taking the first steps in changing how medical schools attract and educate future family medicine doctors. This program demonstrates that our School of Medicine is contributing to health care education nationally as well as locally."
According to the American Academy of Family Physicians (AAFP), since 1997, U.S. medical school graduate matches in family medicine and general internal medicine programs have fallen by nearly 50 percent. A 2006 AAFP Workforce Study estimated that the U.S. would need approximately 39,000 more family physicians by 2020.
Betsy Goebel Jones, Ed.D., professor and chair of the Department of Medical Education and professor of family and community medicine at TTUHSC School of Medicine, said other universities, many of which have started similar programs, have closely watched the program.
"The visibility of the program has raised the status of primary care across this institution and others." Jones said. "Our School of Medicine has become an advocate to help many of the other universities creating their own programs. We field questions regularly from other interested schools, and we work closely with a consortium of nine other medical schools, including New York University; Medical College of Wisconsin; University of California, Davis; University of Louisville; Penn State and others, engaged in implementing and assessing the benefits of accelerated training as a way to reduce student debt and provide more direct pathways to address physician work force needs."
FMAT Inaugural Class - Lubbock Residency
FMAT training began for the first class of students in June 2011; those first eight students graduated from medical school in May 2013, began residency the following July and completed their third and final year of family medicine residency in June 2016. To date, 31 students have graduated from the program and begun family medicine residency. Eighteen additional students are currently in the FMAT program.
"We are especially proud of the careers that our FMAT graduates have chosen because they are going to those communities and settings where their talents are most needed," Jones added.
Seven of the eight graduates will be in practice in Texas, many in small communities that are medically underserved. One will continue an additional year of training in primary care fellowship.
Sprys will begin working as an attending TTUHSC Family Medicine physician at the Student Wellness Center. Graduating, she said, is bittersweet.
"The FMAT program fosters a great deal of mentorships and friendships," Sprys said. "I consider so many of my attending physicians mentors and close friends, and the same goes for my classmates. We've been a close-knit group who have rounded in the hospital and sat in lecture together for six years. We've become brothers and sisters and we've been through a great deal of hard work together and we've persevered."
On the other hand, Sprys said she also feels a sense of relief to graduate.
"Our program hit the ground running," Sprys said. "We went straight from medical school on a Sunday to residency on a Monday. I can say with confidence on behalf of my peers and myself that we feel prepared to go out in to the world and work as family doctors. I couldn't be more grateful to my attending physicians inside family medicine, specialists, professors and Texas Tech for the opportunity to participate in the FMAT program."
Berk said FMAT has succeeded in its goal of training more primary care physicians. While the percentage of TTUHSC School of Medicine students matching with family medicine in 2011 was 11.2 percent — close to the national average of 11.4 percent — by 2016, TTUHSC's average rose to 19.5 percent, while the national average remained at 11.6 percent.
"Although the process of maintaining FMAT has been challenging, what has been most satisfying has been the level of performance FMAT graduates have demonstrated as they transition to residency," Berk said. "FMAT works and meets the goals we set. This first class completed their residency and can be proud they were the first to set the standard."