A Day of Service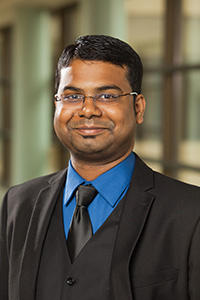 Monish Makena
The life of a Texas Tech University Health Science Center (TTUHSC) student is busy to say the least. But along with all of the obligations, members of the TTUHSC Student Government Association (SGA) take time to give A Day of Service.
During this past semester, SGA members were able to provide service to a variety of organizations and individuals in the community as well as within the school.
Members helped fellow students through raising funds for scholarships by providing baked goods for a bake sale in October, which raised $2,800.
Students reached out to future classmates when they provided tours and helped put on the Future Health Care Providers Experience Conference in November.
Other volunteer events benefiting TTUHSC included "Thank-a-Thon" evenings to thank donors and volunteer efforts for the TTUHSC Alumni Association tailgate.
Community events included volunteering at Hope Lodge as well as helping with a local toy drive put on by Green Lawn Church of Christ.
Monish Makena, SGA vice president, said an area of focus in providing service for SGA has been branching out to invite all TTUHSC students to participate in the service events that SGA arranges.
"This year, "A Day of Service" was organized on November 21," Makena said. "SGA senators, as well as TTUHSC students in conjunction with community partners and the TTUHSC Pediatrics Club worked together to provide service at three events at the South Plains Food Bank, the Kids Health Fair and Stocking Stuffing Day."
Over 50 volunteers participated in A Day of Service. Senators and their fellow classmates also worked together while volunteering at the 7th Annual Pumpkin Trail in October.
"The TTUHSC SGA has been proud to support the different service events that have taken place this past semester," said Nathan Anderson, SGA officer. " We encourage students to look outside themselves and their busy schedules to help others."
Related Stories
By Lori Rice-Spearman, Ph.D., Steven L. Berk, M.D.
March 22, 2022
TTUHSC Celebration of Life Service was held March 25th in remembrance of Tom McGovern, Ed.D.
By Suzanna Cisneros
March 18, 2022
TTUHSC has been named as a Military Friendly® School for 2022-2023. Among graduate schools, TTUHSC ranked fourth in the nation, achieving Gold award status.
By Meaghan Collier
March 17, 2022
On March 16, fourth-year TTUHSC Jerry H. Hodge School of Pharmacy students interested in completing a residency after they graduate in May, learned where they would spend the next stage of their training during the Pharmacy Residency Match Day.
Recent Stories
Education
By Mark Hendricks
September 23, 2022
Fifth graders from Bean Elementary School became doctors for a day. The Texas Tech University Health Sciences Center (TTUHSC) Student National Medical Association (SNMA) hosted the Doctors for a Day Minicamp on Sept. 23.
Research
By Mark Hendricks
September 22, 2022
Pablo Artigas, Ph.D., from TTHSC's School of Medicine's Department of Cell Physiology and Molecular Biophysics, published a study with his team of collaborators in Nature Communications.
Campus Life
By Mark Hendricks
September 20, 2022
The Texas Panhandle Poison Center (TPPC), managed by the Jerry H. Hodge School of Pharmacy, will host Lubbock's Fall Medication Cleanout™ event October 1.