Culinary Medicine Elective Teaches Medical Students About Nutrition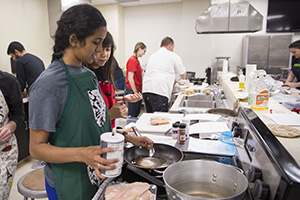 Studying in a clinical or classroom setting is normal for medical students. For this class however, instead of stethoscopes and classrooms, students trade in their white coat for an apron, the medical equipment for stoves and cooking utensils and a chef becomes the professor. This is Culinary Medicine, a new fall elective established by Sarah Jaroudi and Bill Sessions, both second-year medical students.
"We saw a need for education about nutrition that was not in the curriculum," Sessions said. "The lectures explored various nutritional concepts and the labs were taught by chefs where medical students applied their knowledge and learned how to prepare healthy meals."
Each Tuesday night, twenty medical students in groups of two at each station were given a case study, which was built upon with each lab. Every group was given a recipe for a total of five recipes.
"The idea was to create different interpretations of recipes surrounding a central idea so that students can compare and contrast the techniques and nutritional content," Jaroudi said. "The mission of the elective is to educate and train medical students to develop and maintain healthy habits and perspectives that will benefit themselves, their communities and most importantly their patients."
The School of Medicine students studied culinary medicine at the HEB Culinary Laboratories at the Texas Tech University (TTU) College of Human Sciences. Chef Dewey McMurray, CEC, executive chef of operations at TTU, taught the students cooking techniques, answered questions and wrote the recipes for the program.
"When the medical students contacted me, I was surprised and excited to hear about the program," McMurray said. "Culinary Medicine is a pretty interesting initiative to learn in this manner. The students always had great questions and enthusiasm to learn more."
Katherine Chauncey, Ph.D., RDN, course director and a nutritionist in the Department of Family and Community Medicine, said this course was organized and driven by medical students.
"With the first class, the students were given a recipe and made it in a normal fashion with any ingredients necessary. As the classes progressed, the students took the same recipe and began to incorporate healthier options for foods such as brown rice for white rice, healthier lower carbs or enhance nutrients by adding other items. Each student also was given a scenario with a patient who has been diagnosed with an illness such as diabetes, renal disease, etc. The students not only began to think about how to make the meal healthier, but also think of how to cook the meal for the prognosis each patient has."
Taylor Lindgren, a second-year medical student, was assigned a recipe that included garlic chicken parmesan and sweet potato wedges and carrots. Lindgren was surprised by how many different options patients with certain dietary needs have through simple changes in their meal choices.
"One group cooked a delicious, Caribbean-inspired meal catered to renal patients who have dietary restrictions on protein, phosphorus and other nutrients," Lindgren said. "Without being told about these restrictions, I wouldn't have been able to tell. I loved learning about how to apply concepts from the Culinary Medicine elective not only to my own life, but also to the lives of my future patients. Learning to make simple, healthy changes in a variety of cuisines can help me and my classmates provide effective and realistic patient education to people who many not initially know how to incorporate their diagnoses into their lives."
Related Stories
By Mark Hendricks
March 25, 2022
The Texas Tech University Health Sciences Center (TTUHSC) Graduate School of Biomedical Sciences hosted its 34th Annual Student Research Week March 8-11.
By Mark Hendricks
March 25, 2022
The National Cancer Institute awarded a five-year, $1.9 million grant to C. Patrick Reynolds, M.D., Ph.D., director for the School of Medicine Cancer Center at TTUHSC.
By School of Health Professions
March 24, 2022
Richard Greenhill, DHA, FISQua, FACHE, discusses the hype and reality surrounding AI in healthcare.
Recent Stories
Health
By School of Health Professions
May 19, 2022
Dysphagia is a swallowing disorder that affects a person's ability to eat or drink, affecting between 300,000 and 700,000 people in the United States each year.
Health
By Suzanna Cisneros
May 18, 2022
Brittany Bankhead, M.D., an assistant professor of surgery for the Division of Trauma, Burns and Critical Care at the Texas Tech University Health Sciences Center, said life-threatening bleeding can happen in everyday scenarios.
Education
By Clarissa Sanchez
May 16, 2022
TTUHSC celebrated the completion of the School of Health Professions Physician Assistant Program expansion May 16 with a ceremonial ribbon cutting.