McMahan, Bibb Lead Class of 2016 Graduation
The TTUHSC School of Pharmacy conducted commencement exercises May 15 at the Amarillo Civic Center Auditorium for the 155 students from the Amarillo, Abilene, Dallas/Fort Worth and Lubbock campuses that comprise the Class of 2016.
State Rep. Four Price delivered the commencement address. Mickey L. Long, chairman for the Texas Tech University System Board of Regents, also joined School of Pharmacy staff, faculty, family and friends in honoring the graduates.
Several graduates were honored for their achievements in the classroom and in the clinic, including Danni McMahan, who earned the Class of 2016 Banner Bearer award given to the graduate with the highest four-year grade point average. The Banner Bearer carries the School of Pharmacy banner and leads the class during commencement.
In addition, Teryn Bibb received the Bowl of Hygieia, presented annually to the graduating class member who is deemed to best exemplify the qualities most desirable in a pharmacist: leadership, high ethical standards, dedication and promotion of the pharmacy profession. The Bowl of Hygieia signifies pure and potent medicines and is an internationally recognized symbol for the pharmacy profession.
In ceremonies conducted prior to commencement, the school recognized 16 graduates who earned their MBA from the Texas Tech University Rawls College of Business through the School of Pharmacy's dual Pharm.D./MBA program. The school also honored the memory of Class of 2016 member Crystal Mattiza, who passed in February, and recognized class members who are U.S. military veterans
The Class of 2016 named Harold Miller, Ph.D., as its Most Influential Professor. Miller is an associate professor for the Department of Pharmaceutical Sciences on the Abilene campus.
Other Class of 2016 graduates recognized for their achievements included Gina Nazworth (Wolters Kluwer Excellence in Clinical Communications Award); Eva Coulson and Megan Fenney (School of Pharmacy Geriatrics Award); Cort McGinnis (School of Pharmacy Communications Award); Deep Shah (School of Pharmacy Patient Care Award); Kristin Bohannon (School of Pharmacy Pediatrics Award); Taylor Tran (TEVA USA Outstanding Student Award); Ola Fagbohun (Eli Lilly Achievement Award); Stacy Cox (Mylan Excellence in Pharmacy Award); Thien Hoang (Natural Medicines Comprehensive Database Recognition Award); and Jason Saucedo (U.S. Public Health Service Excellence in Public Health Pharmacy Practice Award).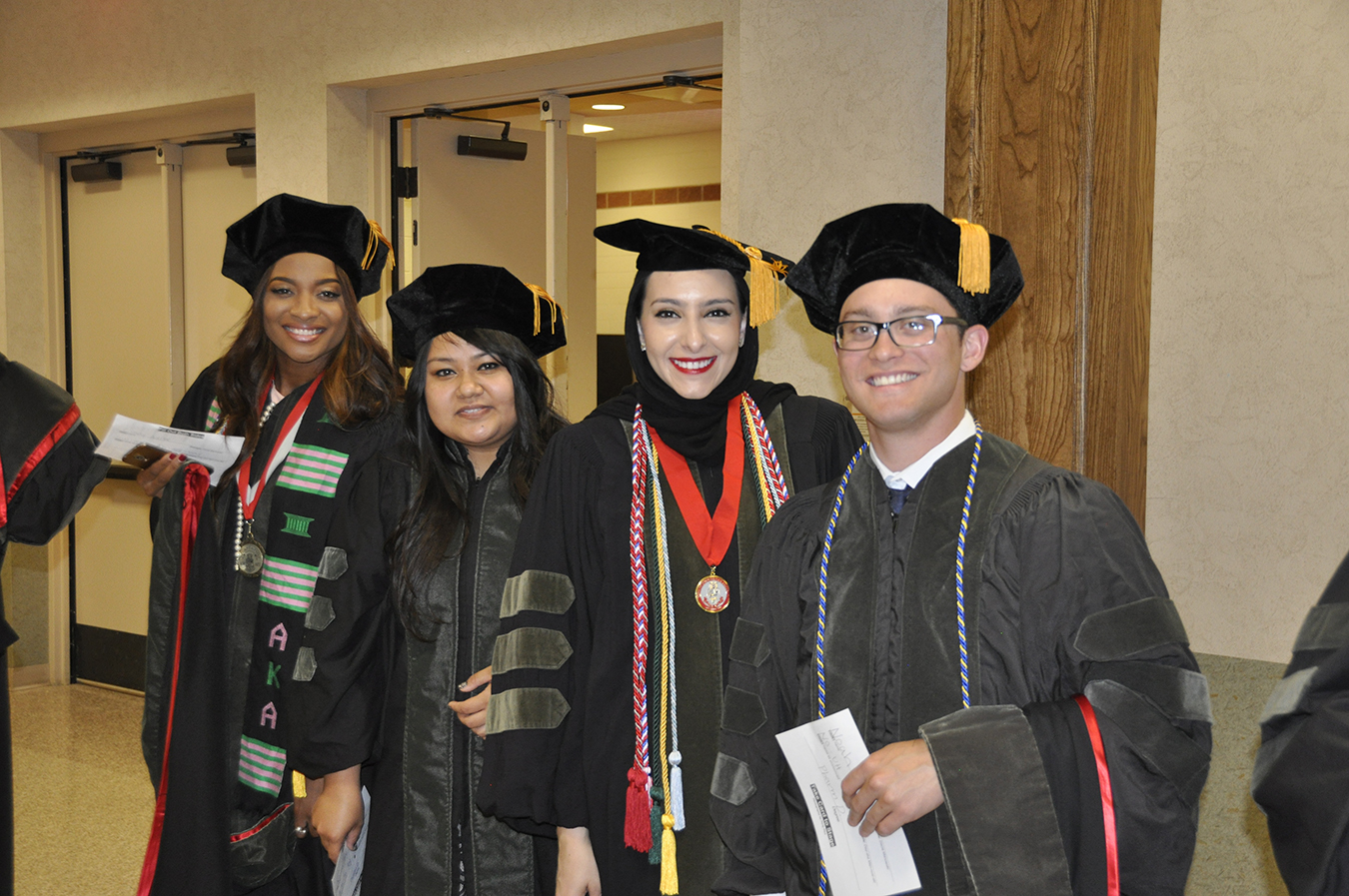 Related Stories
By Lori Rice-Spearman, Ph.D., Steven L. Berk, M.D.
March 22, 2022
TTUHSC Celebration of Life Service was held March 25th in remembrance of Tom McGovern, Ed.D.
By Suzanna Cisneros
March 18, 2022
TTUHSC has been named as a Military Friendly® School for 2022-2023. Among graduate schools, TTUHSC ranked fourth in the nation, achieving Gold award status.
By Meaghan Collier
March 17, 2022
On March 16, fourth-year TTUHSC Jerry H. Hodge School of Pharmacy students interested in completing a residency after they graduate in May, learned where they would spend the next stage of their training during the Pharmacy Residency Match Day.
Recent Stories
Education
By School of Health Professions
August 18, 2022
Addiction counseling focuses on helping patients overcome substance use disorders and other unhealthy dependencies.
Health
By Mark Hendricks
August 16, 2022
Ana Montanez, M.D., a pediatrician with Texas Tech Physicians, said there are steps parents can take to help their children—and themselves—transition to the classroom as smoothly as possible.
Education
By Suzanna Cisneros
August 11, 2022
The Texas Tech University System Board of Regents approved the appointments of TTUHSC faculty Sherry Sancibrian and Thomas Hale, Ph.D., R.Ph., as Grover E. Murray Professors.