Building a Healthier Future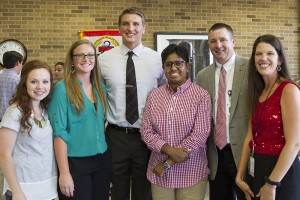 The Texas Tech University Health Sciences Center (TTUHSC) at Abilene hosted a reception and dinner for the inaugural class of the Graduate School of Biomedical Sciences Master of Public Health program. Students from both the Lubbock and Abilene campus and Texas State House Representative Susan Lewis King of District. 71 attended. The event served as an opportunity for all TTUHSC Abilene campus students, faculty and staff to mingle with community members and celebrate the successes and contributions of each program.
"The event also served as an opportunity for community supporters of the program to demonstrate their commitment to the program's presence in Abilene," said Julie St. John, DrPH, MPH, M.A., assistant professor in the department of public health. "The dinner for stakeholders and donors honored the inaugural class of Master of Public Health program students in Abilene and offered them attendees an opportunity to hear about the success of the program over the past year and plans for the coming year."
St. John explained that the inaugural class brings much-needed public health services to Abilene, an area with unique health care needs.
"The inaugural Master of Public Health class represents specially trained public health professionals coming to West Texas, an area historically lacking in formally trained public health practitioners," St. John. "The class provides an opportunity to impact the health status of community residents through technical assistance, leadership and public health expertise."
There is a pervasive shortage in qualified public health professionals in the U.S. TTUHSC's Master of Public Health program will create opportunities for more people to serve in the field. St. John explained why this will improve health care overall.
"The current lack of well-trained public health professionals increases the risk to West Texas of infectious-disease outbreaks, natural disasters and preventable disease," St. John said. "Practically speaking, public health also is an effective way to control soaring health care costs through prevention, outreach and education efforts. "
TTUHSC President Tedd L. Mitchell, M.D., said the public health program is a means to strengthen the university's relationship with Abilene.
"TTUHSC in Abilene has seen rapid growth and is proud to serve this city, the surrounding surrounding Taylor County and rural populations," Mitchell said. "In offering the public health program in Abilene, TTUHSC became an important part of solving the shortage of qualified public health professionals both in this area and the world."
In Abilene, there are opportunities for future public health graduates to participate in research efforts, tailored to the needs of the community.
"The inaugural Master of Public Health class represents research opportunities with local entities regarding the most pressing public health issues specific to our community and finding those solutions most appropriate for our unique demographics," St. John said.
The inaugural class in Lubbock will graduate in May 2016, followed by the first Abilene cohort in May 2017, and go on to fulfill a variety of roles in the growing public health field. For more information about the Master of Public Health program, contact the Department of Public Health at (806) 743-2556.
Related Stories
By QEP Committee
March 21, 2023
As spring approaches, some people's thoughts turn to gardening. Whether it's a flower garden they desire or a vegetable garden want to have, they begin planning what they'll plant and what they need to do to ensure a successful garden.
By QEP Committee
March 21, 2023
A "growth mindset" accepts that our intelligence and talents can develop over time, and a person with that mindset understands that intelligence and talents can improve through effort and learning.
By Melissa Whitfield
February 13, 2023
Abstaining from drug abuse and an early diagnosis of familial hypercholesterolemia (high cholesterol) can help prevent heart disease.
Recent Stories
Research
By Mark Hendricks
November 16, 2023
Ninh (Irene) La-Beck, Pharm.D., with the TTUHSC Jerry H. Hodge School of Pharmacy, received a five-year, $2.49 million grant to investigate how nanoparticles interact with the immune system and cancer.
Research
By Mark Hendricks
November 10, 2023
To help investigate the influence basal sex hormone alterations may have on chronic post-op pain, the NIH recently awarded a grant to Jenny Wilkerson, Ph.D., from the Jerry H. Hodge School of Pharmacy.
Health
By Tyler White
November 09, 2023
Scott Shurmur, M.D., a cardiologist at the Texas Tech Physicians Center for Cardiovascular Health, shared his expertise and his experience as a former collegiate athlete.